The new year will bring a new name for Omaha's TD Ameritrade Park.
The home of the College World Series will be renamed Charles Schwab Field Omaha after the Charles Schwab Corp. obtained naming rights to the baseball stadium located in north downtown Omaha, the company announced in a press release Monday.
The words "TD Ameritrade Park" have hung on the baseball stadium since its grand opening in 2011. The Omaha-based financial company obtained naming rights to the stadium for 20 years beginning in 2009.
In 2020, TD Ameritrade was acquired by Charles Schwab, transferring the rights to the financial services firm.
TD Ameritrade paid $750,000 for the naming rights in 2009, a cost to increase by 3% each year, for a total of $20,152,782 paid out over the course of 20 years, with the agreement's expiration in 2029, according to a naming rights agreement between the company and the Metropolitan Entertainment and Convention Authority.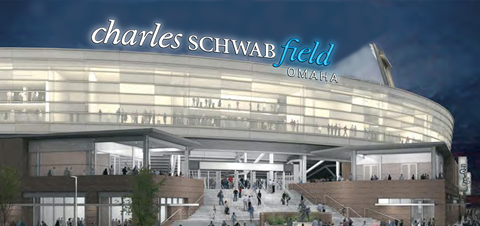 New signage and branding revealed by the financial services company Monday show that TD Ameritrade's green and white lettering will be replaced by Charles Schwab's blue and white in the coming months.
The costs of the rebranding will be covered by Charles Schwab, said Kristyna Engdahl, a MECA spokesperson.
The announcement "signifies our continued commitment to the people of Omaha and to baseball fans from across the country who visit the city each year," Jonathan Craig, managing director of investor services and marketing at Charles Schwab, said in a press release.
"We are excited and honored to play a role in maintaining the bond the College World Series venue has with the great city of Omaha and the more than seven decades of tradition that comes with the event," Craig said.
Omaha is contracted to host the NCAA Division I Men's College World Series through 2036.
Charles Schwab acquired Omaha-based TD Ameritrade for $26 billion in 2020. The announcement of the mega-brokerage merger spurred fears of job losses among the 2,300 people who work at TD Ameritrade's green-tinted headquarters tower near West Dodge Road and Interstate 680 and surrounding operational facilities.
According to Monday's press release, there are nearly 2,200 Charles Schwab employees currently based in Omaha with plans for additional growth.
"The company's focus on developing a talented, diverse workforce while fostering a culture of service within communities such as Omaha, has resulted in the company's recognition as a top place to work in the major markets that Schwab serves," the press release said.
Omaha is contracted to host the NCAA Division I Men's College World Series through 2036. The year was incorrect in an earlier version of the story.
---