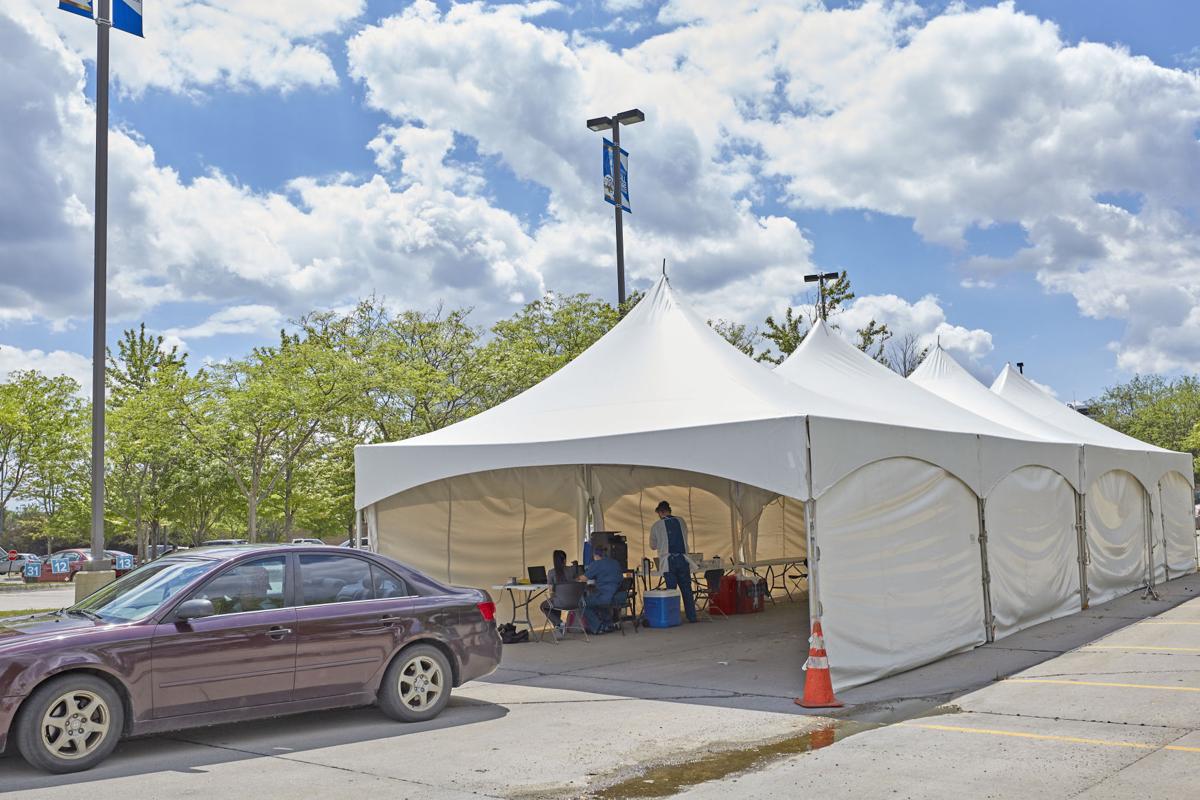 A coronavirus testing site in southeast Omaha that's been in high demand will close Thursday, leaving local health care providers scrambling to figure out how to provide more testing in one of Omaha's biggest coronavirus hot spots.
OneWorld Community Health Centers, the Douglas County Health Department and officials coordinating the state's TestNebraska initiative said they are all working on making more testing available in South Omaha.
More than 1,900 people living in just one ZIP code there, 68107, have tested positive for the coronavirus since March, out of the 12,200 total cases reported in Douglas County. South Omaha is also home to a large Hispanic population, one of the groups hit hardest by the virus in Nebraska.
People who think they have COVID-19 or have been exposed to it can get free testing at TestNebraska drive-thru sites. But the three sites currently open in Omaha are farther from South Omaha: Crossroads Mall at 72nd and Dodge, Oak View Mall near 144th Street and West Center Road and a Visiting Nurse Association-affiliated site at 125th Avenue and West Center Road.
"We do need another option in our community," said Andrea Skolkin, the CEO of OneWorld, a federally qualified health center based in South Omaha. "Particularly east Omaha, it doesn't seem like anyone is paying attention. … South Omaha is the hot zone. I don't understand it."
TestNebraska has done some quick-hit testing in North Omaha, setting up testing sites at a church and an apartment complex one weekend in July. Testing is also available in North Omaha at the Charles Drew Health Center, another federally qualified health center.
Matt Miltenberger, Gov. Pete Ricketts' chief of staff, said the state is currently scouting locations for a South Omaha TestNebraska site.
"We want to be up ASAP," he said.
The drive-thru testing site that is closing is at 50th and G Streets, in the parking lot of an old grocery store. It has been operating since late June, a joint effort of the Douglas County Health Department, OneWorld, Nebraska Medicine and the University of Nebraska Medical Center.
The site has the capacity to test 300 people per day, and a high number of tests have come back positive — anywhere from 17% to 50%, depending on the week, according to OneWorld.
People come from all over to be tested there, not just South Omaha, Skolkin said.
The site has been manned largely by Nebraska Medicine employees, who swab noses and send specimens in for lab testing. It was originally expected to run for six weeks, but Nebraska Medicine agreed to provide staffing for an additional two weeks, a hospital spokesman said.
But as the hospital system resumes more of its normal operations, including inpatient care and surgeries that were put on pause earlier in the spring, those employees are needed back at their regular jobs.
"I'm pushing very hard to have more testing," Skolkin said. "That's a big loss, 200 to 300 tests a day."
OneWorld is currently testing about 50 people per day at its locations and could bump up that up to 100, but the private lab OneWorld uses to process most of its tests, Quest Diagnostics, has had longer waiting times for test results. And OneWorld clinics and staff are busy providing dental, prenatal and other medical care. Teams are also working with patients sick with COVID-19.
Skolkin said the health center has been in talks with TestNebraska and other entities, including Douglas County, to partner with or help fund a new testing site serving southeast Omaha, but there have been snags.
The public-private TestNebraska system involves an online registration process, a health and symptoms assessment, and sign-ups for testing slots.
Skolkin and OneWorld Chief Medical Officer Dr. Kristine McVea said OneWorld's patients, many of whom are lower-income, don't always have internet access or the email addresses needed to receive test results. Others may not feel comfortable sharing their private health information online, or they work essential jobs and can't wait a day or two to schedule a test through TestNebraska.
"It works for many, but not all," Skolkin said.
OneWorld staff proposed doing a hybrid system with TestNebraska — OneWorld would sign up people for testing, do the swabbing and receive test results, and TestNebraska would supply the testing supplies and process the tests at its laboratory in Lincoln.
The sticking point has been the test results. OneWorld wants to receive them, with patient permission. Many of those testing would probably be their patients, anyway, and OneWorld could provide medical help to those testing positive, Skolkin said.
But state officials said that could be a violation of medical privacy laws.
Test results are typically only sent to the people who got tested and their local health department. Doctors at nursing homes sometimes receive test results because those residents are in their care, said Miltenberger.
"That's been kind of the big hang-up," he said. "We don't do that for anybody. It's not just a OneWorld, South Omaha thing."
TestNebraska has occasionally been flexible with the sign-up requirements — for example, while conducting testing at meatpacking plants — and is trying to figure out a workaround with OneWorld, Miltenberger said. The state is also looking to add a testing site in Sarpy County, where coronavirus cases rose in July.
"From our standpoint, we want to get as many people tested as possible," he said.