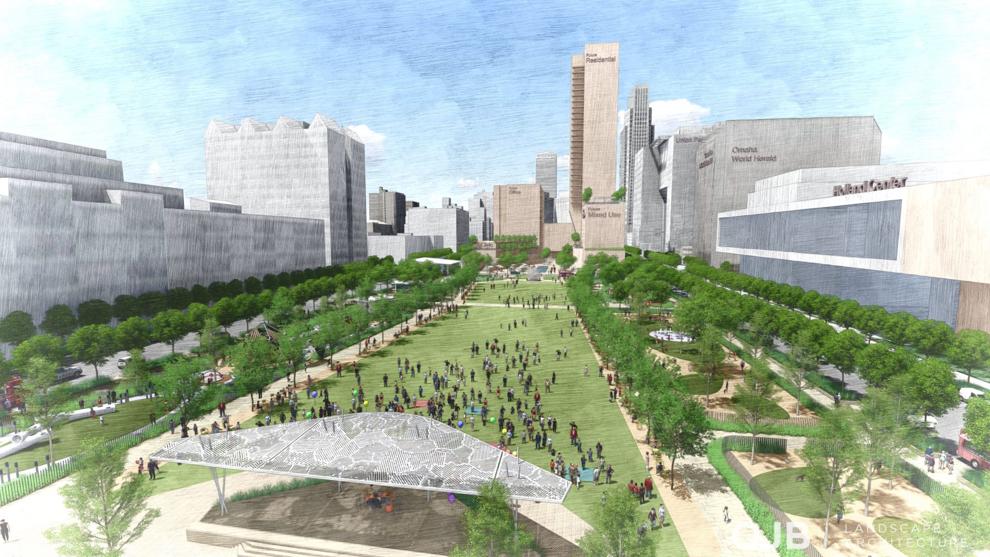 Omaha's movers and shakers, with more than half the funds pledged privately, are forging ahead with a $290 million proposal to breathe new life into the city's downtown riverfront.
A conceptual master plan calls for adding spacious lawns for events, a Farnam Street walking promenade that stretches past Eighth Street to the river, a ribbon-shaped rink for ice skating and rollerblading, a water plaza where kids can play and splash, and a dog park.
That would be accomplished by raising most of Gene Leahy Mall to street level and downsizing existing water features to create an open, continuous park leading all the way to the Missouri River.
Real estate experts and civic leaders raved Tuesday over the $290 million, largely privately funded plan they say should draw more people to the Omaha riverfront and eventually more commerce to the city's core.
The ambitious plan would add dozens of new amenities and activities to a roughly 90-acre area along the mall and river, from the marina near the Bob Kerrey Pedestrian Bridge south to The Breakers apartment complex at Leavenworth Street.
The mall's popular slides will remain, and a third slide is planned.
Ken Stinson and Mogens Bay, two Omaha businessmen and Heritage Services board members spearheading the effort, said they want to reconnect people to the river and transform the area into a vibrant and iconic destination that's more inviting.
"We've all worked on lots of projects in Omaha," Stinson told The World-Herald, "but this is one of the more significant opportunities to do something that, I think, is a game changer in the community."
The Riverfront Revitalization Planning Committee will present the master plan at a public meeting from 5 to 7 p.m. Tuesday at Gallup, 1001 Gallup Drive. A presentation with videos will begin at 5:30 p.m.
The committee has met for about a year and a half dreaming up ideas for the Omaha and Council Bluffs waterfronts. The group has finished its vision for the Omaha side; Council Bluffs leaders are still working to complete their side's master plan.
Based on conceptual drawings, Stinson said, the Omaha project is estimated to cost between $260 million and $290 million. That would include construction, engineering and other planning in the park areas. It doesn't consider private residential and office development that the committee believes would follow.
Omaha Mayor Jean Stothert said the city would issue $50 million in lease-purchase bonds. She wants to add that incentive to the city's capital improvement plan over three years. She can do so without raising taxes, she said.
The rest of the project's funding would come from the city's philanthropic community, which Stinson said has already verbally committed more than $150 million.
Members of the riverfront revitalization committee
» Mayor Jean Stothert, City of Omaha
» Mayor Matt Walsh, City of Council Bluffs
» Ken Stinson, Peter Kiewit Sons' Inc. (committee co-chair)
» Mogens Bay, Valmont (committee co-chair)
» Steve Jensen, Steven Jensen Consulting
» Doug Bisson, HDR
» Brook Bench, City of Omaha Parks and Recreation Director
» Michael Alley, Alley Poyner Macchietto Architecture
» Gary Gates, Omaha Public Power District
» Bob Schlott, Warren Distribution
» Pete Tulipana, Iowa West Foundation
» Mark Warner, Conagra Brands
» Rhonda Ferguson, Union Pacific
» Jack Koraleski, Union Pacific
» Jane Miller, Gallup
» David Brown, Greater Omaha Chamber of Commerce
Other projects by OJB Landscape Architecture
» Klyde Warren Park. Dallas
» Levy Park. Houston
» Lebauer Park. Greensboro, North Carolina
» Myriad Gardens. Oklahoma City, Oklahoma
» Park at Lakeshore East. Chicago
» Playa Vista Central Park. Los Angeles
Donors have covered the cost of the committee's work to date. That includes hiring a consulting team led by the OJB Landscape Architecture firm, which has designed urban parks in Dallas and Oklahoma City. OJB has offices in San Diego, Houston and Boston.
The Omaha committee expects to spend $4.6 million in private funds by the end of the year. "Not a penny" of taxpayer dollars has been spent to date, Stothert said, though city officials have dedicated time toward planning.
"It speaks to not only the size of philanthropic opportunities in Omaha but also the enthusiasm (for this project) from the philanthropic community," Bay said.
Under the committee's vision, the areas would remain public spaces. The Metropolitan Entertainment and Convention Authority would oversee their construction, operation, activation and maintenance, like it has for the CenturyLink Center and TD Ameritrade Park.
Stinson said that Stothert and MECA's board agree and that attorneys are drafting an agreement to add the area to MECA's responsibilities.
Dirt could move as soon as the middle of next year, with the project wrapping up in 2022. Stinson said that depends on permitting and approvals from the U.S. Army Corps of Engineers, the Nebraska Department of Environmental Quality and the Omaha City Council. The council has been briefed on the plan.
Stothert said she believes that the undertaking would raise property values, spark other development and draw more people and jobs downtown. And the existing park areas, she said, will become even better.
"I think everybody understands that this will be just transformational," she said.
The committee acknowledged that there may be detractors, but Stinson said he strongly believes that opponents will be in the minority. The committee said it's still soliciting public input. (The committee said about 700 people have attended three previous public meetings. Two were held last fall in Omaha, and one took place last month in Council Bluffs. The committee also has a website, riverfrontrevitalization.com)
How to learn more
What: The public is invited to learn about the conceptual master plan for the Omaha side of the riverfront at a community meeting.
When: Open house from 5 to 7 tonight, June 12, with a presentation at 5:30 p.m.
Where: Gallup, 1001 Gallup Drive. Free parking will be available in the Gallup parking lot. Enter through the most northern door on the west side of the building.
For more information: Visit riverfrontrevitalization.com.
The Gene Leahy Mall underwent a major renovation in 2013. The city spent $1.8 million to overhaul the lagoon and add new trails and lighting. The Nebraska Environmental Trust provided $600,000 of that.
The committee's next steps are to finish up the "initialization" phase of surveying and collecting data. They hope to move on to the next phase of design next month.
Ultimately, the committee wants to see results like those at Klyde Warren Park, the urban park in Dallas, where 1,300 events take place a year, from fitness classes and lectures to children's activities and movie nights.
Bay said the project is "all about making the community a better place for everybody."
"If you fast forward five years, what a kick we can get out of maybe watching thousands of families having a wonderful time in something we had a small part in getting created," he said.
What do you think of the riverfront plan?