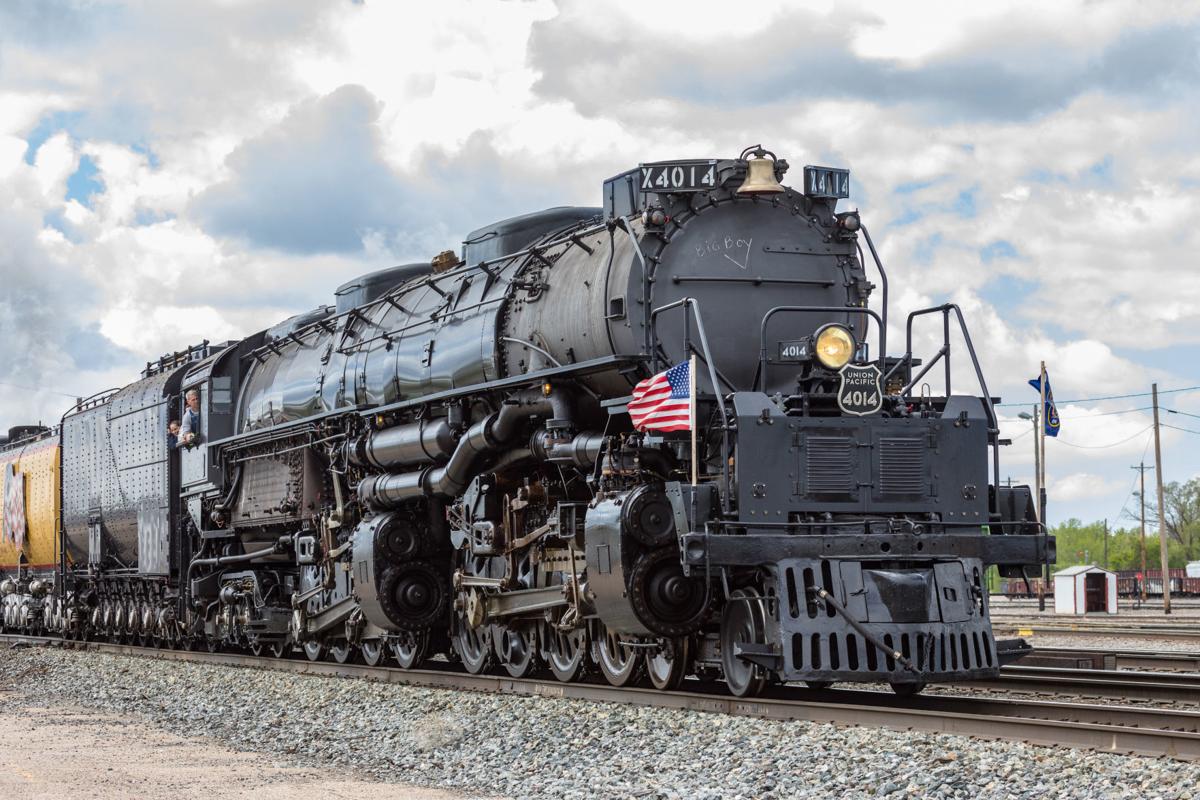 The biggest steam railroad engine in the world will be rolling through Nebraska this week for the first time since it underwent more than two years of restoration.
Union Pacific's iconic steam locomotive Big Boy No. 4014 will stop in several Nebraska communities as part of Union Pacific's celebration of its 150th anniversary. Big Boy will arrive in Omaha on Friday ahead of Railroad Days on Saturday and Sunday.
Several train-themed events are scheduled that weekend at locations throughout the area, including Lauritzen Gardens, the Durham Museum and the Historic General Dodge House.
Once it completes its Omaha visit, the newly restored Big Boy will take passengers from Omaha to Boone, Iowa, on July 15. Tickets — priced between $400 and $750 — are sold out, with the proceeds benefiting the Union Pacific Railroad Museum.
The restored engine, the only operational Big Boy left, rolled out of the shop in May, according to Union Pacific. It is longer than two city buses and is powerful enough to pull 16 Statues of Liberty over a mountain range. The engine dates to the 1940s, when 25 such machines were built.
Twenty-five Big Boys were built exclusively for Union Pacific, the first of which was delivered in 1941 to handle the steep terrain between Cheyenne, Wyoming, and Ogden, Utah. Of the eight still in existence, No. 4014 is the world's only operating Big Boy and the only one still owned by Union Pacific.
Following more than 2½ years of restoration, No. 4014 recently completed its inaugural tour to Ogden for Union Pacific's 150th anniversary celebration of the transcontinental railroad's completion. The Big Boy and historic steam locomotive Living Legend No. 844 met nose to nose, recreating the iconic image taken May 10, 1869, when the last spike was tapped into place at Promontory Summit, creating America's first transcontinental railroad.
Big Boy begins its trip east from Wyoming on Monday and will travel through Nebraska, Iowa, Minnesota, Wisconsin and Illinois before returning to Wyoming. To stay abreast of schedule changes, join the Union Pacific Steam Club on Facebook or follow Big Boy 4014 on Twitter @UP_steam.
This week's schedule includes public stops in Sidney, Ogallala, North Platte, Lexington, Gibbon, Central City, Columbus and Fremont.
Big Boy arrives in Omaha at 5:45 p.m. Friday and will be stationed at Union Pacific Home Plate, outside TD Ameritrade Park at 12th and Cuming Streets.
With a Railroad Days pass, visitors can view Big Boy at Home Plate from 9 a.m. to 4 p.m. Saturday and 9 a.m. to 11 a.m. Sunday.
On Monday, the engine will make stops in Denison and Carroll, Iowa, on its way to Boone.
The engine's return trip brings it through western Iowa and Nebraska in early August. It will be in Omaha from Aug. 2 to. 4. It will then make public stops in Fremont, Columbus, Central City, Kearney, Cozad, North Platte, Ogallala, Chappell, and Sidney in the days that follow.
8 a.m. MDT, Depart Cheyenne, Wyoming.
12:15 p.m. MDT, Sidney, 10th and Hickory Streets.
8 a.m. MDT, Depart Sidney.
9:15 a.m. MDT, Julesburg, Colorado, old depot, a 15-minute stop.
10:30 a.m. MDT, Ogallala, South Spruce Street crossing, a 45-minute stop.
1:30 p.m. CDT, North Platte, downtown crossing along East Front Street between North Chestnut and Poplar Streets. An overnight stop continuing into Wednesday.
8 a.m., Depart North Platte.
9:45 a.m., Lexington, 202 W. Pacific Ave., a 45-minute stop.
12:01 p.m., Gibbon, Pawnee Road Crossing, a 15-minute stop.
1:30 p.m. Grand Island, private rail facility with no public access.
8 a.m., Depart Grand Island.
9 a.m., Central City, C Avenue crossing, a 15-minute stop
10:30 a.m. Columbus, 26th Avenue crossing, a 45-minute stop.
12:45 p.m., Fremont, 10 S. Main Street, a 45-minute stop.
5:45 p.m., Omaha, Union Pacific Home Plate at 12th and Cuming Streets
8 a.m., Depart Omaha's Durham Museum
10:45 a.m., Denison, Iowa, Main Street crossing, a 45-minute stop.
12:15 p.m., Carroll, Iowa, former CNW depot, a 15-minute stop.
2:30 p.m., Arrive in Boone, Iowa
Get local news delivered to your inbox!
Subscribe to our Daily Headlines newsletter.