If you were looking for the best place in the country to bring 48 of the nation's top college volleyball teams for a championship tournament, you arguably couldn't come up with a better place than Omaha and Nebraska.
Nebraska is a volleyball hotbed that's home to some of the sport's most passionate fans. And it was Omaha that transformed the NCAA championships 15 years ago when the city hosted the Final Four for the first time — setting new standards for crowds and atmosphere that other host cities now strive to emulate.
The NCAA apparently knows a good thing when it sees one. When the Final Four returns to Omaha yet again in fall 2022, it will be the fifth time in 17 years that Omaha has hosted the sport's final weekend. No other city will host more than twice in that span.
No wonder University of Nebraska coach John Cook likes to, with a little hyperbole, call Nebraska "the center of the volleyball universe."
So why not, in this strange and unique pandemic year, play all six rounds of the tournament in an Omaha volley-bubble?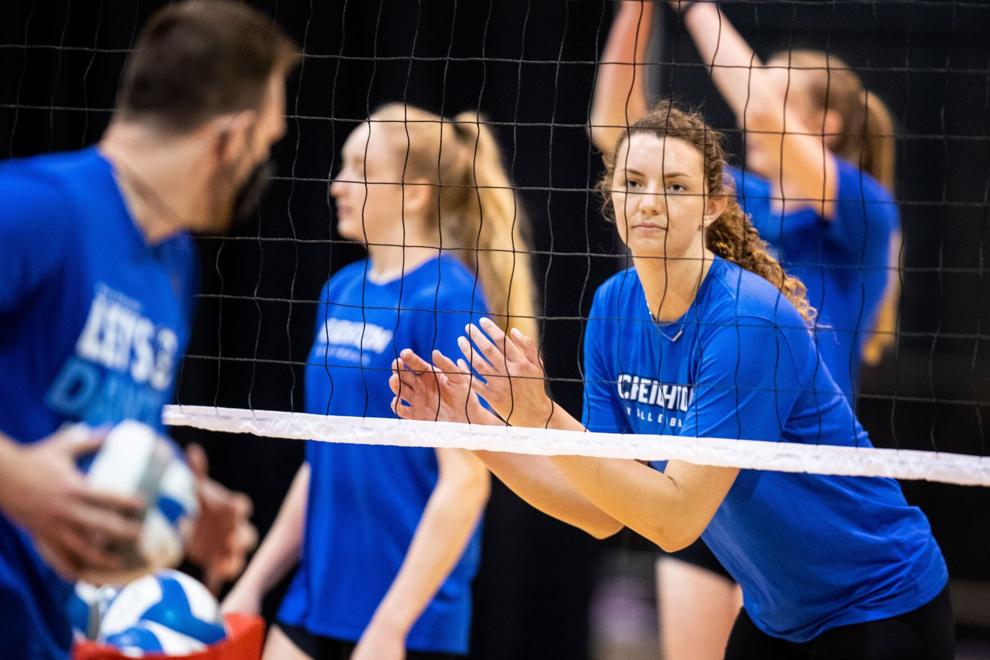 "You want to find a place that really cares about volleyball," said Kathy DeBoer, executive director of the American Volleyball Coaches Association. "Nebraska is a very knowledgeable area for the sport, and there are a lot of volleyball crazies."
Omaha also combines that enthusiasm with a reputation as a city that can pull off major sporting events, said Terry Pettit, the former Cornhusker coach who's considered the godfather of Husker volleyball.
"If Omaha ran the world dominoes tournament, it would be the best dominoes tournament that anybody ever went to," Pettit said.
The volleyball play kicks off Wednesday morning on four courts within the CHI Health Center Omaha, with Creighton University opening Wednesday at 2:30 p.m. and Nebraska's first match at 2:30 p.m. Thursday.
Unlike the past times Omaha has hosted the Final Four, there won't be record-shattering crowds packing the CHI Center to the rafters.
Only family and friends of participants will be able to attend the first three rounds. The final three rounds, when the field is down to eight teams, will be limited to 4,000 spectators — 25% of arena capacity.
But Tim Horsmon, coach of the University of Dayton, said he knows from attending other Final Fours in Omaha that the city embraces college sports, and volleyball in particular. He has confidence that even under the trying circumstances the event will be done right.
"These guys do a good job here," he said. "There's a lot of love for volleyball."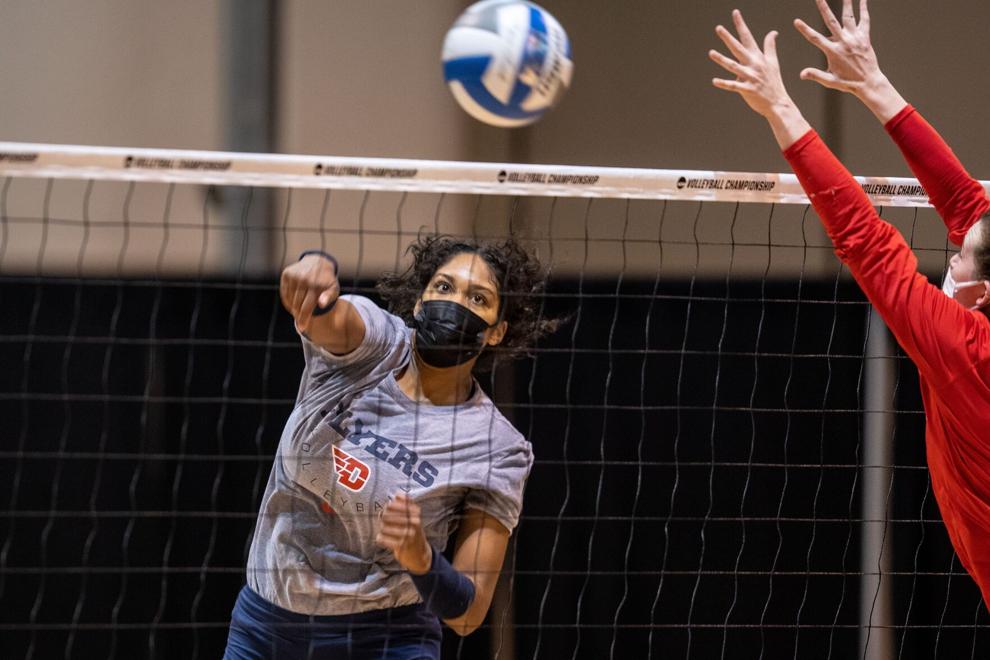 Nebraska's love for the sport started from humble roots.
When Pettit took over the Husker program in 1977, before matches he would set up a couple of rows of wooden chairs behind the team benches to accommodate the fans. But he was intent on building something great.
One of the first things Pettit sought to do was raise the level of high school play, holding clinics with young players and coaches from across the state to build more homegrown talent.
It worked. Nebraska to this day regularly produces more major-college volleyball players per capita than any state other than Hawaii. Girls grow up in Nebraska dreaming of playing for the Cornhuskers.
Pettit's team soon took off, reaching the Final Four for the first time in 1986 and becoming one of the sport's first powerhouse programs outside the West Coast.
By then, Pettit was directly marketing volleyball to the school's football-crazy fans, putting up flyers in the restrooms at Memorial Stadium and encouraging folks to stick around for the evening volleyball match.
Another key moment came in 1990, when Pettit invited the school's women's athletic administrator, Barb Hibner, to accompany his team on an early season trip to Hawaii. Hawaii was a perennial power that was drawing the sport's biggest crowds. Pettit wanted to show what Nebraska could become.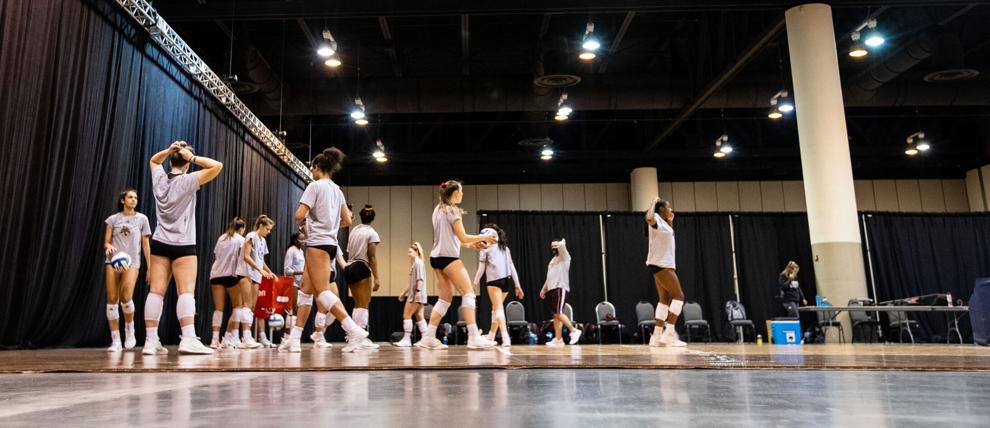 Hibner came home excited. She and Pettit soon crafted a new vision for the Husker program, the centerpiece being renovation of the old NU Coliseum into an intimate new 4,000-seat home court.
Fans quickly became hooked. The Huskers won their first national championship in 1995. A second national title followed in 2000 under Cook, Pettit's hand-picked successor. And in 2001, Nebraska began an unprecedented sellout streak that continues to this day.
The streak didn't even skip a beat when the Huskers eight years ago moved into a new 8,000-seat home in the Bob Devaney Sports Center. It currently stands at 270, paused during this pandemic season when no tickets were sold.
Dayton's Horsmon said he once asked Cook whether he ever thought about moving back to his sunny native state of California. "He said, 'Tim, I coach in one of the best places in the country for volleyball,'" Horsmon said.
Of course, fans always love a winner. And few teams in any college sport have been as consistently good as Nebraska volleyball.
Nebraska's five national titles are the third most of any school, and its 15 Final Four appearances are the second most. In basketball, it's a dream season to make the NCAA's Sweet 16. But since the volleyball tournament expanded to 64 teams in 1998, Nebraska has made the final 16 in 21 of 22 years.
Nebraska's nation-leading attendance has also helped it join Hawaii as the only college volleyball programs that take in more revenue than they spend.
That fan passion has impacted the sport beyond Nebraska's borders.
Until 2006, the volleyball Final Four was often staged in cavernous, mostly empty arenas.
When Omaha bid for the 2006 Final Four, Pettit was part of the team making the pitch. He essentially told the NCAA selection committee they'd be crazy not to give Omaha a try.
"How could it not work?" Pettit recalled as his message. "It will sell out in a day."
And it did sell out, all right — in about two hours. It was the first sellout in Final Four history.
Nebraskans gobbled up most of those tickets even though there was no guarantee their Huskers would make it that far. But the Huskers did. And it created a scene unlike any ever seen in American volleyball.
A crowd of 17,014 — at the time, the most ever to watch an NCAA match — saw Nebraska take down UCLA in the semifinals. That record was surpassed two days later when 17,209 watched Nebraska defeat Stanford to win the school's third national title.
For college volleyball, DeBoer said, it was a landmark moment.
"I remember after Nebraska won the championship, John (Cook) said to me, 'Kathy, do you think we've changed volleyball?'" DeBoer said.
It would prove to be "a breakout moment," DeBoer said, showing new possibilities for the sport. That can be seen in the tournament attendance numbers since.
Before 2006, only once did the championship match draw more than 12,000 fans. In the 13 tourney finals since, only once has attendance fallen below 12,000.
"Omaha set a benchmark for what Kansas City wanted to do and Columbus (Ohio) wanted to do," DeBoer said. "Everybody I talked to said, 'We have to see if we can beat Omaha.'"
She said Midwestern host cities like Kansas City, Columbus and Minneapolis also have come to expect that whether or not Nebraska makes the Final Four, 2,000 to 4,000 Husker fans who bought tickets in anticipation will show up anyway.
And when the Huskers do make the Final Four, attendance records often fall.
Nine of the 10 biggest crowds in volleyball history have been at Final Fours where the Huskers have taken the court, including during tournaments Omaha hosted in 2006, 2008 and 2015. The biggest crowd — 18,516 — came in 2017, when Nebraskans drove down I-29 and packed Kansas City's Sprint Center to watch the Huskers win their fifth title.
There won't be any huge crowds in this year's tournament. But DeBoer said she expects Omaha will, in typical fashion, throw its arms open to all 48 teams. It's not like there won't be any fans.
And indeed, since arriving in the past few days, teams seem to be enjoying their experience.
Emily Jarome of Towson University in Maryland came to Omaha very familiar with Nebraska's passion for volleyball. She attended the 2015 Final Four in Omaha, watching the Huskers down Texas for the title. She had never seen anything like it.
"I was at the very, very top row in the arena, and there was not a single seat open," she said. "It was just really cool to see how dedicated everyone here is to their team."
Towson's Kristin Spengler said her team has been welcomed by other patrons and workers around their hotel, wishing them luck and asking if they need anything.
"It seems like everyone's pretty much on board and is really enjoying having the whole thing going on here," she said.
Nebraska's Cook said this year's tournament is so different, with all the COVID tests, masks and time spent sequestered to avoid contracting the virus. Not to mention that the sport's 2020 championship is being decided in 2021.
But he said he's also enjoyed seeing so many other teams around the hotel. And just being around the CHI Center brings back a lot of good memories for him and all of Nebraska volleyball.
"We've played some big matches in there," he said. "That part gets you a little fired up."