Walter Glessman wasn't sure whom he could turn to for help after the July 10 storm that wrecked havoc on the locust trees in his Benson yard.
A friend suggested that Glessman, a 76-year-old Navy veteran, call the United Way of the Midlands to see if he was eligible for debris removal. That's when he learned about Team Rubicon, a veteran-led disaster response nonprofit that was formed in 2010 after the Haiti earthquake.
"I was thinking that I would have to go to the bank to borrow some money to get it cleaned up," Glessman said. "These people today are so nice, and you can tell they work great together. I don't know what I would have done."
One of two six-member teams from the Omaha area showed up at Glessman's house near 63rd and Evans Streets at 9 a.m. Sunday with tools in hand. They spent about four hours trimming downed limbs and piling the debris in the alley behind Glessman's home before moving on to the next house on their list.
"They did a great job," Glessman said. "They couldn't stack it all up out on the curb, so I suggested the alley. Now I have to find someone to haul it away, but the job they did was tremendous."
Team Rubicon mobilizes veterans to help with disaster relief, and its members travel the country helping out. The organization became involved with this storm when local members notified national leaders on behalf of the city that cleanup help was needed.
The Greyshirts, as Team Rubicon members are called, will cut large debris already on the ground and drag it to the curb for collection by city employees. Volunteers will also remove damaged trees still standing, depending on the severity of their condition. They do not provide other services typically offered by licensed arborists.
Bobby Smith, Team Rubicon's Nebraska administrator, said volunteers will work around Omaha for at least a week. The elderly and homeowners with disabilities who need help can call 211 to see if they qualify.
"The homeowners just have a huge weight lifted off their shoulders when we arrive," Smith said. "You can see it in their eyes. I like seeing their smiles and, of course, the hugs."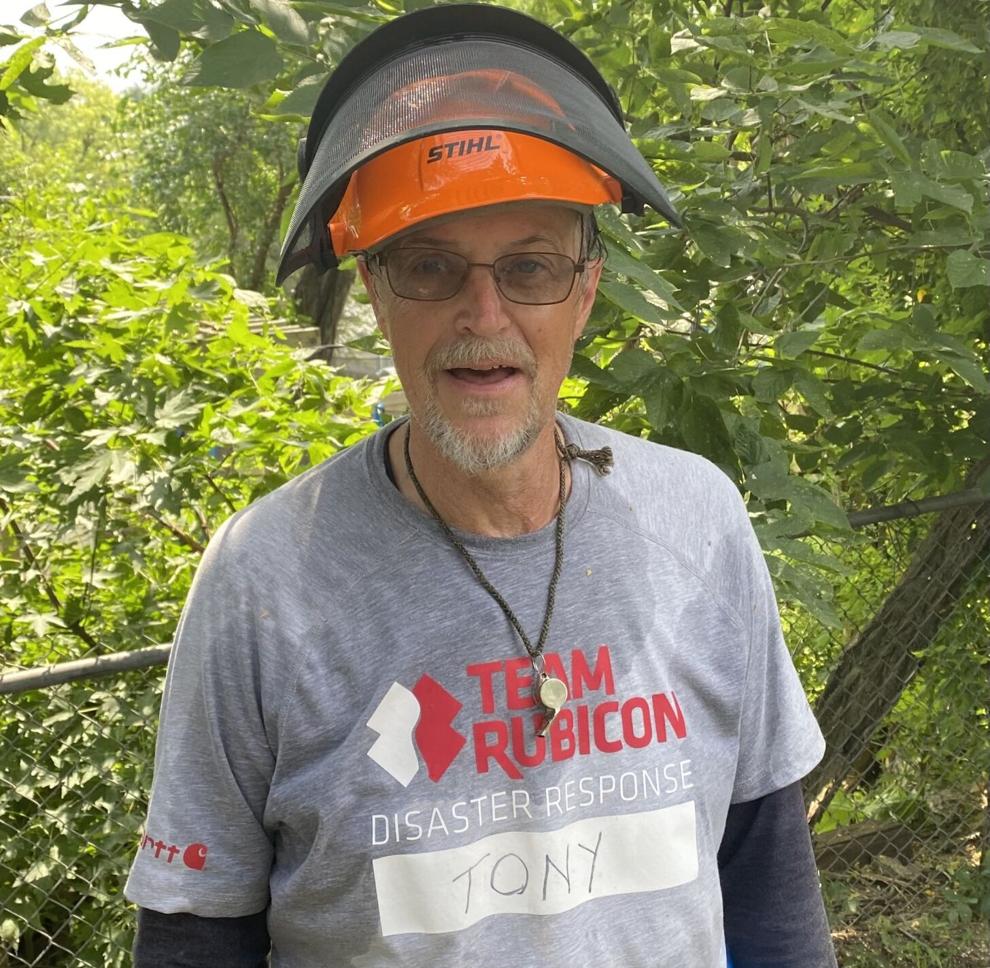 Tony Swerczek of Papillion spent 34 years in the Navy. After retirement, he began looking for ways to continue to serve, joining Team Rubicon about three years ago.
"I figured that I'd give back," Swerczek said.
Tornado-strength winds from the July 10 storm downed trees and large limbs and scattered smaller branches. The debris blocked streets, damaged property and contributed to 188,000 power outages, the most ever, in the Omaha Public Power District service region. OPPD restored power to all affected customers by Friday evening.
Local officials are seeking state and federal disaster aid to help with the recovery.
Mike West, an incident manager with Team Rubicon, flew in from Denver. He and Mayor Jean Stothert held a joint press conference Sunday morning at the Subby Anzaldo Columbus Park Community Center at 1515 S. 24th St.
West said he was familiar with the Omaha area after spending about 70 days here helping after the 2019 flood. This time, he expects to spend about a week in town helping with technological support, identifying cleanup sites and mobilizing volunteers.
"We're on the ground as long as we can support the local team's goals," West said. "The great thing about Omaha is that everyone works well together, including the city, the United Way, the Red Cross, the Salvation Army, and a lot of other organizations."
About 150 people have called the United Way's 211 phone line seeking help with storm cleanup, West said. Part of his job will be prioritizing residents with the greatest need.
Stothert said she hadn't known about Team Rubicon until Paul Johnson, the director of Douglas County Emergency Management, mentioned the group.
"It takes everyone to work together after a disaster. We are very grateful to Team Rubicon and its members for responding to our call for assistance," Stothert said. "Within 48 hours of our first conversation, this outstanding organization is ready to help our neighbors and friends who need it the most."
---