While you're away, Metro transit is making steady progress building stations for its new ORBT line.
Tuesday, the construction reached a milestone when workers installed the rapid transit line's first station canopy at the Westroads Transit Center.
Jason Rose, outreach coordinator for Metro, said the installation went smoothly, taking about 20 minutes for the prebuilt canopy to go from a crane to its place on the concrete platform.
"It looks great," Rose said. "We're excited about it."
ORBT will be a rapid transit bus service running between downtown Omaha and Westroads.
Metro is counting on the stations and the orange, accordion-centered buses to help brand ORBT as a new, improved transit service for Omaha.
The metal stations are sleek and modern-looking and will hold visible spots along Dodge Street and along Douglas Street eastbound into downtown. The canopy installed Tuesday is more out of the way, on the back side of Westroads near the former Granite City restaurant.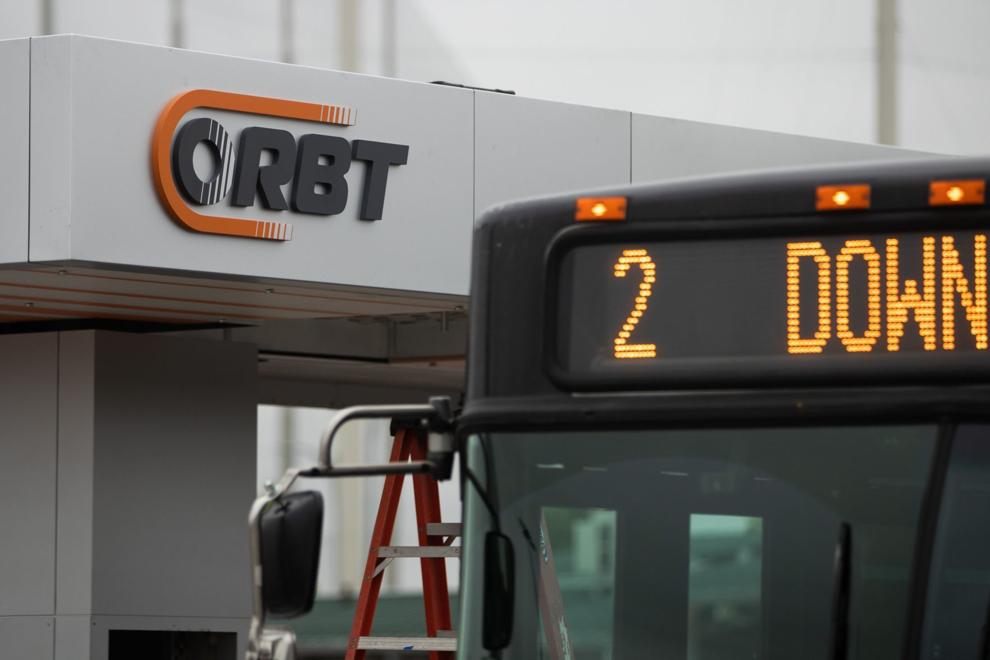 The canopies will sit on raised platforms for loading, allowing passengers to walk straight on or off the bus. Stations will have Wi-Fi and ticket kiosks.
Dimensional Innovations of Overland Park, Kansas, built the canopies off site, and a subcontractor installed the Westroads canopy. Weitz Co. is the contractor building the platform bases.
Six more platforms are ready for a canopy, Rose said.
When finished, ORBT will have stations on both sides of Dodge Street at 90th, 84th, 72nd, 62nd, 49th, 42nd and 33rd Streets. Other stations will be along Douglas Street eastbound at Park Avenue and 24th, 19th, 15th and 10th Streets; and up Dodge Street at 12th, 15th, 20th and 24th Streets and Park Avenue.
Rose said that the station work is past the halfway point and that the contractor has made a lot of progress on the downtown stations. Work will soon start on a series of platforms on Dodge Street's south side, he said.
With traffic down during the pandemic, Rose said crews have been given more space to do their work.
ORBT is scheduled to start operating in September or October.