It started off as one of the most extraordinary demonstrations ever staged at Omaha's busiest, most visible intersection, long a gathering place for those looking to make their voices heard.
An estimated 2,000 people crowded around all four corners of 72nd and Dodge on Friday night, May 29. The diverse, mostly white crowd held aloft "Black Lives Matter" signs and chanted to decry the death of George Floyd at the hands of Minneapolis police.
"Omaha showed up in peace!" exclaimed Peyton Zyla as he streamed the event live on his Facebook page. "We stand in solidarity! This is beautiful!"
But things were about to get very ugly.
After an incident in which aggressive protesters surrounded an occupied State Patrol cruiser — one man climbing on top and another appearing to try to smash out a window — Omaha police officers suddenly descended on the scene in force.
They donned riot gear. Soon pepper balls, flash grenades and tear gas canisters were flying in what mushroomed into the most violent street clashes seen in Omaha in half a century. The images over the next few days were stark: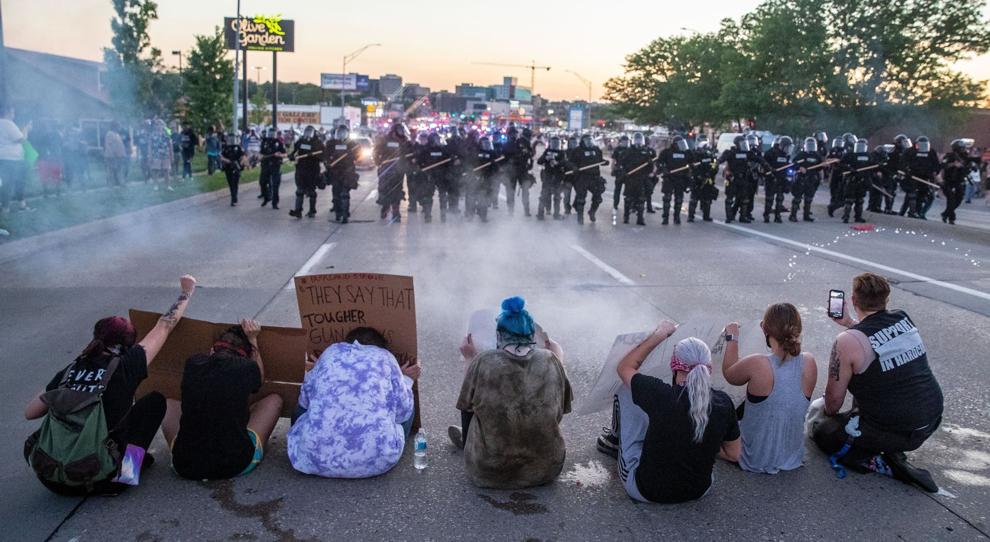 Lines of armored police officers advancing in lock step.
Protesters standing their ground, hurling taunts, plastic water bottles, rocks and whatever else they could find.
People choking on tear gas and injured by pepper balls, including at least one man struck in the eye.
Vandals shattering windows, first near 72nd and Dodge and eventually along blocks-long swaths of downtown businesses.
A protester shot dead in a fight with a downtown bar owner.
A state of emergency in Omaha, along with a rare citywide curfew imposed over four nights.
And in the wake of it all, lots of finger pointing and questions left hanging in the air like a haze of tear gas: How did what started as a peaceful protest devolve into several nights of mayhem, vandalism and arrests in Omaha? And could it all have been avoided?
Many protesters blame the Omaha Police Department for the violent outcome, accusing officers of escalating non-violent incidents into full-fledged conflict. When police suddenly appeared in riot gear and began firing pepper balls and tear gas, they said, it shocked, antagonized and angered many protesters — and some fought back.
"Everything that happened was 100% on them," said Morgann Freeman, who helped organize the Friday night demonstration. "A peaceful protest against police brutality was met with police brutality. If they don't see the irony in that, there's no saving them."
Police Chief Todd Schmaderer defended law enforcement actions as necessary to control a significant number of agitators who were bent on fomenting trouble. He said it was unfortunate that behavior overshadowed and undermined the message of the majority, who were there peacefully calling for police accountability.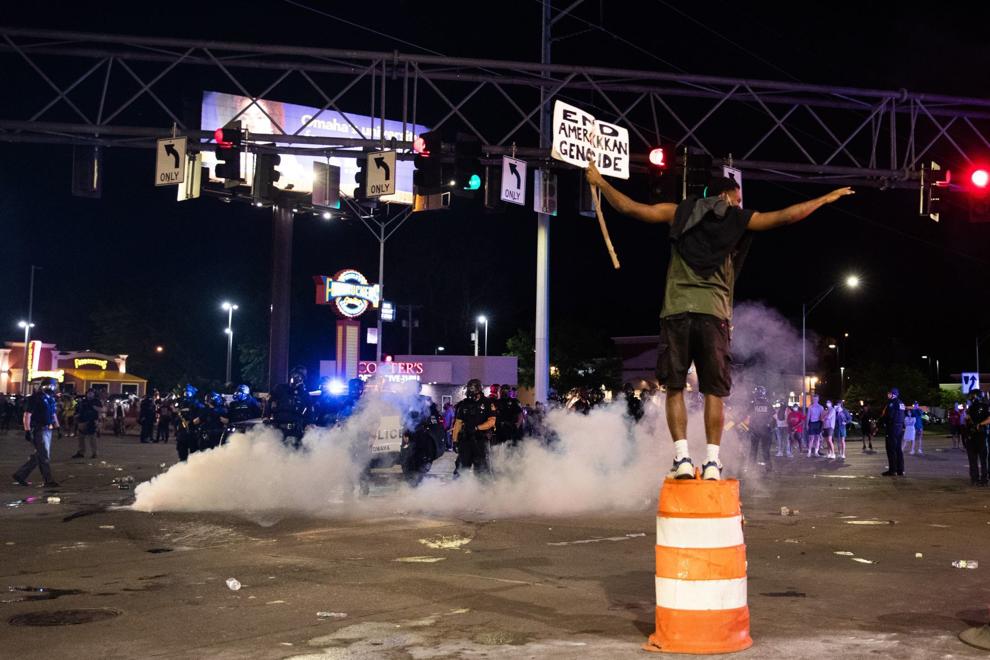 "There appeared to be a concerted effort to turn it unruly," Schmaderer said. "Out of all the people that came, most were darn good people exercising their right to free speech — a message that was very important. I don't think you will find a police officer around that doesn't say that."
To try to discern why the situation turned so violent, The World-Herald interviewed police officials and more than a dozen protesters, watched hours of video and consulted national experts on policing protests. The newspaper focused particularly on the critical minutes around 8 p.m. when police and protesters first clashed directly.
The examination revealed the dynamics of the forces that came together at the city's crossroads that night. Both police and protesters had very different motives, mindsets and imperatives, and some in each group had an uneasy mistrust of the other.
And they reacted to each other in very predictable ways. Police officers showed up in force when one of their own was seen as endangered by protesters. And protesters who had come out to decry police excesses reacted to what they saw as overbearing force with defiance and resolve.
In the end, pinning down just who was responsible for lighting the fuse is difficult, as police and protesters have vastly different interpretations of the level of provocation and danger that officers were facing. But other points are more clear.
There's little doubt that a group of young, mostly white people joining the crowd that night were intent on instigating conflict with police. That showed early on when they began repeatedly occupying islands at the intersection in defiance of police orders. It's unclear whether those same people were involved in later escalations such as the one involving the state troopers.
Police communications with the crowd were insufficient for the large scale of the event. That gap sowed confusion among peaceful protesters and still contributes today to a widely held belief among many that police actions weren't justified.
The police decision to deploy officers in riot gear bears scrutiny, and questions surround the circumstances in which officers first resorted to firing chemical agents for crowd control. Once police launched those steps, the chances of preserving a peaceful protest may have been doomed.
Studies have shown that the mere deployment of riot police and agents like tear gas in mass protests escalate tensions and can spark violent responses. That means that police must walk a fine line, ensuring that their response is proportional to the actions and mood of the crowd while at the same time protecting officers, the public and property.
Live-streamed video that night clearly shows the volume of protester defiance rose exponentially after street officers fired the first pepper balls and riot police moved in.
Edward Maguire, an Arizona State University professor who authored a recent U.S. Justice Department-funded policy paper on best practices for policing protests, said it's difficult to judge whether the tactics deployed were warranted without knowing all the circumstances the Omaha officers faced.
"The question is, was the event sufficient enough to call it a riot?" he asked rhetorically. "If you approach a largely peaceful event as a riot, you will create a riot. You will get what you seek to prevent."
* * *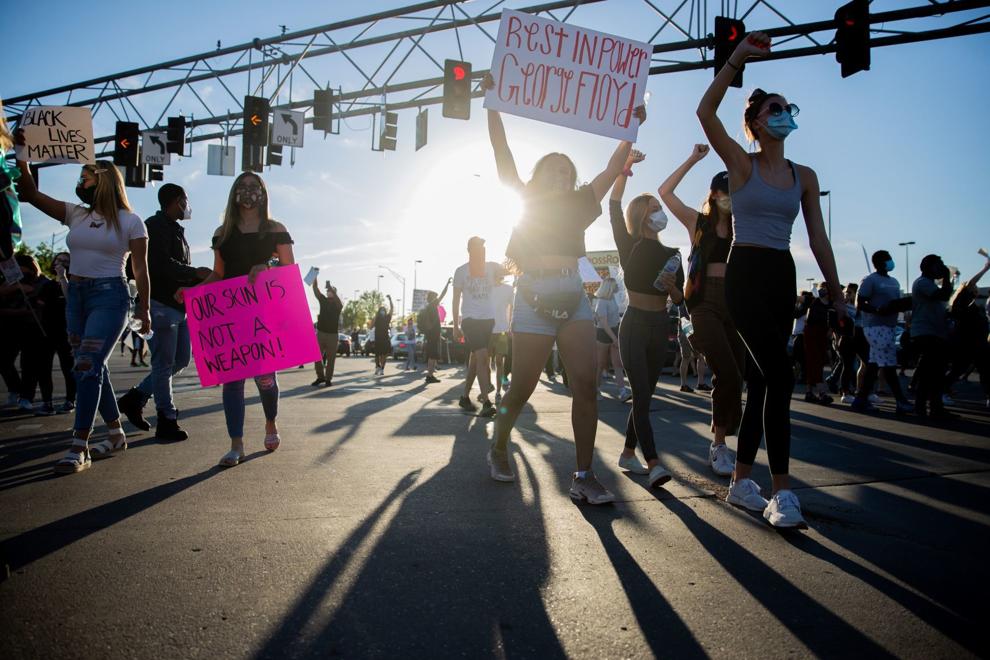 Once the video of George Floyd dying at the hands of Minneapolis police went viral — showing a white officer kneeling on Floyd's neck for some eight minutes despite the black man's pleas that he couldn't breathe — it sparked outrage across the country.
Protests calling out the history of police brutality against African-Americans were held from coast to coast, including in Omaha. Some smaller ones were held in the city during that week. But the biggest protest to date — billed on social media as the Stand Against Injustice — was planned for May 29 near the Crossroads Mall. Organizers made it clear in their event post that they wanted a peaceful gathering.
Not only were planners making preparations for Friday night, but Omaha police were, too.
After learning of the planned protest that morning, Capt. Laurie Scott began to reach out to organizers in an effort to work with them. She also met with them at the scene just before the event started.
The way law enforcement agencies attempt to police protests has changed much in the last 50 years.
Back in the 1960s, Omaha and many other cities saw devastating race riots, the scars of which remain in the city today. The typical police strategy then was to show up in riot gear and put up a dominant show of force to deter any lawbreaking. Studies would later show that harsh police posture only escalated tensions and promoted conflict.
Now best practices call for uniformed officers to work with protesters, helping them peacefully exercise their First Amendment rights while also protecting public safety. Officers control traffic and, if there is unlawful activity, best practices call for enforcement efforts to sharply focus on the lawbreakers, not the entire crowd.
Police need to strike the right tone and balance, said Justin Nix, a University of Nebraska at Omaha criminal justice professor who studies police tactics.
"We know from five years ago in Ferguson that police simply by showing up dressed in riot gear and showing that force can escalate things," Nix said, referring to the riots in Missouri in 2014 and 2015 that followed the shooting of a black man by a police officer.
But while working to ensure a peaceful protest, Omaha police also prepared for the worst. They had already seen the massive rioting, looting, arson and property destruction that had occurred in Minneapolis and other cities.
So 18 officers dressed in riot gear — Omaha police call them RDF, for Rapid Deployment Force — were staged beforehand inside the Crossroads parking garage. The idea was to keep them out of sight to avoid inflaming the crowd, but to have them ready quickly if needed.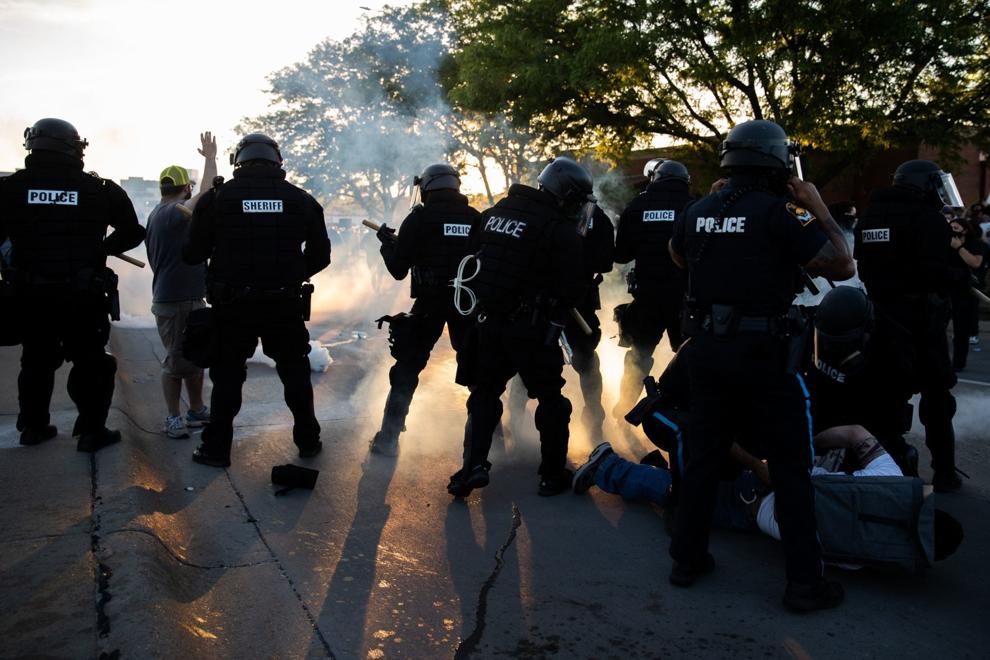 By 6 p.m. when the event was set to start, hundreds of protesters already occupied all four corners of 72nd and Dodge.
Xavier Carr showed up early and marveled when he saw the size and diversity of the growing crowd, which was mostly white and young, but included people of all ages and races. They held signs aloft and chanted slogans like "Black Lives Matter," "No Justice, No Peace," and "I Can't Breathe" — George Floyd's last words.
Carr said it was fitting they planted themselves beneath the familiar Crossroads sign. He said it felt like a crossroads, a transformational moment for the city. Through the night, the crowd would swell to 2,000 or more.
"It wasn't even a protest, it was a rally," said Freeman, a 29-year-old communications and diversity consultant who had helped organize big demonstrations before, including the Omaha Women's March. "It was just this beautiful moment of community."
"It was more a celebratory crowd of unity, not an angry crowd," agreed Daemon Donigan, a white, 45-year-old state public health worker who said he went to the protest to show support for people of color disproportionately impacted by police violence.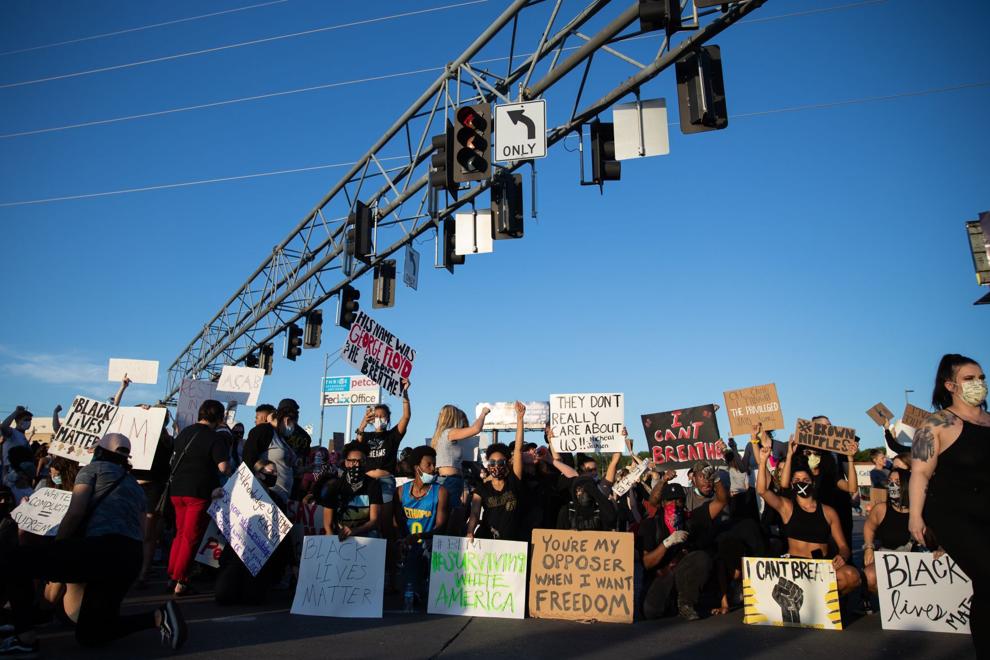 But the crowd also included conspicuous, smaller pockets of young white protesters who struck a more hostile tone from the start, chanting "F--- the police" or "F--- 12," slang for the same thing.
Zyla, a 21-year-old community organizer in North Omaha, had arrived just after 6 p.m. and was providing a running commentary to an audience of thousands through his Facebook Live feed. Early on, he walked by a group of a dozen young white men and women who were standing atop a garbage dumpster chanting "F--- 12." He also passed someone carrying a sign reading "ACAB" — short for "All Cops Are Bastards" — whose head and face were completely covered by a green ski mask.
Carr, a 31-year-old who calls himself "a big black dude," said such sentiments were definitely in the minority.
"Some people were trying to chant that stuff, but we would shout them down," he said.
Donigan, too, heard the young white protesters and their chants. He said they "put my radar up as them not necessarily being there for the right purposes."
Such offensive words are, of course, protected by the First Amendment. But they could suggest that some protesters had a bellicose intent. Schmaderer has said he's convinced there were "anarchists" determined to create conflict with police that night.
Omaha Deputy Police Chief Scott Gray noted that with protests today being largely promoted through social media, event organizers have no idea who is going to show up.
It's certainly conceivable there may have been police officers present that night with negative attitudes toward the protesters. After all, the crowd was there to speak out against actions by police.
"You can have 1,000 protesters and two are jerks, and you can have 100 cops and two are jerks, and that's all it takes to inflame conflict," said ASU's Maquire, familiar with that 72nd and Dodge intersection as he began his criminal justice academic career at UNO. "It can spin out of control so rapidly."
As they had planned, police officers initially kept a low profile, with officers largely set back from the street corners. Some observers were stationed on the roof of the Do Space building on the southwest corner. Scott, who was overseeing the operation, was at a command center set up in a nearby Nebraska Furniture Mart parking lot.
Almost from the beginning, police and organizers had to deal with protesters who illegally stood amid traffic on the medians of the busy intersection.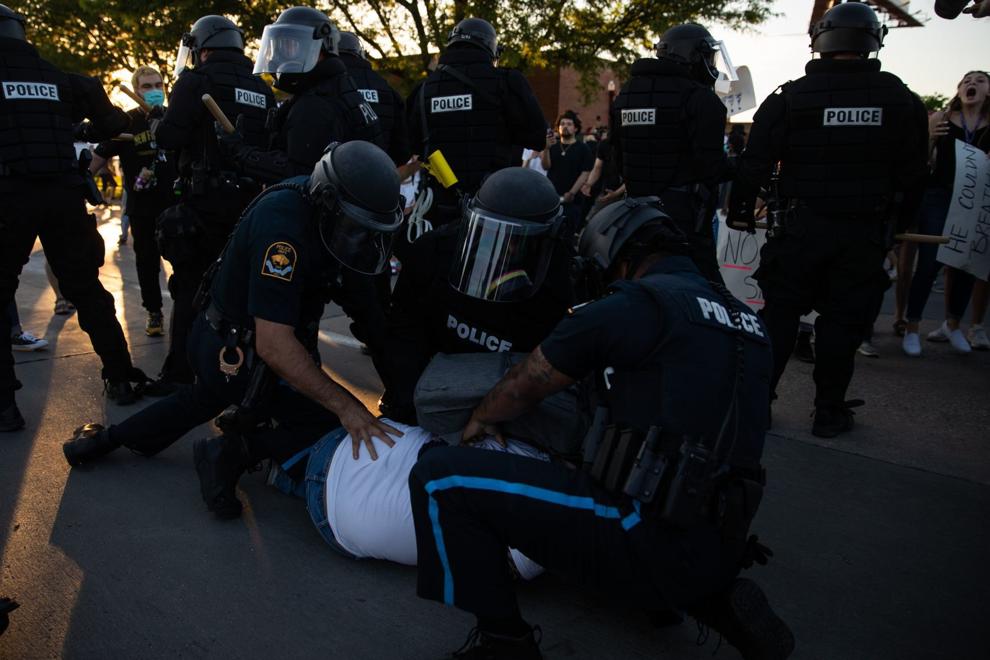 Freeman said police had told her earlier they needed to keep people off the medians or the event would be shut down, so she personally got involved. "We were hurrying and rushing and trying to keep people off," she said.
But she said a group of young, mostly white males seemed intent on occupying the medians under any circumstances.
"I literally told them the police will shut down the protest, you may get arrested, please move because I don't want to put everyone else at risk," she recalled. "They said they were all right with that."
Police say at some point around 7 p.m., the median occupiers started crossing from median to median to stay ahead of officers attempting to shoo them off. Police said the group was large enough at one point to stretch an entire block along one median.
Then at 7:24 p.m., 40 to 50 protesters blocked traffic on Dodge just west of 72nd, trapping several vehicles in westbound traffic. Some protesters sat in the street. An OPD cruiser responded in minutes and the crowd scattered.
Gray later called it "a huge safety concern." There have been cases in other cities of drivers caught in a mob of people panicking and running over protesters, he said.
At 7:35 p.m., a large number of protesters who had been occupying the center median again entered westbound traffic, blocking all three lanes and stalling more than a dozen cars. That's when police decided to shut down traffic in all four directions heading into Omaha's busiest intersection.
"We've lost the street," one officer said over the scanner. "There is nothing we can do at this point."
Why were police shutting off traffic? Most demonstrators didn't know. Any police efforts to give a reason to the crowd, which was dispersed over a wide area, became lost in the din of the protest. And that caused much confusion.
"There was no communication to us on what they were doing," said Donigan. "Police basically gave us the intersection."
Indeed, he and many protesters took the police action as an invitation to move into the streets, and hundreds did so now that there were no traffic concerns. Donigan likened it to when police close off streets to facilitate parades. And a parade was exactly what next ensued.
Organically, a group of 300 people or more began marching east about 7:40 p.m. in the vacant westbound traffic lanes. Zyla joined in.
"I'm not sure exactly why police have shut down Dodge, but it has encouraged people to start moving east," he said on his stream. "The entire intersection of 72nd and Dodge is technically ours."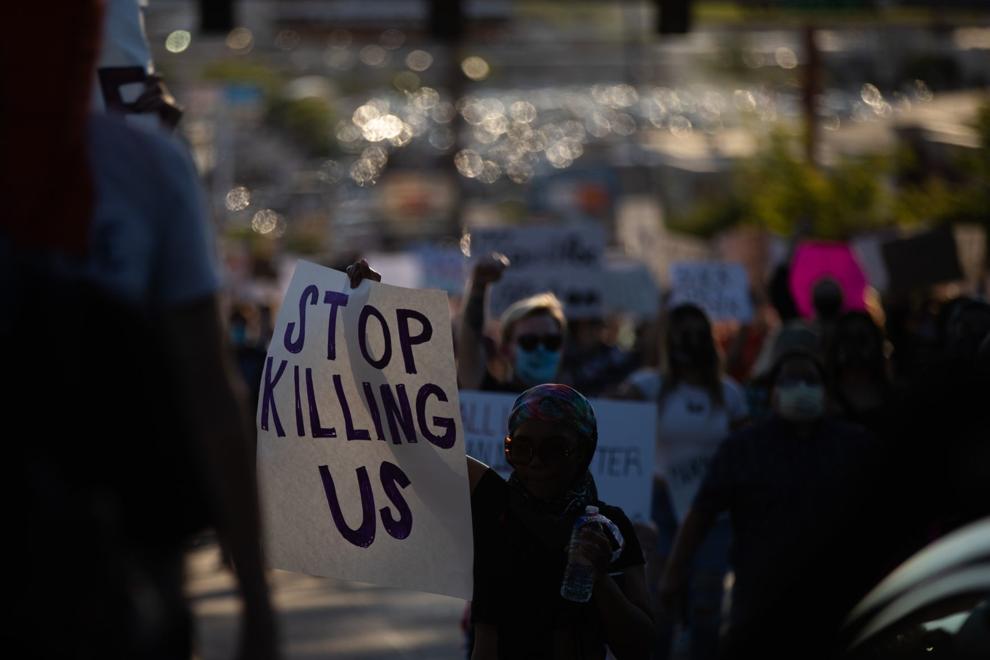 The group paraded east up the hill to 68th Street before turning and coming back down toward 72nd. Police would later report as the group reached 69th, protesters pushed aside barricades, and someone threw a water bottle at a cruiser.
Zyla trailed the group, and as he neared 72nd, a woman walking by can be heard calling out, "They're putting on gas masks."
Zyla told his audience he saw no sign of police officers putting on masks. It's unclear whether there was anything to the woman's report or whether it was itself a provocation.
It was now approaching 8 p.m., an hour before the protest was scheduled to end with a solemn moment of silence for Floyd lasting eight minutes and 46 seconds — the length of time commonly cited for how long the officer was kneeling on him. But that moment would never arrive.
Many of the marchers continued east past 74th Street. It was there, on eastbound Dodge just west of the Olive Garden restaurant, that two state troopers who had helped Omaha police close down and reroute Dodge Street traffic were sitting in their cruiser.
Lt. Greg Miller, a 21-year patrol veteran in the car's passenger seat, had heard on the radio the group was coming and watched it approach. He and Trooper Jake Arnold were soon enveloped by a crowd estimated at 100.
Some protesters then became hostile, giving the troopers hand gestures, yelling obscenities and things like "Don't shoot me" and "F--- the police." As a cop, Miller was pretty used to such treatment.
But things only escalated from there. A water bottle was thrown. Someone jumped up on the hood, and others started pounding on the car.
Then protesters got the idea of putting signs over the windows, blinding the officers to what was happening around them.
Most ominously to Miller, someone placed a piece of cardboard over his window and hammered hard against it several times. It appeared to Miller the person was trying to break the glass, using the cardboard to protect his hand.
Miller pressed his own hands hard against the window, trying to blunt the force and keep the window from shattering.
Said Miller last week: "I've been in a lot of situations in 21 years. I've been on the SWAT team for 14½ years. What was going on in that car was very near the top of my list of uncomfortable situations."
Feeling the threat but not able to see or respond to it, Miller urgently said to Arnold: "We need to get more people here now."
Arnold tried to get on the radio, but over the din of car-pounding and shouting even Miller couldn't hear what he was saying.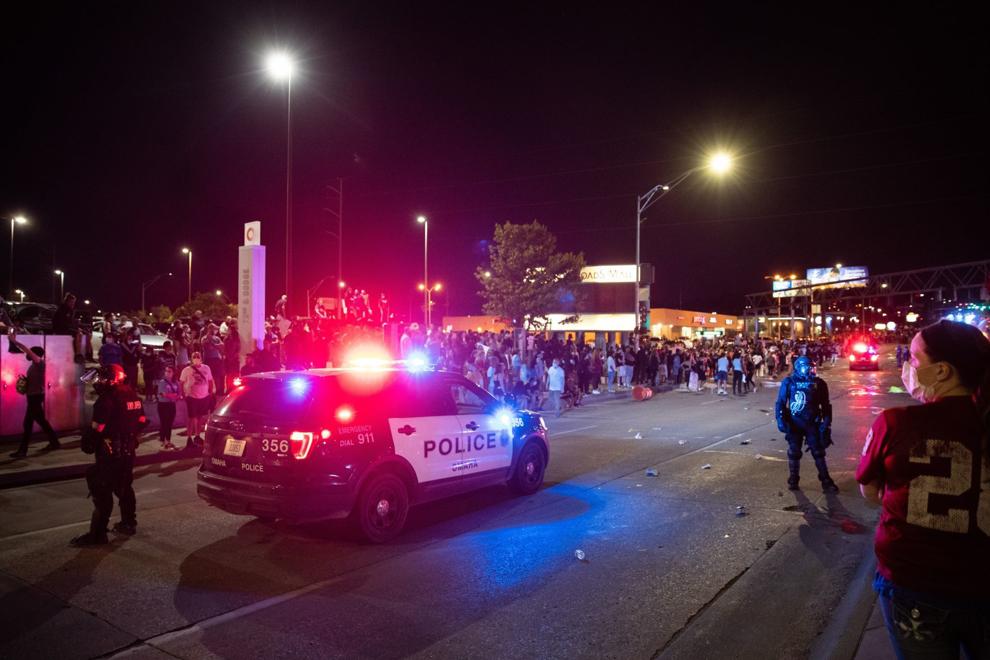 At the Omaha police command post, Scott was observing it all via video and standing with a state patrol commander, who attempted to contact the troopers by radio to check on their condition.
When the commander failed to reach them, Scott at 7:58 p.m. put out a "help an officer" call. The decision was also made to deploy the RDF squads in an effort "to determine the condition of the troopers and free up their vehicle," Gray said.
Deploying riot police was clearly a significant move, and Schmaderer said it wasn't taken lightly. Police officials were conscious of stirring the crowd, the reason the riot officers had been held in reserve. But in this situation, the chief said, "safety has already been compromised."
Said Scott of her decision: "You are looking at an officer rescue at that point."
The surrounding of the troopers and the "help an officer" call profoundly changed the entire nature of the protest that night. As Allie Curttright, who was serving as a legal observer for the ACLU, would later put it, "it really went from zero to 100 really quick."
It's part of the code of police officers to protect each other. The call for help sent dozens of police officers racing toward 74th and Dodge.
"Officer safety is kind of a prime directive of police — it's deeply woven in their culture," ASU's Maguire said. "Once you send out that call, all bets are off. They are going to race to the scene and do what they need to do."
Indeed, officers converged at the Crossroads from all parts of the city and from other agencies, too. Within seconds, a police helicopter was circling over 74th and Dodge. Before the night was out, there were officers on horseback, officers with dogs, and even officers manning a military-style vehicle.
Donigan said he saw the heavy surge of officers arriving. He didn't know why and became uneasy.
"I'm a mid-40s white affluent male who has never felt threatened by police in my life," he said. "But even I felt very uncomfortable in their presence."
Zyla, who was trailing behind the marchers and unaware of any provocation with state troopers, was similarly shocked to see so many officers swarming into the area, speeding past him, parking up ahead and exiting their vehicles.
With all the officers already in the area, it took only about a minute for five cruisers to reach the state patrol car.
The protesters surrounding the car immediately scattered. The officers approached and checked on the troopers' well-being, finding them shaken but OK. Arnold then drove from the scene.
But police say that did not de-escalate the situation. They said the responding officers found themselves surrounded by 250 to 300 people.
Zyla had continued walking toward that scene. Just as he arrived, there was a light popping sound and wisps of yellow smoke suddenly rising up from the pavement.
Police had fired a volley of pepper balls, which exploded in the street and released their eye-irritating contents. Essentially a powdered form of pepper spray and fired from a paintball-like gun, pepper balls are used by police to disperse crowds.
It's unclear what prompted that first use of crowd control ordnance at 8:03 p.m.
Police last week offered little detail about the threat or provocations the officers faced, beyond the fact a large crowd had formed around the officers.
Schmaderer said the incident is still under review; all uses of force by officers are ultimately documented and reviewed for appropriateness. That includes review of the officers' body camera video.
In general, Gray said in an email, all officer actions that night "were in response to protester decisions/actions/unlawful behavior."
Those officers also may have been particularly wary of the people around them at the moment, considering they had arrived on this scene due to the apparent endangerment of other officers.
Regardless of what prompted the firing of pepper balls, it ultimately affirmed in real life what the academic studies show happens when police deploy more serious tactics in mass events: they often create more defiance and hostility.
Rather than dispersing the crowd, the pepper balls led some protesters to become instantly and actively defiant. In Zyla's video, as many as a dozen immediately sat down or kneeled in the street. After the volley, one woman appeared to verbally confront an officer before backing away.
"Get out of the street!" Zyla yelled at the people who had taken seats. Then he told his online audience: "Slowly but surely, the situation is seemingly escalating."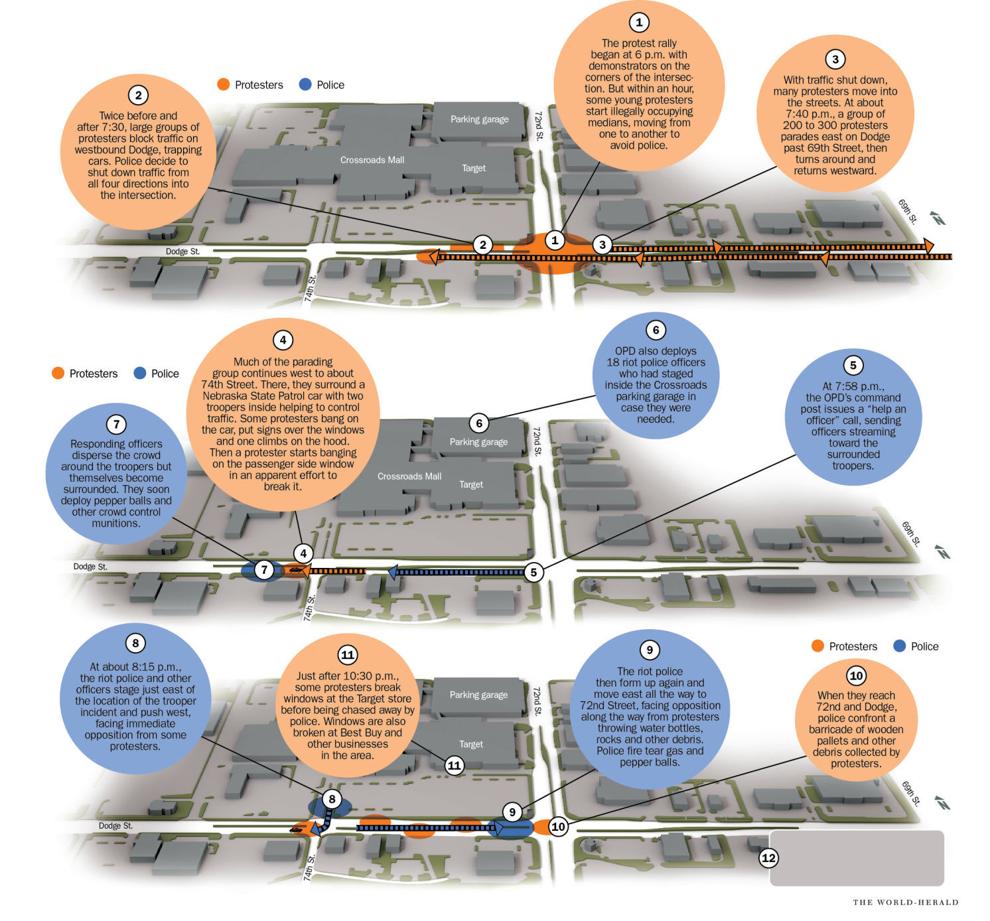 About a minute later, officers fired more pepper balls and also deployed smoke grenades in an effort to push back the crowd. Some of the grenades were tossed back at the officers.
In Zyla's video, the street in front of the Olive Garden became a chaotic mix of officers, angry protesters and smoke with no clear lines of demarcation.
"Yeah, they want war now," one man can be heard saying on Zyla's stream. "We ain't done shit to them."
"Get the f--- out of here," someone else appeared to scream at officers.
"The police are starting violence!" one woman screamed.
"The situation is slowly but surely looking like it's getting out of hand for the police," Zyla said as he backed away.
As tensions continued to rise, other police munitions arced through the air spewing trails of smoke. Some protesters thought they were tear gas, but police say at that time they were only using pepper balls and smoke.
Then Zyla turned around and said with a start: "We have riot gear!"
The RDF officers had arrived on the scene, deploying about a block away from the commotion in front of the Olive Garden. They were strapping on their helmets and gearing up for action.
Zyla had no idea where they'd suddenly come from. Admitting he was concerned for his own safety, he immediately headed to the curb to avoid trouble.
"It looks like the crowd down there might be getting an unhappy surprise," Zyla said as he looked to the west. "Unfortunately, the situation has gotten out of hand."
At about 8:15 p.m., the riot police squads formed a skirmish line facing west across the entire width of Dodge. They had been joined by numerous uniformed officers from Omaha police and other agencies who had responded to the state trooper call and had geared up as well.
The skirmish line began pushing west in slow, rigid steps, officers holding batons in front of them to push away protesters.
Some protesters immediately stepped directly in front of the riot line to create confrontation. One of them seconds later was shoved to the pavement, landing flat on his back. Others slowly backed up as the RDF officers approached, but they did not move out of their path.
Still more protesters dashed in to join the group confronting the officers as the line moved forward. The RDF line advanced about half a block, then stopped to fire pepper balls and other smoking munitions toward the gathering crowd. That seemed to only draw still more protesters.
Around that time, a white man in a T-shirt was seen being whisked away in handcuffs, one of the night's first arrests.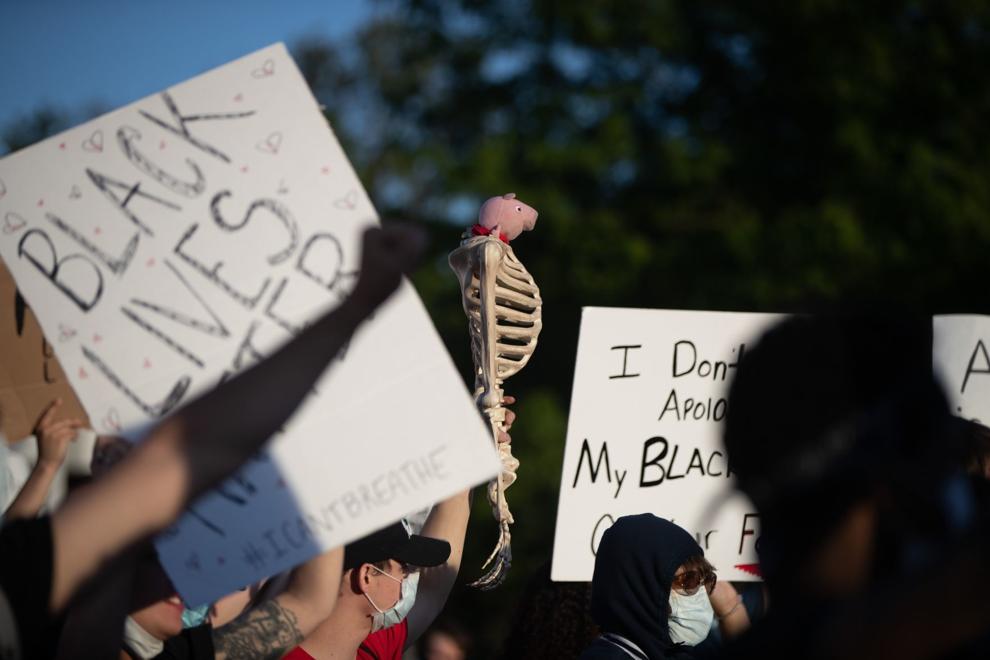 Zyla on his video, being watched by about 10,000 people by that point, complained of unjustified police escalation. "Not a single person has been aggressive,'' he said. But he hadn't seen the incident involving the troopers.
In fact, the majority of the 2,000 people who had come out that night were still mostly clustered near 72nd Street at that point and had no idea what had occurred several blocks to the west. All they knew was they could see smoke from police munitions rising in the sky at the western edge of the protest area.
In Zyla's video, he noted other pockets of officers who found themselves surrounded by protesters.
In most cases, the video shows those officers facing passive resistance, chants, antagonism and taunts. But police say some objects were thrown at them. Around 8:15 p.m., police say an officer's panic button went off, though details of that incident are unclear.
"The way the crowd was responding," OPD's Scott said, "it was too large to contain."
Zyla's video does capture a moment when someone threw an object at an officer. The man was immediately chased away by other protesters, one of whom exclaimed, "Bro, what the f---!"
Donigan, who had been among the many protesters standing aside observing the conflict, witnessed what may have been that same throwing incident — and actually recognized the thrower as one of the young men he saw chanting "F--- 12" earlier. At about 8:30 p.m., he decided he'd seen enough. He and his wife headed home.
It was a wise move, because police were about to get far more serious in dealing with the scene.
Right around that time, the Omaha police sergeant leading the operation on the ground decided to declare the remaining protesters an unlawful assembly, making them all subject to arrest if they did not clear the street.
Police say they used PA systems to warn the many protesters who remained. Scanner traffic shows officers were told on the radio to be patient with those who were being peaceful.
But the warning announcements did not deter a sizable number of protesters. Police estimate there still may have been 1,000 left, though it's not clear how many were merely observing. By then, Schmaderer said, there should not have been any peaceful protesters getting innocently caught up in the conflict.
"They knew the intention of what we wanted to do at that point," he said.
The RDF officers formed a new skirmish line and prepared to push from west of 74th Street all the way east to 72nd.
It was a long, arduous process, as they had to frequently push away protesters who were getting in their way. They used their batons to fend protesters off, shoving them back, and at other times raised the batons as if threatening to strike.
As the RDF line moved toward 72nd Street, Gray said, officers reported taking incoming pipes, rocks and chunks of concrete.
Elizabeth Bowman, a 22-year-old Omahan, was one of the protesters who decided to confront the officers, sitting down in the street and shielding her face with her sign as they approached.
She was upset. She felt that police by shutting down traffic and clearing the streets were keeping people from being heard. And for that reason, she was willing to show her defiance.
As the line came upon her, she said, an officer knocked her to the ground from her seated position, and then another pushed her with his foot. And then after that she was hit with a pepper ball.
But to her surprise, she was not arrested. The officers in the line just moved on. The encounter didn't cause her to leave, either.
"I wasn't arrested or even spoken to by a cop," she said later. "It was all physical."
Officers continued to rapidly fire tear gas, leaving protesters gagging, coughing and retching after taking it into their lungs. Police fired so much tear gas by 9:15 p.m. that they were running out.
They also fired more pepper balls — and not just at the ground in front of protesters. A number of protesters would report taking direct hits from the munitions, posting pictures on social media of their welts and bruises.
The Omaha police written use of force policy authorizes pepper balls against "actively resistive subjects" and says they can be shot directly at a person for "pain compliance."  The policy does not explicitly limit where on a person the pepper balls can be fired, though manufacturers' instructions say they should not be fired at the head, face, eyes, ears, throat or spine.
But not all pepper ball deployment met such standards. Later that night, a Sarpy County sheriff's deputy working the scene shot a 23-year-old man in the eye with a pepper ball, blinding him. A man later told state lawmakers he saw an 11-year-old girl hit in the face with a pepper ball.
As the RDF line completed its sweep east, protesters attempted to make one last stand, fashioning a barricade at 72nd Street made out of wooden pallets and other debris pulled from nearby dumpsters. The officers quickly pushed through it.
Officers fanned out to disperse pockets of protesters, some of whom were breaking store windows in the area and committing other acts of vandalism. It was after midnight before quiet and calm returned to the area around 72nd and Dodge.
For the night, 21 people were arrested, 16 of them white. There were a number of injuries, including two police officers.
For both the peaceful protesters and police officers who were there, it had been a numbing, draining and depressing night. And it would help set the stage for more nights of violent clashes.
The message all over social media was that Omaha police had instigated that night's violent confrontation.
"THE. POLICE. BEGAN. THE. VIOLENCE. IN. OMAHA. TONIGHT," one woman posted on Twitter.
* * *
Saturday night, tensions were elevated from the start when an even larger gathering of protesters — estimated by police at 4,000 — again came together at 72nd and Dodge. And this time, some protesters came prepared to confront officers, many bringing goggles or milk to wash the tear gas from their eyes.
Police were out in more force, too, with other local agencies joining the effort. About 50 RDF officers stood ready to deploy.
But police also tried a different approach. Omaha Deputy Police Chief Ken Kanger mingled among the protesters from the start, without riot gear, offering a demonstration of humanity, respect and support for their cause.
Police also tried to arrest obvious troublemakers before things got out of hand, with police early on moving against a pair of men throwing eggs.
But the result ended up the same. Police say the officers who went after the egg throwers were in turn pelted with water bottles and rocks. Then officers standing along a retaining wall on 72nd Street started having rocks and bottles dropped on them from the Target parking lot above.
By just after 8 p.m., the gathering was declared illegal. Once again, the skirmish lines formed, protesters faced off, and the crowd control munitions began to fly.
This evening, however, the confrontation came with a potentially nightmarish twist. Protesters quickly abandoned the area and shifted the clashes and fits of lawlessness from the mostly dead Crossroads Mall to downtown Omaha, including into the city jewel that is the Old Market.
Police raced east to confront more chaotic scenes. Downtown street battles ensued. Dozens of businesses were vandalized. About 50 people were arrested.
And the night would tragically end with the death of 22-year-old James Scurlock, shot and killed in a confrontation with bar owner Jake Gardner.
It would take curfews imposed by Omaha Mayor Jean Stothert and deployment of the Nebraska National Guard to finally help bring calm back to city streets after still more nights of unrest.
But the flash point for it all can likely be traced to that Friday night at the Crossroads.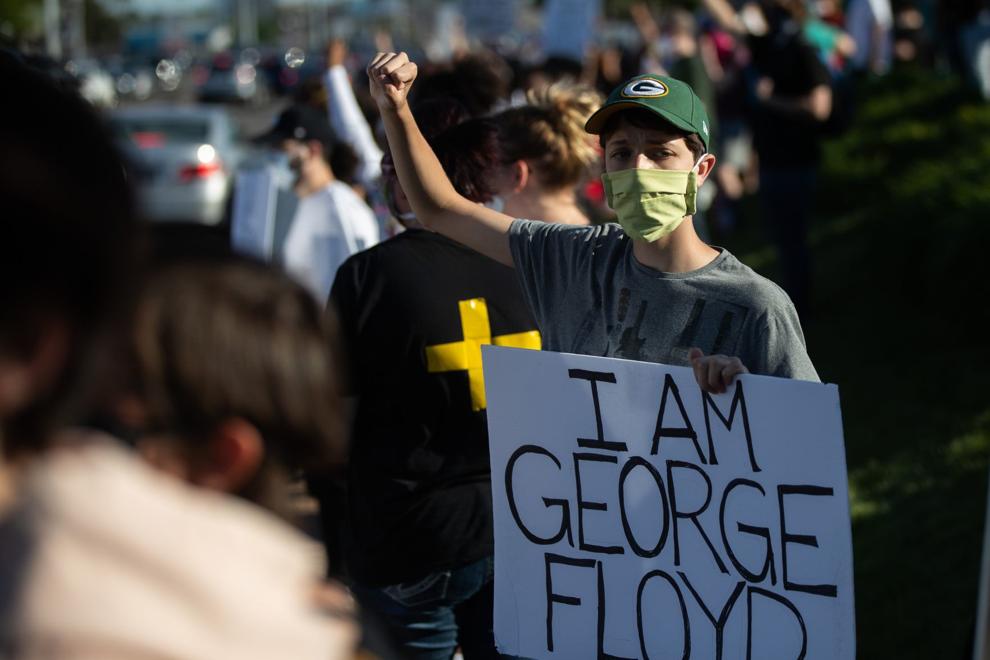 * * *
In the days since the city calmed, many have been assessing what happened on May 29 and why.
Schmaderer said the police department is conducting a thorough review on behalf of both the mayor and city council and will release the results.
It's still early, but he says the department has already seen things that could have been improved. He knows the communication with protesters was not up to snuff that night.
"Obviously our PA system was just not good enough," he said. "It did not reach enough people."
He said once the review is completed, anything else that needs to change will be. None of the officers working that night had ever experienced anything like this before.
"We know we are not perfect," Schmaderer said.
Nix, the UNO criminal justice professor, said the details surrounding the trooper incident and its aftermath, as revealed by The World-Herald, are noteworthy.
"There was something in me that wasn't willing to accept on face value the narrative on social media that night that police came at people for no reason," Nix said. It was clearly much more complicated than that, he said.
Could the clashes somehow have been prevented? Probably, Nix said. But it's also impossible to know what would have happened had officers not acted, or had done something else. It's all speculation.
"At some point, someone made the call that if we don't do something, it's going to escalate to the point it gets out of hand," Nix said. "Someone made the call that using these less lethal munitions is a trade-off that's better than if we don't act. Was that the right call? I can't Monday morning quarterback that."
But many protesters still fault police.
Morgann Freeman remains distraught and angry over what happened to the peaceful protest she helped organize.
That Friday night, as the RDF line pushed toward 72nd Street, walked along on the sidewalk beside it, screaming at the officers.
"Why are you doing this?! Why would you escalate to this?!"
She says she still has those questions.
She acknowledged in an interview that police faced resistance, but she attributed that to law enforcement deploying crowd control munitions without warning. While she didn't know the details behind the incident with the troopers, she wasn't sure it merited the police response that came.
"It went from peaceful protest to outraged citizens very quickly," she said. "It's a little jarring to see how casually and how inhumanely they treated people."
But William King, a North Omaha radio station owner who essentially broadcast the unrest that Friday night as he covered the rally, said he thinks people also need to see things from the perspectives of the officers who found themselves in the middle of the evening's tensions, taunts and conflict.
He said it's unfortunate that some people are willing to treat all officers with disdain just because they wear a uniform.
"Sometimes their job is ugly," he said. "Those officers have families, and their families want them to come back home. They are men, women and human beings before they are police officers."
Schmaderer takes solace that Omaha came through that tumultuous week in America better than most cities.
"At the end of the day, Omaha did not burn, as many cities did," he said. "We are fortunate that Omaha has a foundation of police and community relations that we can build on."
In some circles, those relations may now need some mending.
Freeman said she's left with many regrets from that night, and one is this: That the thousands who came together in peace at Omaha's crossroads were never able to observe those eight minutes and 46 seconds of silence for George Floyd.
Sadly, the air around 72nd and Dodge at that moment was filled with the sizzle of tear gas and sounds of human strife.
World-Herald staff writers Alia Conley and Todd Cooper contributed to this report. 
---
Protest of George Floyd's killing draws thousands in Omaha