A cheerleading photo shows an 8-year-old Kloe Odermatt flying high through the air in a basket toss, a look of fierce determination on her face.
That was pure Kloe, her family, friends and coaches said. She was a committed athlete who started tumbling when she was 3 years old, an outdoorsy adventure-lover who would hop on an ATV or a Jet Ski, a sweet-talker with an infectious smile.
"She had a way of somehow having me say yes to just about everything," said her mother, Julie Odermatt.
Just weeks ago, Kloe used her powers of persuasion to convince her mom to let her get a tattoo, right next to her heart, dedicated to her dad. Kirk Odermatt passed away in 2011.
The Odermatt family is now grieving again: 16-year-old Kloe was one of four Gretna teens killed in a Sarpy County car crash Monday night. A fifth girl, Roan Brandon, 15, is being treated for burns and a broken clavicle at St. Elizabeth Regional Medical Center in Lincoln.
The girls, who just finished their sophomore year at Gretna High School, were best friends — "inseparable."
"I'm really mad because I wanted her to stay here longer with me," Julie Odermatt said. "It does give me comfort that she's with her dad."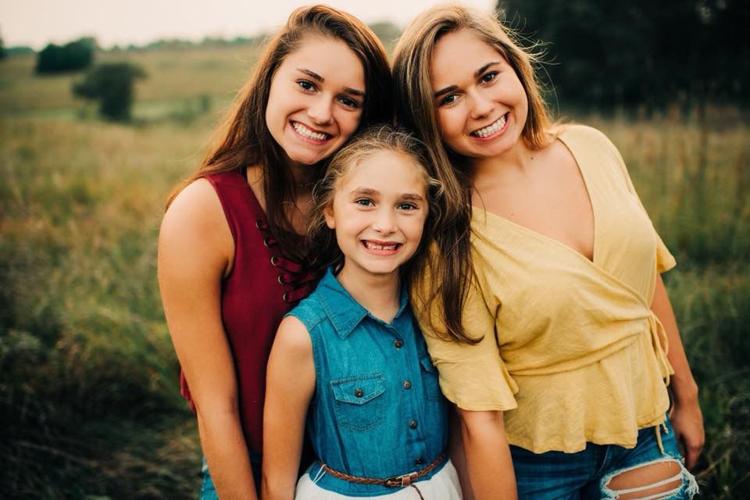 Kloe was devoted to her family, especially her two sisters, 11-year-old Hallie and 18-year-old Josie. The girls clung together after losing their father.
"They just truly have a special bond that not all siblings have," Julie Odermatt said. "When you've lost someone so close to you, you take every day and you hug each other and make sure they know how much you love them."
Kloe cheered at Gretna High and at Elite Cheer, a gym near Oak View Mall where her mom, a cheerleader at the University of Nebraska-Lincoln, had learned to fly and twist through the air. Siblings Hallie and Josie cheer there, too.
"Whenever she walked into a room, it lit up, whether it was her smile or funny antics," said Elite Cheer coach and co-owner Lance Stoltenberg. Her coaches and mom said Kloe loved to be the center of attention and could crack up a room with a silly dance or funny face.
But on the mats, Kloe was a dedicated athlete, even after injuries, including concussions, sidelined her for a bit last year. The Elite tumblers and cheerleaders might practice six to eight hours per week, with several trips a year to out-of-state competitions.
Elite Cheer coach and co-owner Kevin Hooker shared messages Kloe sent him after a practice, pleading for a chance to be on an elite team.
"This summer is really when I am going to be working hard to get everything back," she wrote. "I just really believe I can prove to you guys my spot on a Level 4 team."
Julie Odermatt said Kloe dabbled in other activities, including soccer for a few years. But there would be Kloe, turning cartwheels on the sidelines.
"This girl flips everywhere," her soccer coach told her mom.
Kloe considered different career paths: maybe she'd be a lawyer, maybe a concussion specialist. Lately she was leaning toward psychology or psychiatry — the girl who had lost her father as a third-grader wanted to help others work through their difficult feelings.
Sign up for World-Herald news alerts
Be the first to know when news happens. Get the latest breaking headlines sent straight to your inbox.
Odermatt said she is comforted by signs of her daughter: rainbows that keep popping up outside a church and the cheer gym. As she and a friend reminisced over photos Friday morning, "Somewhere Over the Rainbow" started playing over a Pandora station.
"My hair started to stand up, like goosebumps," Odermatt said. "That was no coincidence."
A visitation is planned Monday, from 12:30 to 2 p.m., followed by a funeral at 2 p.m., at Citylight Church West, 3401 Oak View Drive in Omaha. An interment will follow at Cedar Dale Cemetery in Papillion, where Kloe will be buried next to her father.
Photos: Fatal Sarpy County crash; memorials set up at Gretna High School
Get local news delivered to your inbox!
Subscribe to our Daily Headlines newsletter.