Hundreds of thousands of Nebraska kids are slated to return to schools over the next two weeks in an ambitious attempt at restarting schools that were shuttered last spring by the pandemic.
After months of planning and fierce debate, and tens of millions of dollars spent on new technology and COVID-19-proofing schools — everything from hand-sanitizing stations to spit shields and machines that scan kids for fever — school officials will try what's never been tried by the state's education system.
And they will try it as some health officials caution it could result in school-based outbreaks that increase community spread or cause schools to close.
It marks an important milestone in Nebraska's response to the disease, reflecting the governor's philosophy that with no guarantee of a vaccine, the state has to figure out a way to move forward and manage the risk.
Some Nebraska counties have no COVID-19 cases, and their schools will open near normal without masking.
But most schoolkids, whose communities are battling the virus, will return to buildings that will look nothing like the ones they left five months ago: masked teachers and classmates, bathroom restrictions, lunch in class or a hallway, an ocean of hand sanitizer.
How long schools can stay open will likely depend on one crucial factor: keeping teachers from quarantine.
A building can operate with substantial numbers of students in quarantine, learning remotely, but not without teachers.
For schools to stay open, teachers will have to stay healthy and avoid the close contacts with COVID-19-infected people that would force them to quarantine, leaving classrooms of kids without a teacher.
If a district's workforce of teachers and other essential personnel like bus drivers becomes depleted, and substitutes can't be found, then schools would have no choice but to shut down, send kids home and teach remotely.
"Once we lose a teacher workforce, we don't run schools," Nebraska Education Commissioner Matt Blomstedt said.
Even before the scheduled start of school in the Omaha Public Schools, the disease had begun impacting staff, Superintendent Cheryl Logan said.
Logan said that in the few days that OPS staff were back in schools preparing for the new year, critical numbers of staff had to quarantine or be tested for COVID-19.
"This allowed us to make a reasonable prediction about what school would be like when we added 54,000 students to that mix," Logan said.
Similar situations have cropped up around the country in recent weeks.
In Gwinnett, Georgia, for example, 260 employees either tested positive for the coronavirus or were in quarantine due to a possible exposure a day after the school district there started in-person pre-planning activities during the last week of July.
The challenge of keeping teachers in classrooms is exacerbated by a shortage of substitute teachers the state has been dealing with for several years. Before COVID-19, some districts were upping the pay of substitutes and offering bonuses and prizes to lure them to schools. Many substitutes are retired teachers who are more vulnerable to the ill effects of the disease, making them think twice about returning to the classroom right now.
When the Nebraska State Education Association surveyed retired educators about substitute teaching for the 2020-21 school year, just a third of those who subbed last year said they would teach again this year.
Several districts in the Omaha metro area have hired long-term subs in advance of the school year, anticipating that they will need to replace teachers who end up sick or stuck at home waiting to return from quarantine. But it's clear that a single positive case can impact multiple people around that person, even if those people don't eventually get the disease.
Keeping teachers teaching will depend on them adhering to masking, social distancing and other health protocols not only in school but outside school as well, officials said.
Beth Van Roy, a fifth grade teacher at Parkview Heights Elementary School in La Vista, said she's been taking extra precautions to protect herself and her two small children ever since schools shut down across the state last March.
For example, she said she doesn't walk into Target or Walmart but does pickup instead.
"I haven't been out to dinner or had a drink with a friend since March," Van Roy said. "Putting my own children and the students that I work with first is the priority at this point, not really to have a social life."
Students are scheduled to return to Papillion-La Vista on Tuesday.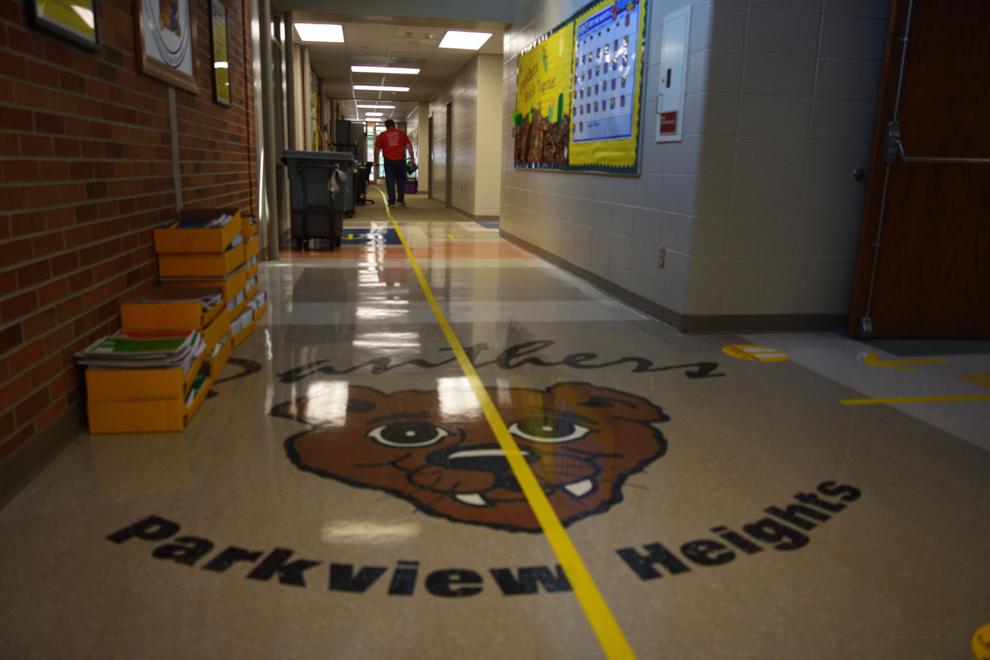 Maddie Fennell, executive director of the Nebraska State Education Association, said that in normal times if a teacher got sick, the students in their class could be divided up and sent to other classrooms.
Fennell said that when she was teaching, there were times when a colleague was out and she took over an entire class in addition to her own.
"You can't take five kids anymore and maintain social distancing in your classroom," she said.
Officials say that when cases do pop up within schools, the goal is to act quickly to prevent spread.
Blomstedt said that means getting tests done and results back quickly, and tracking down who needs to be quarantined.
Blomstedt said he's concerned that a weak point could be the lack of adequate and timely testing.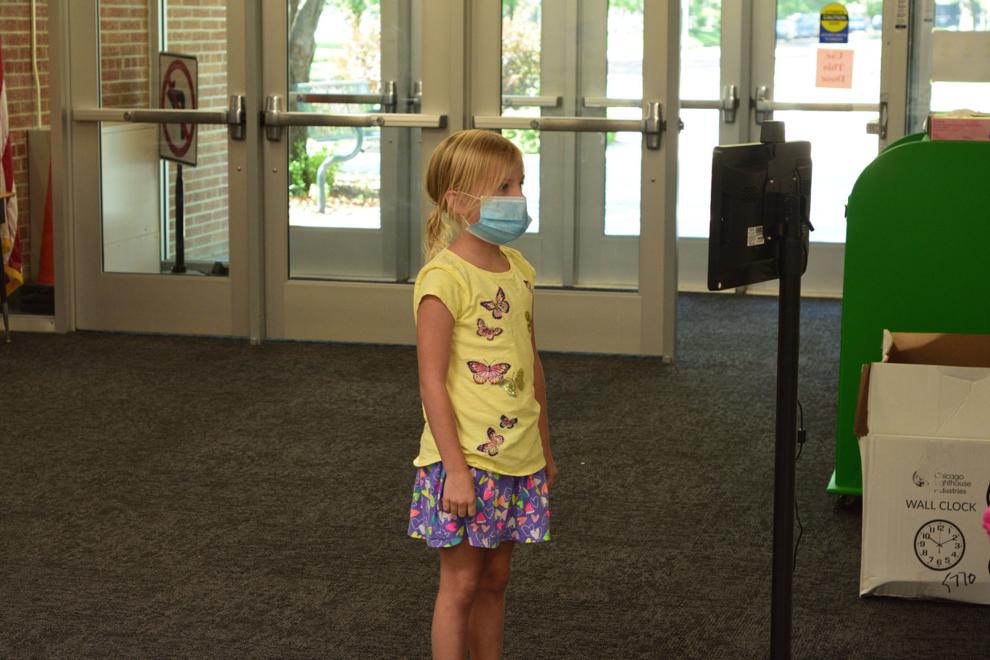 According to Health and Human Services, the state has 1,002 contact tracers.
The average test turnaround time for TestNebraska labs is less than 72 hours, they said.
The recently opened testing site at Oak View Mall in Omaha has a daily capacity of 500 tests.
The state's goal is to match the 1,600 capacity of the Crossroads site, o
There is some rapid testing in the state, but availability is "very sporadic," officials said.
Justin Frederick, supervisor of communicable disease epidemiology at the Douglas County Health Department, said school districts have identified people who will assist the department with contact tracing for school-related cases.
The school staff members know best where students and staff are throughout the day, whether in class or extracurricular activities.
The school teams will report positive cases and close contacts to the health department through an electronic system set up for that purpose, which is intended to streamline the process.
Most often, schools will be notified by parents if a child tests positive.
The health department staff will cross-reference school reports with data it receives from testing laboratories. Department staff will be available to help determine which contacts need to be quarantined. Such situations aren't always cut and dried, and the health department has to rely on what is known about the virus.
"Our goal is to break the transmission within the schools," he said.
Frederick said his staff, which now numbers 25, will conduct all contact investigations involving minors. He's expanded his staff by hiring students and recent graduates of college health and nursing programs.
The health department also has access to contact tracers with Omaha-based health research firm PRC, which is contracted through the state health department.
"Reopening schools at full capacity when community transmission rates are above 50 cases per million per day without multiple layers of interventions carries significant risk of school-based outbreaks that are likely to require schools to close," said John Lowe, a UNMC assistant vice chancellor for interprofessional health security training.
Last week, Douglas County was seeing about 220 cases per day per million.
Lowe said a few countries have opened successfully above the 50 cases per million per day mark. Singapore opened with reduced numbers of students at 81.3 cases per million per day, according the Back to School Playbook created by the public health college. There, however, officials knew that most of the high rates of community transmission were occurring among migrant workers in separate housing.
Dr. Bob Rauner, a Lincoln physician and member of the Lincoln Public Schools board, said he believes Lincoln can open safely with the mitigation measures the district has in place and what appear to be recent declines in COVID-19 cases there.
Lancaster County's case rate, at about 12 new cases per 100,000 people per day, is lower than Douglas County's, which last week hovered around 22 per 100,000. In Lincoln, officials know that many infections were occurring among young people attending bars and house parties.
In addition, LPS high schools will follow a 3-2 model, reducing the number of students in buildings. The district's elementary and middle schools are less crowded, and 17% of those students have signed up for a remote learning option.
"I think we are navigating that middle ground," Rauner said.
Once school starts, UNMC plans to send a team into several school districts in the Omaha metro area to observe how well health protocols are being followed.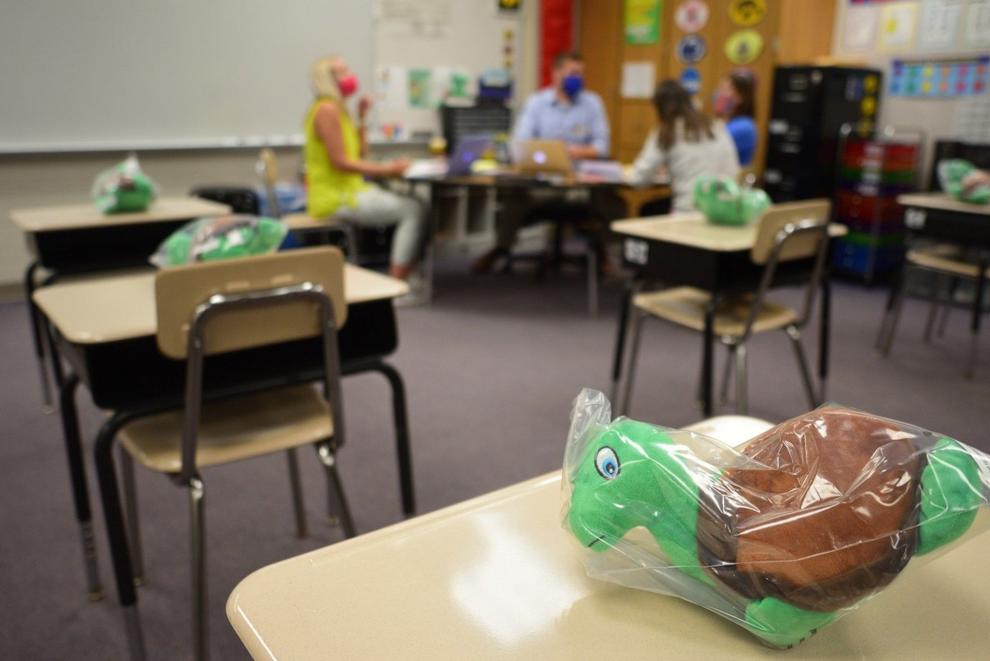 Team members will be looking for the ability of students to physically distance in different school environments, such as lunch rooms, gyms and locker rooms, and at the flow and movement of students through school buildings throughout the day.
They'll also make sure the objectives around mask wearing, hygiene and cleaning are being met.
It's not new territory. The team does similar checks of protocols used in the Nebraska Biocontainment Unit and the National Quarantine Unit, both on UNMC's campus.
"Once you're live and operational, there's always things you hadn't foreseen when you're writing a plan," he said.
From what they've seen so far in schools, Lowe said, lunch continues to be a challenge. Students can't wear masks while eating, so physical distancing is key.
Gretna Public Schools is slated to open Thursday with nearly all students returning. About 6% of the district's students enrolled in the district's remote-learning option.
Gretna Superintendent Rich Beran said his district will handle cases according to recommendations of the Sarpy-Cass Health Department.
"They're telling us 'You don't need to shut the whole building down if you have one or two students in a classroom,' " he said.
The principal would probably have to send everyone in that classroom home so the classroom could be cleaned, he said.
But if the students had observed protocols and weren't asked to quarantine, then they could probably just be monitored and return the next day, he said.
Beran said he told incoming new teachers that they will have to suspend the group-learning models they learned in school and use the old-school method he used back in the 1980s: standing up front lecturing.
"You've got to keep your distance from kids," he said. "You just have to think about that all the time."
While urban districts will open their doors with some staff and students already in quarantine, as of Saturday there were still eight Nebraska counties without a case.
Superintendent Dale Hafer of Ainsworth Community Schools in Brown County said his district will open nearly normal, with no masking requirement for students.
His district still had to develop a plan, just in case COVID-19 reaches his community, he said.
He said the pandemic, with no end in sight yet, is wearing on people. Starting school is always hectic, but dealing with COVID-19 on top of the usual work can occupy the whole day, he said.
He hopes the pandemic is over sooner rather than later.
"We are definitely living right in the middle of history being made," he said.
---
Videos: OPS coronavirus safety measures as students return to classrooms
OPS Superintendent Cheryl Logan discusses return to school
OPS to use special measures in cafeterias as students return to school
How OPS will use special cleaning procedures as students return to school
How Omaha Public Schools will handle bus safety amid coronavirus