They don't have the brick and mortar space they once did, but the Christ Child Society of Omaha is still thriving and volunteers continue to help new moms and students in need.
You might say the local group, which dates back a century, now is mobile, carrying out its operation in more of a pop-up fashion.
Take Wednesday, when the nonprofit took one of its main activities — a diaper-bag-stuffing event that sends bundles of baby goods to financially strapped parents — to Omaha's Duchesne Academy.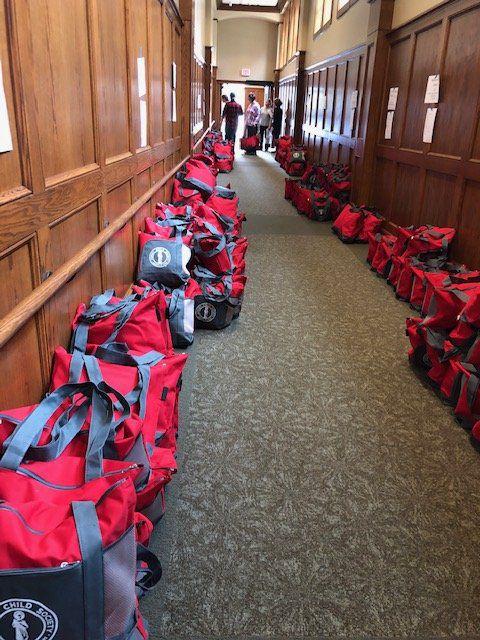 Volunteers set up assembly line stations in a hall. About a hundred students, assisted by preschoolers, spent the morning helping society members put bottles, handmade blankets, bibs and more into 500 "layette" bags that then were delivered to about 15 organizations that work with families.
Among those pitching in was Claire Halpin, 18, who wanted families on the receiving end to know young people care. "That there's somebody thinking of them and they're not alone," she said.
Such activities in the past had been done at the former Christ Child Center at 10th and William Streets, which in 2016 was sold to neighboring St. Frances Cabrini parish.
At the time of the sale, the Omaha Archdiocese's Catholic Charities owned and operated the facility that in 1968 replaced a mansion that had served as the Christ Child Society's home base since 1923.
Sue Seline, board president of the local chapter of the national Christ Child Society, said supporters never stopped charitable work. But they started to gather in different and various places. Duchesne has hosted several layette assemblies.
The local chapter, which numbers about 100 members, also is expanding its college scholarship program started about five years ago.
"We do a lot of good, without a lot of real estate," Seline said.