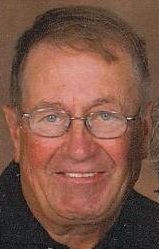 Between his work as a longtime meat cutter and his love of practical jokes, Robert Kastrup was the kind of guy everyone in town knew, his son said Monday.
"He would stop and talk to everyone," said Thomas Kastrup of Omaha, who is vice president for digital sales at The World-Herald. "He was very kind and funny."
Bob Kastrup died of a head injury Sunday after falling down the stairs at his home in Hartington, Neb. He was 69.
Kastrup was born in Wayne, Neb., and grew up in Laurel. He married Julie M. Riibe on Jan. 2, 1964. The couple had two children.
For 23 years, Kastrup worked as a meat cutter at Ray's Supermarket, which later became Foodtown Grocery Store. He also worked for the Nebraska Department of Roads, retiring last December.
In retirement, Kastrup worked part time for Northeast Pipe and Panel in Hartington until his death.
He was a member of Holy Trinity Catholic Church and the Knights of Columbus. He was preceded in death by his parents, Edmund and Karen Kastrup, and brothers Kai, Carlo and Leo Kastrup.
In addition to his wife and son, survivors include daughter Tera M. Kastrup of Hartington; two granddaughters of Omaha; brothers Thork Kastrup of Ruskin, Neb., and Borge Kastrup of Laurel; and sisters, Elsie Nielsen of Blair and Ruth Kenaley of Le Mars, Iowa.
Funeral services will be held at 10:30 a.m. Wednesday at Holy Trinity Catholic Church. Burial will be in St. Michael's Cemetery in Hartington.