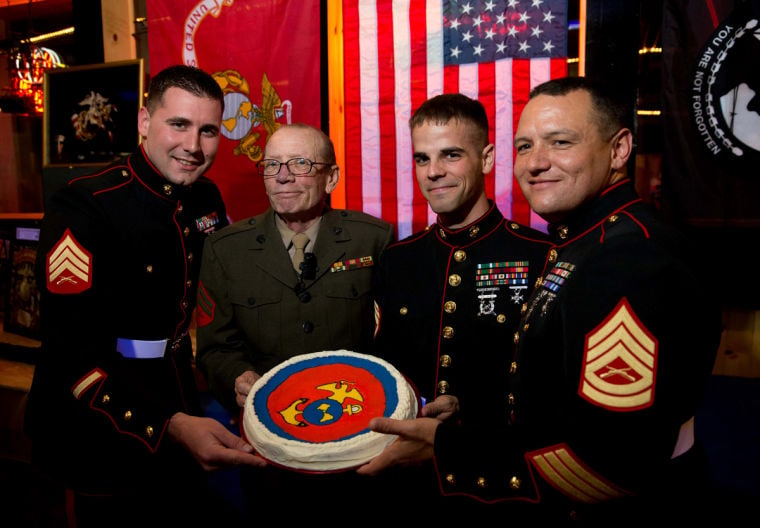 As former Marines from Omaha who went through boot camp together, Bernie Yarpe and Jim Skarda get together most weeks as members of a disabled veterans group.
They met up Sunday night, too, though this time to celebrate the Marine Corps' birthday, a special tradition in a military branch that takes its conventions seriously.
"The tradition is the straw that stirs the drink," said Skarda, 63.
When you gather Marines from across generations in a bar, pride-filled anecdotes and boot camp stories spill forth. You get a lot of comparisons with other military branches, which always seem to be regarded as inferior to the Marine Corps for one reason or another.
It is a brotherhood, a fraternity filled with bonds that are borne of being together in extraordinarily difficult circumstances.
And so it went Sunday night at Nifty Bar and Grill in Benson, where the Corps' 238th birthday was celebrated. Marines past and present have been gathering at Nifty for 40 years.
"Give him your leg story," Yarpe said to Skarda, asked for boot camp tales.
He told of how, in 1968, he once ran 3 miles with some leg pain, only to learn from an X-ray after returning that his leg had in fact been broken.
Yarpe and Skarda laughed, but soon the conversation turned back to traditions and how some things, like bolstered support for veterans scarred by war, have changed.
Skarda leaned in to mention that the therapy now available for veterans with mental health trouble did not exist when he got out after Vietnam and began working as an electrician.
He's not bitter. But the help was overdue, he said.
The stories Sunday night were occasionally interrupted by "The Marines' Hymn."
"From the Halls of Montezuma to the shores of Tripoli," they sang, followed by a full-throated 'Ooh-rah!' at the end.
Rod Regalado, 49, of Tekamah, Neb., came because of the camaraderie.
"Omaha's not a Marine Corps town," said Regalado, which made the birthday celebration all the more special. He served from 1986 to 1991.
"We're a brotherhood," he said.