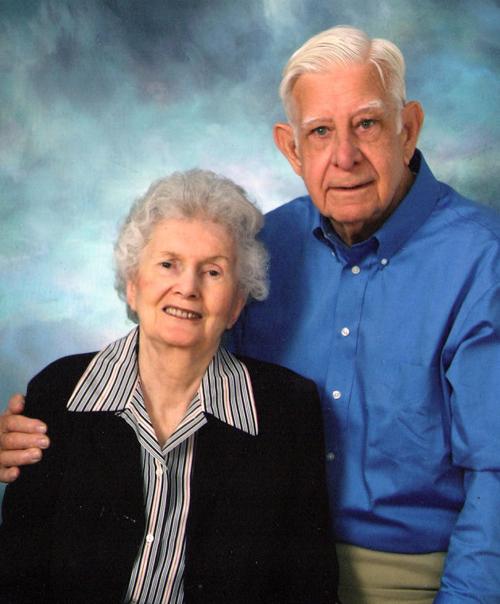 "To have and to hold from this day forward ... until death us do part." Leonard and Annette Pupkes took those vows to heart.
They shared their lives, their family, their faith and their friends for 63 years.
The couple raised 10 children a block from Omaha's Holy Name Catholic Church.
He tended to his wife and took over household work after she suffered a stroke 16 years ago, continuing even after he started dialysis seven years ago.
Leonard Lawrence Pupkes, 86, died Saturday, one day before Esther Annette Jewett Pupkes died at age 84.
The longtime Omahans moved to Arden Hills, Minn., six months ago to be closer to family. He died at Regions Hospital in St. Paul, Minn., and she at home. Each died of heart failure, said son John Pupkes of Minneapolis.
Leonard Pupkes, a diesel truck mechanic, spent the bulk of his working years at Kenworth of Omaha Inc. He retired as service manager.
The son recalled that when the children were still at home, the family always had a large garden. "He canned anything that didn't move," the son said, and was noted for his homemade salsa.
Leonard Pupkes kept meticulous records, and the family still has ledgers of his recipes, John Pupkes said.
"He loved to fish and camp," the son added. In 2012, Leonard Pupkes attended the annual summer camping and fishing trip to Yankton, S.D., that he started more than 50 years ago. Second and third generations now make the trip.
John Pupkes said his mother loved to read and was passionate about current events. She often engaged the family in political discussions, the son said.
"She taught a lot of really excellent life lessons," he said.
"The overarching thing with my parents was commitment to family and friends," John Pupkes said. "We still gather, all 10 of us, at least once a year."
Leonard and Annette Pupkes were longtime Holy Name parishioners. All 10 of their children attended the parish elementary school, and the nine oldest graduated from Holy Name High School. The high school was closing when the youngest child was ready to attend.
Leonard Pupkes was born in Falls City, Neb., where he spent much of his youth. He graduated from the now-closed Omaha Technical High School in 1944 and a week later was in the Army, where he trained as a vehicle mechanic.
Annette Pupkes was born in and grew up in Dillon, Mont. Her father died when she was young. When her mother died, the high school-age Annette was sent to live with relatives in Council Bluffs, where she graduated from Thomas Jefferson High School.
Other survivors include children Linda McManus of Sauk Rapids, Minn., Patricia Schafer of Omaha, Larry Pupkes of Bloomington, Minn., Susie Johnson of Omaha, Joseph Pupkes of Plymouth, Minn., Kenneth Pupkes of St. Louis Park, Minn., Mary Sutton of Champlin, Minn., Katherine Riggins of Minneapolis and Nancy Pehl of New Brighton, Minn.; 21 grandchildren; and one great-grandson.
Visitation at 9 a.m. Saturday will precede a 10 a.m. memorial Mass for the couple at Holy Name Catholic Church, 2901 Fontenelle Blvd.
Be the first to know
Get local news delivered to your inbox!