As the threat of flooding to Missouri River communities was just beginning, and law enforcement officials went door to door encouraging residents to evacuate, Paradise Lakes residents received a different message from their landlord: Your homes are safe.
"Rest assured, Paradise Lakes was built with flooding in mind. ... Your yards may be soggy, and holding water, as there's nowhere for the rain to go with the frozen ground, but your homes are safe!" the message from management read.
Residents say the message was issued March 15 through the online portal the company used to communicate with renters, sent three hours after Sarpy County began urging people in river communities to leave.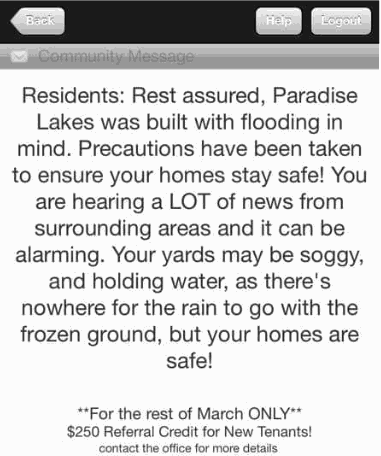 By the weekend's end, most of the Bellevue community's 195 homes took on water that nearly reached the ceilings. All of them were declared uninhabitable because of structural damage and the threat of mold.
Multiple attempts by The World-Herald to reach Paradise Lakes owner Howard Helm this week were unsuccessful.
As a 67-year-old retiree on a limited income, Gene Faust has to be mindful of his spending habits. So when Faust rented a home in Paradise Lakes last June and was able to pay, upfront, a year's worth of rent — more than $14,000 — he felt he had bought some peace of mind.
Though the flooding cut his stay short by more than three months, Faust said he doesn't have hope that he'll see the unused portion of rent. He said he and many of his neighbors have not been able to contact Helm or other Paradise Lakes employees.
Sign up for The World-Herald's afternoon updates
Receive a summary of the day's popular and trending stories from Omaha.com.
"There's nobody even talking to us about a refund," Faust said. "They're (Paradise Lakes) not even cooperating with us."
In the immediate aftermath of the flooding, the company communicated with people on Facebook and the community's online portal, multiple residents told The World-Herald. Both of those channels were eventually shut down.
A message on the Paradise Lakes website says that the office is underwater and "until ownership can (assess) the extent of damage they will not be answering any questions."
The community is off Harlan Lewis Road near 34th Avenue, about a mile south of Olde Towne.
Natalie Littleton, 30, moved into a Paradise Lakes residence with her fiancé and their three young children on March 1, two weeks before the flooding.
The full-time Metropolitan Community College student said that as the Bellevue Fire Department was driving around with a bullhorn ordering people to leave on March 15, a Friday, many of her neighbors didn't think floodwaters would do more than soak their yards.
"People weren't responding like it was a total emergency, because (Paradise Lakes) had been telling everybody it would be fine," Littleton said.
Littleton is one of many displaced residents who have contacted Legal Aid of Nebraska to explore their options to recoup money. Scott Mertz, managing attorney for the organization, confirmed that Legal Aid is working with Paradise Lakes residents but declined to characterize the discussions, citing attorney-client privilege.
Littleton said Legal Aid advised her to send a certified letter to Paradise Lakes stating her intention to terminate her lease and asking for her security deposit and unused rent.
She said Paradise Lakes responded with a letter stating that she had to remove her possessions from her property to be eligible for refunds. The letter said it would cost about $2,000 for the company to remove the items, a cost Littleton said she doesn't understand.
"The floors are falling apart; there's mold growing everywhere," she said. "The city's condemned the whole area."
Jim Ristow, Bellevue's city administrator, said city officials are aware that some residents have been instructed to clear their homes or demolish the properties if they owned them.
"We recognize most of these people don't have that capacity or that financial means to do that," Ristow said.
The city is meeting with the Nebraska Emergency Management Agency on Friday to find a pathway for the city to take control and ultimately demolish the area, Ristow said. Title concerns and bank loans currently stand in the way.
Ristow said Helm has indicated that he can't afford the cost of demolition and is cooperating to give control to Bellevue.
Speaking generally, Mertz encouraged "anybody who is a renter and has been displaced by the flooding and has questions or concerns about their rights as a renter" to contact Legal Aid.
Legal Aid can provide free legal assistance for low-income survivors of the flooding regarding insurance issues, government benefits, renting rights, contractor fraud and document recovery.
For renters specifically, the organization provides assistance with identifying rights as a renter of a damaged unit, facilitating communication with landlords, negotiating early termination of a lease, resolving issues involving renter's insurance claims and recovering personal items from damaged rental units.