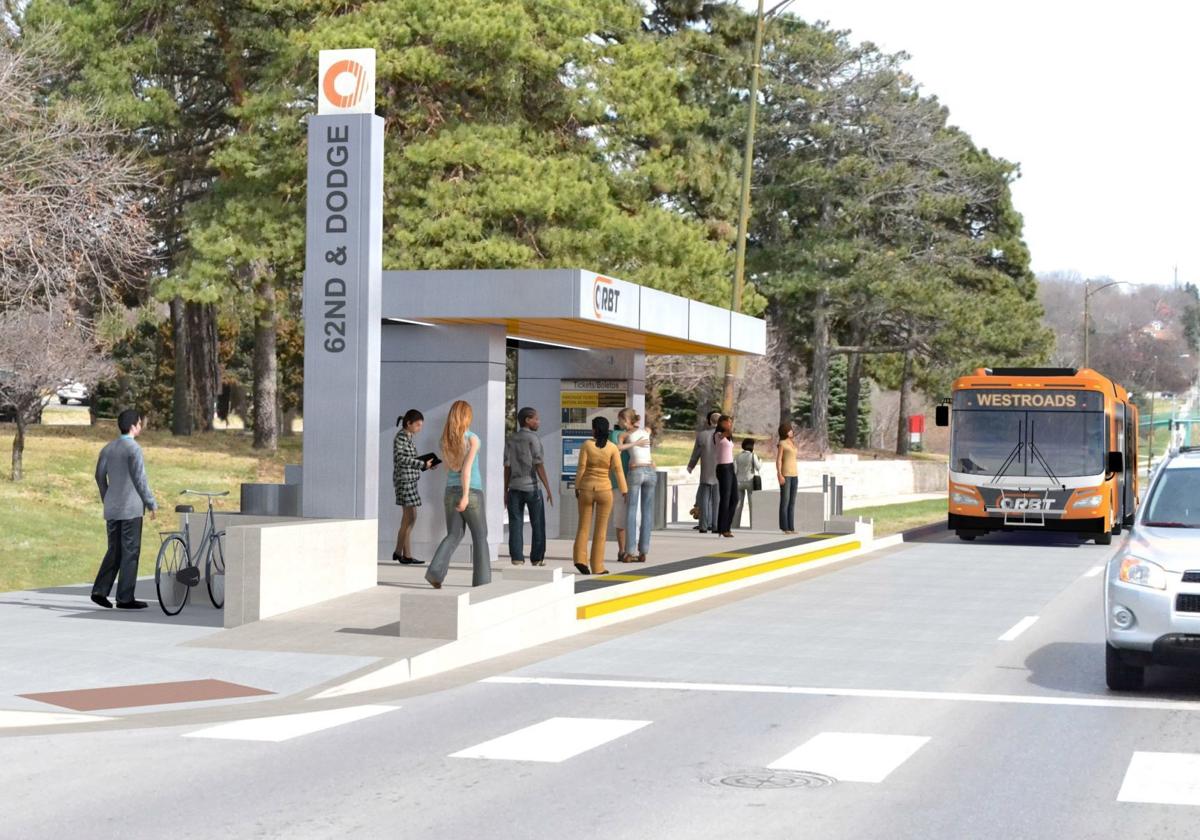 Construction on the bus stations for Omaha's new bus rapid transit line will start out west in a couple of weeks.
Metro announced Monday that construction will start in mid-August on the ORBT platforms, shelters and related improvements. The Weitz Co. of Omaha will be the construction company on the project.
The stations will be the first visible sign that the long-planned bus rapid transit line is coming. Metro Executive Director Curt Simon, in a statement, called the new system a "game changer for transit in our community."
Details are yet to come for when construction will take place at each of the 24 new raised station platforms. Jason Rose, the transit authority's outreach coordinator, said Metro intends for construction to start at the Westroads Transit Center and work east.
Although other work is needed at each site, the stations themselves are being built off-site by Dimensional Innovations of Overland Park, Kansas, and will be transported to Omaha. Workers will use a crane to hoist the stations into place.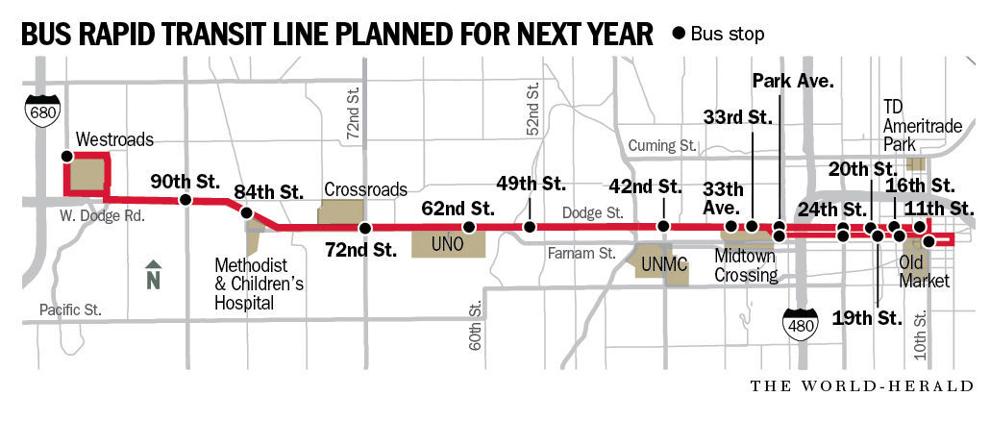 Drivers along Dodge and Douglas Streets and riders of current Metro buses should take note when construction starts. Traffic lanes near the platform construction will close temporarily, and temporary bus stops will be set up in place of regular stops, Metro said. Metro also advised pedestrians to use other routes because sidewalks may be closed.
The Westroads station will build onto the existing transit center. Then ORBT will have stations on both sides of Dodge Street at 90th, 84th, 72nd, 62nd, 49th, 42nd and 33rd Streets.
The remaining stations will be along Douglas Street eastbound at Park Avenue, 24th Street, 19th Street, 15th Street and 10th Street; and up Dodge Street at 12th Street, 15th Street, 20th Street, 24th Street and Park Avenue.
The ORBT system is intended to look and function different from Metro's regular bus system.
The buses will be orange, 60-feet-long with an accordion center, have three doors and hold an indoor bike rack. The platforms will be raised so riders can step straight on and off the bus, just like on a train.
Stations and buses will have Wi-Fi, and ticket kiosks will allow for prepaid boarding.
ORBT buses will run for 26 to 28 minutes between Westroads and downtown, making fewer stops than a regular bus and having technology to hold a green light longer. East of 30th Street, the rapid transit buses will run on a dedicated ORBT lane. During the day, a bus should arrive at a stop about every 10 minutes.