This Thanksgiving, the dazzling winter lights at Gene Leahy Mall will switch on for the last time before the park gets a major face-lift.
Construction on a Gene Leahy Mall overhaul will cause the Holiday Lights Festival's Thanksgiving Lighting Ceremony to find a new home for 2019 and 2020. Depending on the pace of construction, the city's iconic holiday lights will return in winter 2021 or 2022, said Mayor Jean Stothert.
"The goal is to have the Gene Leahy Mall done by 2021, then Heartland of America Park and the landing and the waterfront up to the Bob Kerrey bridge done in 2022 and 2023," Stothert said Wednesday of the $290 million project. "It's a very aggressive construction. I would say in a city of this size and a project of this magnitude, this would be a 10- to 15-year build."
When announcing details of this year's Holiday Lights Festival on Wednesday, Stothert said she wants to keep the festival's events downtown during construction. While the lights in the mall will temporarily go away, Stothert said trees in other downtown locations will still be lit for the holidays.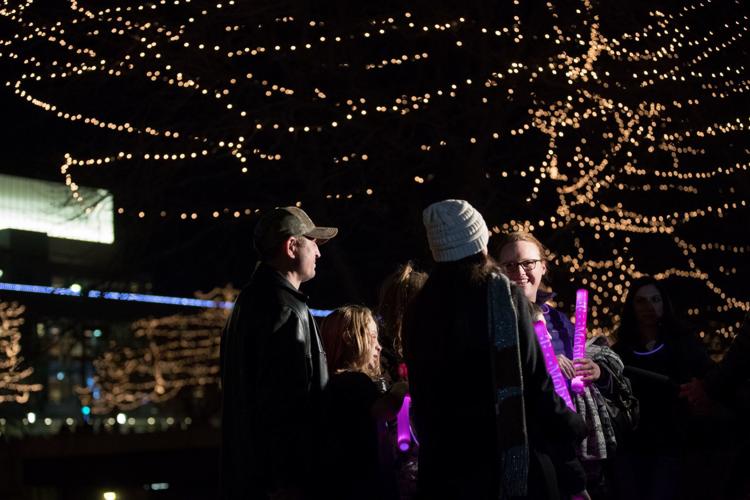 The man whose company manages the tree-lighting ceremony and the six-week Holiday Lights Festival told the Old Market Business Association in September that Midtown Crossing has been considered as an option for a temporary relocation of the lighting ceremony. Stothert said that she has not yet decided where the festival's popular lighting ceremony and fireworks display will move in the interim.
"We have lots of ideas, but we have not made a decision yet," she said. "When we do, we'll make sure everyone is aware of it. But we really want to keep the Holiday Lights Festival downtown."
This year's Holiday Lights Festival is similar to the 2017 edition, with a few changes in programming.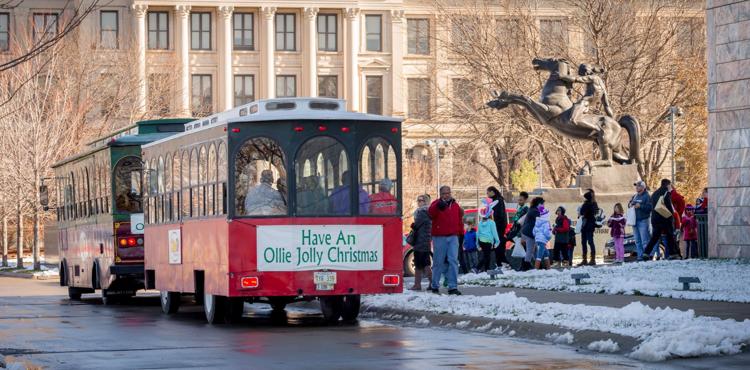 Here's a rundown of this year's Holiday Lights Festival schedule:
Thanksgiving Lighting Ceremony
Nov. 22, Gene Leahy Mall, 14th and Farnam Streets
5:40 p.m.: Musical Kids take the stage
6 p.m.: Stothert leads a countdown to illuminate the holiday lights in the park. Lights will be lit each evening from 5 p.m. until 1 a.m. through Jan. 6.
Making Spirits Bright Holiday Concert
Nov. 22, Holland Performing Arts Center, 13th and Douglas Streets
7 p.m.: A free concert featuring vocalist Mary Carrick and the Nebraska Wind Symphony
Saturdays from Nov. 24 to Dec. 22, Gene Leahy Mall and the Old Market
7-8 p.m.: Local choral groups perform at the Gene Leahy Mall at 11th and Farnam Streets and in the Old Market at 11th and Howard Streets. For a schedule, visit holidaylightsfestival.org.
North Omaha Holiday Lighting Ceremony
Dec. 1, 24th Street and Lizzie Robinson Drive
4:30 p.m.: A lighting ceremony in Dreamland Park will illuminate holiday lights along a six-block area near 24th and Lake Streets.
South Omaha Holiday Lighting Ceremony
Dec. 1, 24th Street in South Omaha
5:30 p.m.: South Omaha's historic 24th Street will be illuminated by holiday lights between L and Q Streets.
Dec. 2, noon-5 p.m., various locations
Six downtown organizations offer free admission and free activities for families and children. Complimentary heated trolley service will be provided by Ollie the Trolley, connecting each site.
» Omaha Children's Museum, 500 S. 20th St.: "Freezing Cold Science Shows," $2 carousel and train rides, free museum admission and visits with Santa and elves.
» YMCA, 430 S. 20th St.: Interactive activity tour with holiday-themed crafts, bounce houses, dancing, tumbling, simple fitness training, hot cocoa, coffee and cookies with Santa.
» Omaha Police Mounted Patrol Barn, 615 Leavenworth St.: Stable tours with Santa, meet-and-greet officers and horses, riding demonstrations, pony rides, face-painting, balloon art, free hot cocoa.
» Durham Museum, 801 S. 10th St.: "Christmas at Union Station" with Omaha's largest indoor Christmas tree, visit with Santa, holiday cultural trees exhibit, access to the museum's other exhibits.
» W. Dale Clark Library, 215 S. 15th St.: Free children's books while supplies last, meet-and-greet Elephant & Piggie and the library mascot, Scamper, plus live holiday music, coloring and storytelling by librarians.
» Joslyn Art Museum, 2200 Dodge St.: Access to the museum's exhibitions, $5 off admission to "Pattern and Purpose," hands-on activities for kids to create their own works of art.
The Capitol District Ice Rink
Dec. 7 to Jan. 21, 10th Street and Capitol Avenue
Open each day except Christmas Day, with special hours on Christmas Eve and New Year's Eve. Tickets are $10, including a skate rental. Special events include screenings of holiday movies, skating Santa, Throwback Thursdays and an ugly sweater party. For more information, visit holidaylightsfestival.org/ice-rink.
New Year's Eve Fireworks Spectacular
Dec. 31, Gene Leahy Mall, 14th and Farnam Streets
7 p.m.: Fireworks display set to a 1960s musical score, broadcast on Star 104.5 FM.
Correction: An earlier version of this story and headline incorrectly stated the Gene Leahy Mall's renovation will be completed ahead of schedule.
Inspired Living Omaha: The Holiday Edition
Be the first to know
Get local news delivered to your inbox!