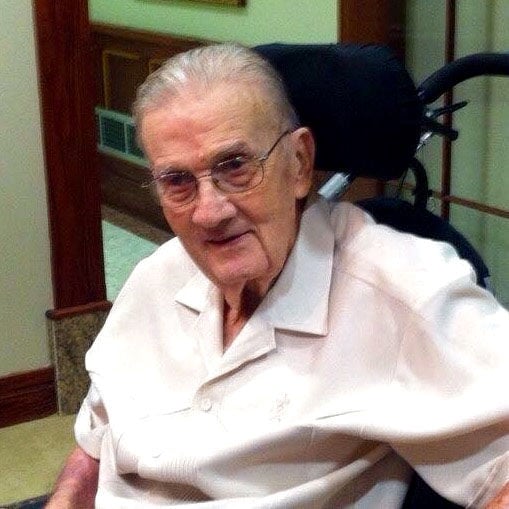 Longtime Creighton University sports booster Francis R. "Frank" McGill, the father of 12 children and an advocate for the homeless and the addicted, has died at 85.
His daughter, Libby Riley of Missouri Valley, Iowa, said that he had suffered from dementia and frailty and that his once-athletic body gave out Wednesday.
"My dad had an iron will, and was one of the strongest people I ever knew," Riley said. "You always knew where you stood with him."
He was born in Omaha and excelled in sports at old Holy Name High School, where he graduated in 1948. He attended his first Creighton basketball game in 1940 and remained a lifelong fan.
For a time, CU Athletic Director Bruce Rasmussen said, McGill made so many road trips with the Bluejays that he was kiddingly called "the owner."
Long active in the Jaybackers booster club, McGill was so enthusiastic about the Jays, Rasmussen said, that he often overrated players as future first- or second-round pro draft choices.
He provided summer jobs for student-athletes at his painting company, Rasmussen said, "and anytime coaches needed anything, Frank was there."
For decades, he also was a vociferous commentator from the stands on referees' calls.
But he also had compassion for the underprivileged. In the late 1970s, he donated to help start the Francis House shelter for men, employing Creighton players to move appliances into the building, then in a former bar at 19th and Cuming Streets.
Libby said organizers of the homeless shelter wanted to name it for him, but he asked that it be named for another Francis — St. Francis of Assisi. (A spokesman for today's Siena-Francis House said he understood that to be true.)
McGill was a former gambler who started a 12-step house at 73rd and Grant Streets for gambling addicts. It was soon used to help people beat other addictions, including drugs and alcohol.
McGill and his wife, Patricia, married soon after high school and began raising what became a large family.
In March 1963, with the parents away on vacation and a grandmother caring for the 10 children at the time, a supper-hour fire destroyed the house at 7305 Lake St. Everyone got out, including the two youngest, who were carried through the smoke.
The McGill painting business eventually flourished, and Frank employed more than 100 people at one time. Among his contracts was one for the restoration of the Orpheum Theater.
McGill often sponsored sports teams for ex-college players in basketball, softball and flag football, one proudly called "McGill's Pigs." An AAU basketball team made up of former Bluejays made it to the final four of a national tournament.
Said son Gary McGill: "Our dad was always, always around sports."
Frank McGill was preceded in death by his first wife, Patricia, who died in 2002; son Michael, who died in 2005; and daughter Mary Frances, stillborn at full term in 1969.
He is survived by his wife of two years, Maryann, and by his children. Besides Libby Riley and Gary McGill, they are Tim McGill of Naples, Florida; Terry McGill, Patrick McGill, Joe McGill, Christine McGill and Kathy Micheels, all of Omaha; Blake McGill of Plattsmouth; and Colleen Flynn of Virginia.
A rosary will be said at 7 p.m. Monday at Holy Name Church, with a funeral there at 11 a.m. Tuesday.
Correction: Libby Riley is one of the surviving children of Francis "Frank" McGill, who died Wednesday at age 85. Her first name was misspelled in an earlier version of this story.
Be the first to know
Get local news delivered to your inbox!