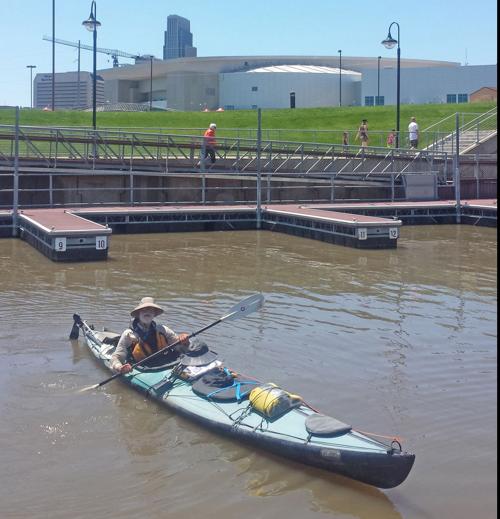 What began as a way to combat boredom after retirement turned into a 1,600 mile river adventure for John Wetherby of Anchorage, Alaska.
The newly retired anesthesiologist kayaked his way down the Missouri River and landed in Omaha on Sunday afternoon.
Wetherby, 68, began his journey on March 11 in Helena, Montana, setting course for Omaha, where his daughter, Aelwen Wetherby, lives.
While he was alone on the water for most of the journey, he said he met some nice people along the way. One man, Jim Swenson, drove 20 miles to help Wetherby portage around the dam at Chamberlain, South Dakota, and then took him to lunch.
Wetherby's wife, Linda, and daughter provided support along the way. Aelwen Wetherby created an online map to track her father's progress and location. His wife said she was grateful to those who helped out.
"I can't say enough about everyone along the way," said Linda Wetherby. "They've all been so nice."
Throughout his journey, Wetherby primarily camped along the river, staying in hotels only four times so he could resupply and do laundry.
While most of the trip was smooth sailing, the elements posed a problem more than once. A few weeks ago a heavy rainstorm left his kayak and tent in disrepair.
"There were really heavy winds that put a hole in the roof of the tent," Wetherby said. The wind also banged the kayak against the rocks on the beach, "leaving considerable holes."
Wetherby patched his kayak with duct tape.
Had his situation been serious, Wetherby's GPS could have plotted his location on a map, which could be emailed to his family when there was no cell service.
Despite these setbacks, Wetherby, supplied with audiobooks and music, enjoyed his time on the water.
"It was pleasant and peaceful."