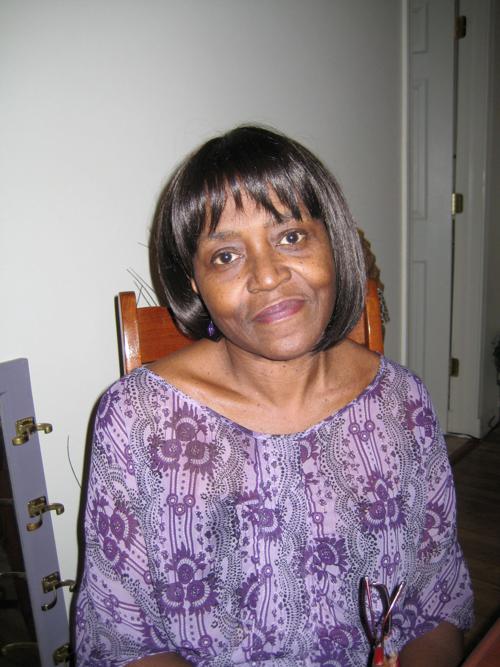 Six years ago, Sadie Bankston announced that she was disbanding the group she founded to help homicide victims' families.
As she wearily explained it, "I'm tired of the struggle."
But she kept struggling, didn't quit and this month celebrated the 25th anniversary of PULSE, an acronym that reminds us that after tragedy, there is life.
PULSE stands for People Uniting, Lending Support and Encouragement, and the one lending the most support and encouragement has been Sadie.
The mother of a 1989 victim, Bankston has endured health problems in recent years that have slowed her gait, and she is still weary. But she plans to go on as long as she can.
"I'll give out," she said, "but I won't give up."
Family members of Omaha homicide victims shared a meal and cake with her recently at the Omaha Public Schools headquarters in celebration of her efforts. A few spoke.
Pat Wright, whose 22-year-old daughter, Raquel Woodruff, was killed in 1995, said that for a long time she suppressed her emotions.
"I didn't cry because I didn't know how to cry," she said. "Then a couple of years later I was driving down the street bawling. You never know how it feels unless it happens to your family."
She said she "couldn't have made it without Sadie."
Tricia Moore and Delgracious Smith were among other mothers of homicide victims who spoke about having received the call that every parent dreads.
"I want to thank the PULSE program," Moore said. "And I just pray for our community that people don't get that phone call."
Homicides in Omaha are down this year — 17, compared with 31 at the same time in 2013. Numbers fluctuate from year to year, and one bad weekend can alter the yearly picture.
But with increased work by police gang-intervention specialists and others to help stem the tide, and with Crime Stoppers increasing its tip reward to $25,000 from the longtime $1,000 to help solve homicides, the trend looks hopeful.
Gun violence in general has been dropping in Omaha, with 189 gun assaults in 2011 and 149 last year.
Still, families suffer. And Sadie Bankston, who lost a 19-year-old son, suffers with them.
"They cry," she said, "and I've always had to suppress my tears until I get home. When my son was murdered, there wasn't this type of support around."
Among those attending the recent event was Father Ken Vavrina, a Catholic priest who often has worked in impoverished parts of the city.
"Sadie provides a need at the time it's needed most," he said. "I tell her she can't quit. I'm afraid if she quits, no one else will pick this up."
Diane Battiato, the Douglas County register of deeds, served as emcee of the PULSE celebration and said she has known Sadie for 15 years.
In 1997, her 43-year-old husband, Steven Battiato, died in a traffic accident in snowy weather. A truck lost control, crossed the Interstate 80 median and hit his car.
"I know what it's like to lose a soul mate," she said. "It affects your whole being. When my husband was killed, there was a while that I hated God."
She said she can only imagine the horror of losing someone to violence, and she admires Bankston for helping grieving families. In tribute to her, Battiato sang "The Wind Beneath My Wings."
A video listed one by one the names of hundreds of Omaha homicide victims from the time PULSE began through 2011. So did a standing wooden panel, in three sections, about 8 feet tall.
PULSE has provided families "care packages" of toiletries and other items, but Pat Wright said that is a small part of the help that is given.
"Sadie has been there for a whole bunch of people," said Wright, who worked for years in the Omaha City Clerk's Office. "She has helped families long after they lost someone. If their house burns, Sadie makes phone calls for them."
Her nonprofit organization accepts donations to: PULSE, P.O. Box 11506, Omaha, NE 68111.
After homicides, families patch themselves together as well as they can with the support of relatives, friends and sometimes even strangers.
For many Omaha families in grief the past 25 years, Sadie has been a go-to lady.