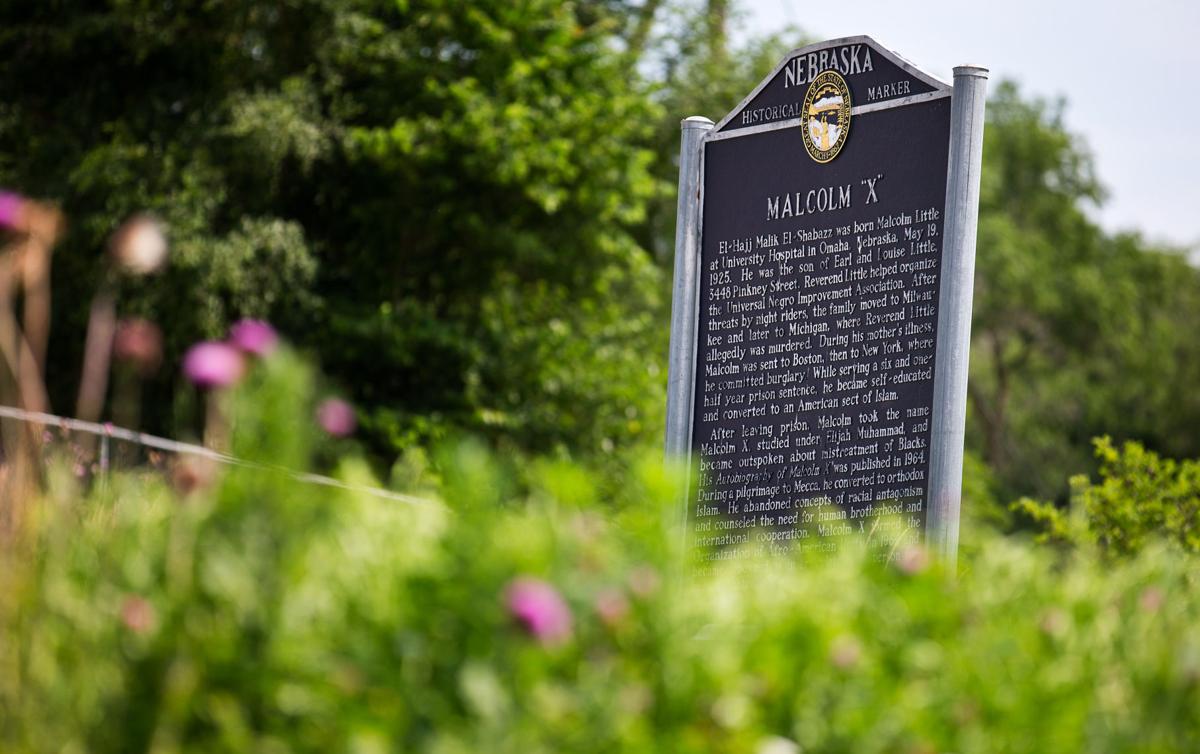 As the place of his birth, Omaha seems like a brief footnote in the short life of Malcolm X.
Yet the frightening experience his family had here just before he was born undoubtedly shaped Malcolm's racial consciousness and played a role in his evolution as a civil rights firebrand.
Malcolm X leads his autobiography with the night the Ku Klux Klan rode up to his parents' house in north Omaha:
"The Klansmen shouted threats and warnings at her that we better get out of town because 'the good Christian white people' were not going to stand for my father's 'spreading trouble' among the 'good' Negroes of Omaha."
Malcolm Little's parents, Earl and Louise, had come to Omaha to spread the back-to-Africa gospel of Jamaican orator and political leader Marcus Garvey in 1921. They settled in a house at 3448 Pinkney St. at a time when the Klan was exploding across America and digging in roots in Nebraska, according to late scholar and biographer Manning Marable.
Marable's 2011 book, "Malcolm X: A Life of Reinvention," tells how the Klan had grown to 45,000 members in Nebraska by 1923, added a women's branch in 1925 and had Tri-K clubs for children. It held a state convention in Lincoln, and had 1,500 participants in a parade.
The night in 1925 that Klansmen visited the Little home, Earl was gone. Louise, pregnant with Malcolm, came to the door and told the men she was home with three small children.
"Then the Klansmen took the butts of their rifles and knocked out all the windows," Malcolm X's autobiography reads.
Malcolm Little was born at University Hospital in May 1925. The family moved in 1926 to Milwaukee and then to Lansing, Michigan, where their home was torched in 1929.
Earl Little died when Malcolm was 6. Louise suffered a breakdown and was institutionalized when Malcolm was 13. Malcolm bounced around foster homes, dropped out of school and, following a burglary, was in prison at age 21.
In prison, he became self-educated, joined the Nation of Islam and dropped his surname for "X," to symbolize the family name lost to slavery. He became a devout Muslim and, once out of prison, a rising star in the Nation, led by a man named Elijah Muhammad.
Malcolm X was a powerful orator and a controversial figure who, like Muhammad, called whites the devil and advocated for black self-determination. He once said that if the government wasn't going to defend black people, blacks should use "any means necessary" to defend themselves.
A later pilgrimage to Mecca tempered his views on whites. He broke with the Nation of Islam and repudiated the group, causing a huge rift. He started a new group, the Organization of Afro-American Unity.
Malcolm started to talk about tolerance and global human rights, but because of the rift with the Nation and FBI and government surveillance, supporters feared for his life.
In 1965, his home was firebombed. A week later, on Feb. 21, he was shot and died.
The old Little house at 3448 Pinkney was torn down but in 1970, an Omaha activist named Rowena Moore launched a decades-long effort to memorialize the slain activist.
Moore bought the lot where the Little house stood and eventually amassed a number of neighboring lots. The state erected a historical marker. The city named a street for Malcolm X. And a Malcolm X Foundation locally kept alive the dream for creating a Malcolm X educational center.
In 2010, the foundation opened a Malcolm X center inside an old Kingdom Hall at 34th and Evans Streets, which sits near the former Little home.
The foundation runs a number of educational programs, including an African-themed event today to honor Malcolm's life.