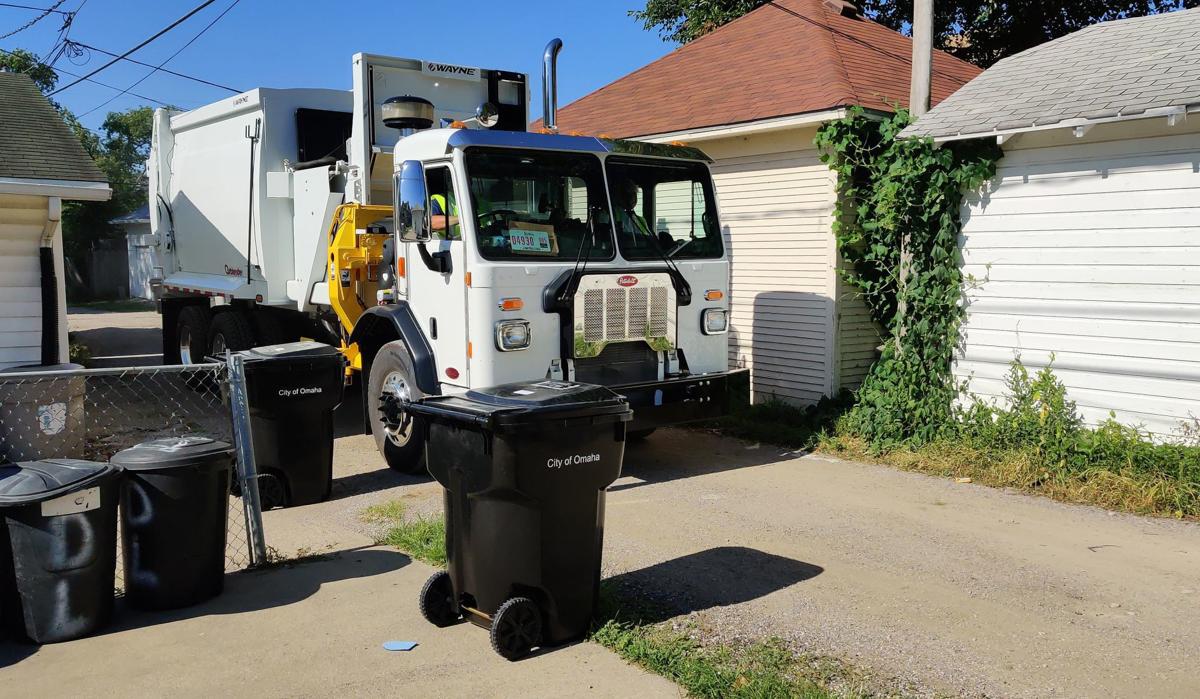 Tuesday's public hearing on Omaha's next trash contract took half as long as the first to make a familiar point: Neither residents nor the City Council agree on what to do with yard waste.
The City Council has four options, only two of which have significant support. The favorite seems to be a contract offering two 96-gallon carts — one for trash and yard waste combined and one for recycling.
The only reason it's a favorite now, after the council rejected a similar plan in June, is because it's being supplemented with eight to 12 weeks of unlimited yard waste pickup in the spring and fall. That seasonal pickup of bagged yard waste would be composted.
Mayor Jean Stothert wants the council to add that service to a trash contract that offers two 96-gallon carts, including one that would mix trash and yard waste most of the year and take it to the landfill.
Some residents testified in support of the two-cart plan recommended by Stothert and Public Works. That didn't happen during the first public hearing in June.
One supporter was Donni Stanton, a southwest Omaha resident who said he works in transportation and logistics and believes that the two-cart bid is best because it has more drivers and people.
He said he wants the city to pick a plan that carries off whatever yard waste he sets out in the spring and fall.
He also said he has no place to put a third 96-gallon cart, echoing comments from a number of people who have written to the City Council and The World-Herald in recent months.
Sign up for World-Herald news alerts
Be the first to know when news happens. Get the latest breaking headlines sent straight to your inbox.
But many in Tuesday's half-full crowd pushed the council to select a trash plan with three 96-gallon carts that keeps yard waste separate from garbage from April through Thanksgiving.
Most, including David Corbin of the Sierra Club and Mary Ruth Stegman of Omaha Together One Community, represented groups that have organized to support composting instead.
Corbin said many greenhouse gases from dumping yard waste in the landfill would escape, likely worsening the effects of a changing climate.
The council also heard from representatives of both companies still competing for the city's trash-hauling business, FCC Environmental of Spain and West Central Sanitation of Minnesota.
Company leaders have spent weeks arguing about one another's bids, with the biggest difference coming down to how many people and trucks are needed to do the job.
FCC's Dan Brazil and West Central's Don Williamson argued the merits of their proposals Tuesday and each fielded questions from members of the council.
Brazil and assistant Public Works director Jim Theiler testified Tuesday that they remain convinced that FCC is being more realistic about the resources it needs in Omaha.
West Central argued that it relies more on automation and needs fewer people and trucks. Williamson said he's still doing business with all of his company's municipal customers.
"If that's not a testimony to us keeping our promises, I don't have anything stronger to give you," Williamson told council member Pete Festersen, who asked him for reassurance.
FCC's two-cart bid with the mayor's supplemental unlimited but seasonal yard waste pickup would cost $24.2 million a year. West Central's three-cart bid with separate yard waste collection for 35 weeks of the year would cost $22.2 million.
The council aims to decide on the trash contract and a supplemental yard waste plan on Aug. 27. It would hold after a public hearing on the supplemental yard waste proposals before it votes.