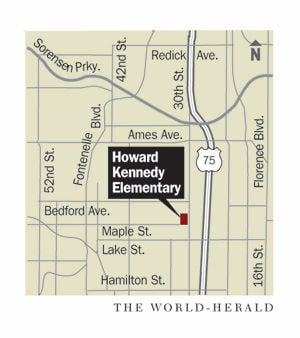 A potential partnership between the Omaha Public Schools and a neighborhood revitalization effort could shake up Howard Kennedy Elementary, one of the district's poorest schools.
The Seventy-Five North Revitalization Corp. — the nonprofit behind a planned redevelopment of north Omaha's former Pleasantview Homes housing project — believes improving Kennedy is key to transforming vacant lots in a poor, high-crime area into a flourishing neighborhood anchored by new housing and a high-performing school.
But the shape those school improvements might take — and the impact on the school's students and staff — isn't clear yet.
Headed by Omaha native Othello Meadows III, Seventy-Five North is part of the Purpose Built Communities network.
Purpose Built Communities is a nonprofit consulting firm co-founded by Warren Buffett in 2009 to assist local agencies devoted solely to reviving blighted neighborhoods and helping residents climb out of poverty by focusing on building mixed-income housing, a "cradle to college or career" school pipeline for kids and access to resources like health care and job training. Eight projects are planned or underway in cities such as New Orleans, Indianapolis and Birmingham, Alabama.
The Omaha offshoot, the Seventy-Five North project, is taking on north Omaha's Highlander neighborhood, which is bound by U.S. Highway 75, Parker Street, Lake Street and the Prospect Hill Cemetery.
In May, the organization bought the 24-acre site of the former Pleasantview housing project, which was demolished in 2009, for $775,000.
There, the group plans to build about 300 housing units, a mix of affordable and market-rate housing available to both rent and buy, funded by private donors, tax credits, grants and other financing options.
Seventy-Five North receives significant financial backing from the Sherwood Foundation, Susie Buffett's education-focused foundation.
Future projects could include adding early childhood education programs and a community center, and any work will most likely lean heavily on nearby organizations such as the Urban League of Nebraska, Charles Drew Health Center and Salem Baptist Church to provide wrap-around social services to residents.
Then there's Kennedy, the local school, the subject of a presentation by the group to the OPS board on Monday night.
Meadows said his group is interested in folding Kennedy, a stately, century-old pre-K-6 school with distinctive columns at 30th and Binney Streets, into its plans for the surrounding neighborhood, part of a realization that education or housing alone can't help kids escape the host of problems associated with grinding poverty.
"Everywhere you go within that Purpose Built network and see a neighborhood that's really functioning, more often or not there's a high-performing school at the heart of it," Meadows said.
There's no shortage of community help at Kennedy now — the school offers everything from federally funded after-school tutoring to a variety of mentoring programs. But Seventy-Five North's involvement would go deeper, Meadows said.
"We don't want to be just another add-on, we'd like to figure out how our neighborhood and how our community helps that school reach its full potential," Meadows said.
He stressed that Seventy-Five North would not be taking over or running Kennedy for OPS.
"We're not educators," he said.
But alongside OPS, the group is exploring ways to boost results at Kennedy, where nearly 98 percent of students qualify for free or reduced-price lunch and less than half of fourth-graders scored proficient on state math and reading tests last year.
Strategies could include adding a curriculum heavy on science, technology, engineering, the arts and math, and ensuring that the school has "a high-quality principal and best-in-class teachers."
Other options on the table include a longer school day or school year, similar to the extended learning schedule at Wilson Focus School.
A look at other schools involved in Purpose Built Communities could provide a hint at Kennedy's direction.
The Purpose Built Communities model is Atlanta's East Lake neighborhood, where in 1995, a $150 million public-private project began transforming the crime-stricken area dubbed "Little Vietnam."
Housing projects were torn down and replaced with new apartments, businesses such as bank branches and grocery stores took root, and property values bounced back.
In 2000, the East Lake Foundation started the Drew Charter School, Atlanta's first charter school.
The school now boasts some of the highest public school test scores in Georgia and has a lengthy waiting list for enrollment. Last year, 98 percent of fourth-graders scored proficient on state reading tests and 97 percent in math. The student population is primarily black and 58 percent of students qualified for free or reduced-price lunch last year.
Over the last several months, OPS staff and school board members flew to Atlanta and toured the East Lake section and Drew Charter School.
While some communities have created their own charters, others forged public-private partnerships with local public districts. Nebraska is one of eight states that don't allow charter schools.
Two years ago in Spartanburg, South Carolina, the low-performing Cleveland Elementary was rebranded Cleveland Academy of Leadership as part of the Northside Initiative neighborhood revitalization.
The school introduced a revamped curriculum focused on math, science and literacy. Strict behavior rules are enforced and students now wear uniforms and attend school longer, following a 205-day school calendar instead of the typical 180 days. State test scores have been inching forward and disciplinary problems have decreased, school officials report.
OPS Superintendent Mark Evans said more discussions with the school board, school staff and community are needed before any changes to Kennedy are made.
"That's what we're trying to get the board to tell us, what their thoughts are," he said. "We know it's a unique opportunity because of that whole revitalization project and we want to be a part of that."
The district could start meeting with Kennedy staff over the next month or so, discussions that could involve contract talks with teachers and staff if the school year or day is lengthened. A vote by board members on the partnership is at least several months away, and even if they approve the collaboration, it's unclear when parents and students would begin seeing any changes.
Board President Justin Wayne said the district needs to proceed with caution. He asked if it was wise for the district to take on another project while it's busy juggling several others, including a bond issue and implementation of a long-term strategic plan.
He also pointed out the precedent that the OPS-Seventy-Five North partnership could set. If the board approves that plan, why couldn't another neighborhood group or several parents implement sweeping changes to their own school, from changing the magnet theme to setting a longer school year?
Other board members applauded the overall project.
"We have an opportunity here to change what north Omaha looks like, what Omaha looks like," board member Yolanda Williams said.