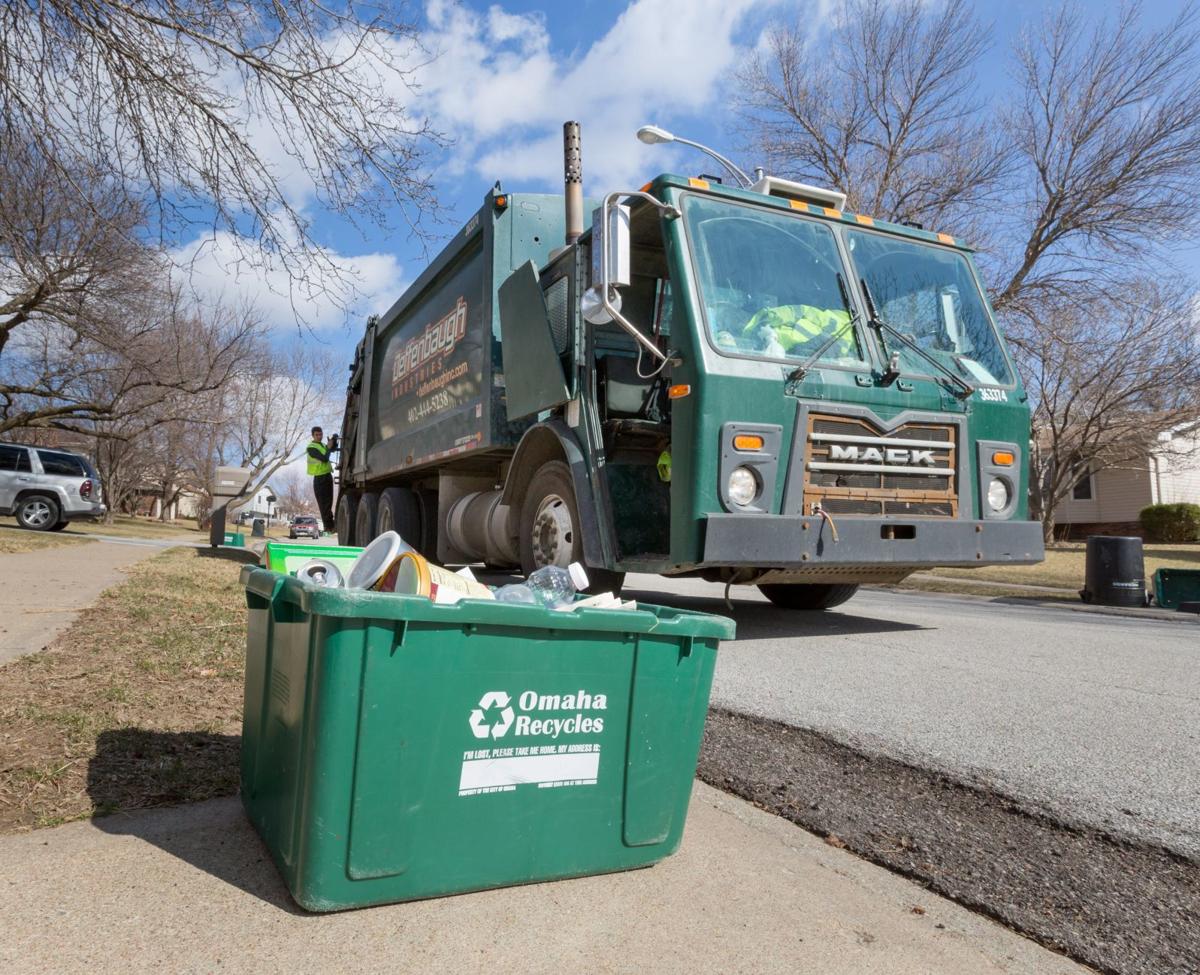 A Minnesota-based waste hauler is making one last effort to win Omaha's next trash contract.
West Central Sanitation owner Don Williamson sent a letter Friday to Mayor Jean Stothert and the City Council calling his company's three-cart bid, with separate yard waste collection, the city's best, cheapest and most realistic option.
The West Central bid with three carts, one each for trash, yard waste and recycling, would cost about $22.2 million a year.
West Central's letter says that Stothert's new approach, which is different than the bidding process set out, could cost taxpayers more than expected and that FCC could struggle to hire enough reliable help to pick up yard waste on Saturdays.
West Central estimates that the city could pay millions of dollars more for seasonal yard waste pickup. The city estimates that Saturday pickup will cost $500,000 or $600,000 a year, on top of the $22.7 million FCC contract.
Assistant Omaha Public Works Director Jim Theiler said West Central's numbers "do not reflect a bid package the city is working on."
Dan Brazil, director of collection services for FCC, said, "We find the mayor's plan viable and support her waste removal option."
Sign up for World-Herald news alerts
Be the first to know when news happens. Get the latest breaking headlines sent straight to your inbox.
West Central recommended that the city give the company a chance to grow into what would be its largest contract. Today, its largest contract is with 20,000-household Mankato, Minnesota. Omaha has 150,000 households.
West Central's need to grow rapidly, Stothert stressed Friday, is one of the biggest risks the company poses. But she gave the company credit for including in its letter a commitment from at least one bank to help finance such growth.
The mayor has said she does not want the city to take a risk with a garbage hauler that needs to double in size to serve Omaha.
West Central, in its letter, leaned on the independent review of its bid that the city sought from HDR Inc. That review found West Central's plans to be reasonable and credited its efforts to compete on costs, Williamson wrote.
But the HDR review questioned the ability of West Central to provide the level of trash, yard waste and recycling service it was promising at the price it bid.
Stothert said the city is in the process of writing the request for proposals for six weeks of unlimited yard waste pickup in the fall and spring. She said the city might split up the extra yard waste work among multiple companies.
Stothert emphasized that under her plan, Omahans would get unlimited yard waste collection for those 12 weeks, while residents would have to pay extra for any yard waste that filled more than a 96-gallon cart each week with West Central.
The mayor's favored trash proposal would provide two 96-gallon carts to use year-round: one for trash and yard waste combined, to be taken to the dump weekly, and one for recycling, to be picked up every other week.
Her supplemental seasonal pickups would let Omaha residents put unlimited yard waste at the curb in bags or trash carts on Saturdays for six weeks each spring and fall. Those clippings would be composted.
West Central's three-cart bid would take yard waste to OmaGro for composting year-round. But those who put more than a single cart at the curb would have to buy $2 stickers for each lawn bag.
Photos: Our best shots of 2019 (so far)
Take a spin through the best of our staff photos from 2019. The gallery will be updated throughout our journey through the next year.