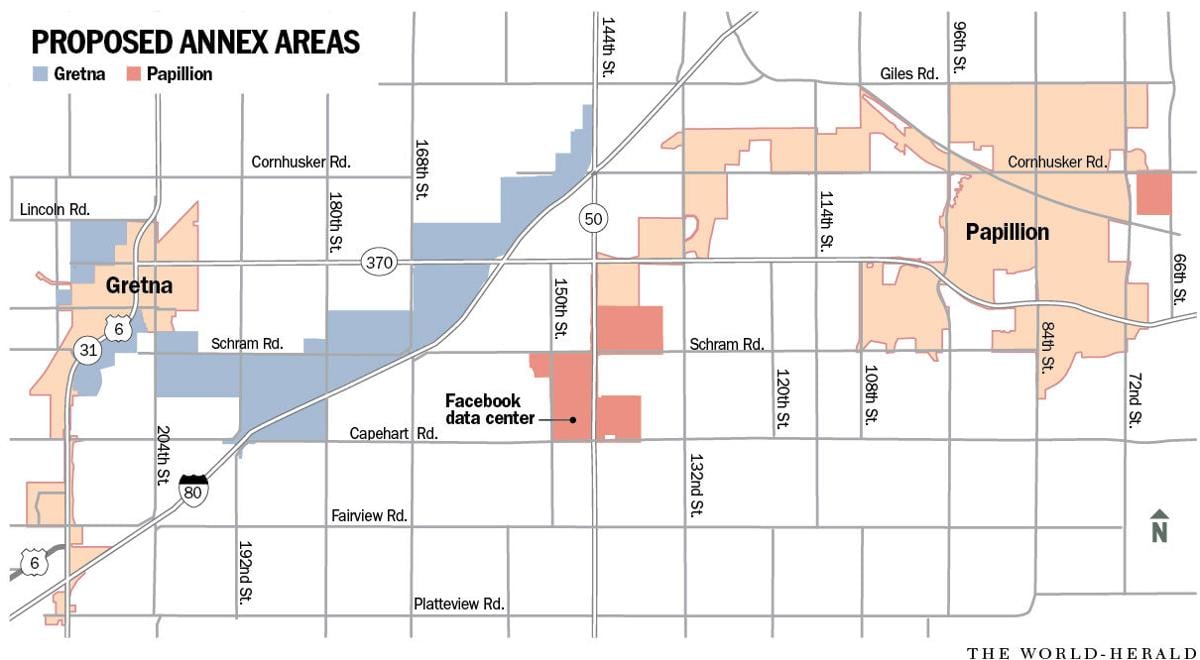 A week and a half after Gretna announced a sprawling annexation plan, Papillion has announced its own smaller annexation package.
But the proposed plan is not a reaction to Gretna's, Papillion officials say.
It's part of Papillion's continued move "from a small town to a big city," said Papillion Mayor David Black.
"We've been doing things in anticipation of growth for the last five years," he said. "And we'll continue to do those things."
The plan includes the Cottonwood neighborhood, as well as the Facebook data center, Omaha National Cemetery and Travelers data center. It would bring about 750 people and 800 acres into city limits. The latest estimates put the city at 19,597 people and 4,288 acres.
If the package is approved, city limits would extend east to roughly 66th Street and Cornhusker Road and south and west to about Nebraska Highway 50 and Capehart Road. If Gretna's annexation also passes, the city limits of the two would be less than a mile apart in places.
The package will go before the Planning Commission on Oct. 25 and before the City Council on Oct. 26, 27 and 28. It would go into effect Nov. 12 if it garners a stamp of approval.
The data centers and other western industrial areas are key, Papillion spokesman Trenton Albers said, because the increased taxes from those areas will help offset the cost of annexing residential areas in the east.
The projected effect of the overall annexation is slightly net positive in terms of revenue, he said, but finalized impact numbers won't be available until a city committee meeting on Oct. 17.
The city's intent is to foster orderly growth, Black said.
That means the city needs to grow at a pace it can keep up with, he said. This annexation package is part of that process.
The city has been honing this annexation package for about three months, Black said, which is long before Gretna's Sept. 29 announcement of its annexation plan.
Gretna's annexation, should it be approved, would double the small city's land area and add at least 2,800 people to the town of 5,060. The package complied with a 2010 boundary agreement with Papillion that extends along Interstate 80 from about Giles Road to 180th Street. But the plan also includes land south of I-80 just past 180th Street, which had the potential to one day be absorbed by Gretna, Papillion or Springfield.
On Oct. 3, Papillion's City Council met in closed session to discuss potential litigation if Gretna's council approves its plan.
None of that has any bearing on the annexation announced Wednesday, Black said.
"Both of (the annexations) could go through, and they don't touch each other," he said. "And ours stays within the boundaries (of the 2010 agreement), so I think that demonstrates it's not in reaction."
However, Black questioned the legality of Gretna's planned annexation because of that city's plans to annex agricultural land that's rural in nature.
"I have a hard time envisioning that it's legal," Black said. "But Papillion is not in a spot to challenge that."
One sticking point is the future interchange of 192nd and the Interstate. Black believes that both cities should have a stake in the interchange, he told the Papillion Times. But Gretna's current annexation plan would give Gretna full control of the 192nd Street interchange.
Gretna Mayor Jim Timmerman didn't immediately respond to a request for comment Tuesday evening.
Sarpy County Attorney Lee Polikov said last week that he thought the county would have grounds to challenge Gretna's annexation. But he said the county will wait to see what happens.
Gretna's annexation is scheduled to be taken up by that city's Planning Commission on Oct. 16 and the City Council on Oct. 17, 18 and 19.
Papillion's annexation package includes some agricultural land near the Travelers and Facebook data centers, but that land has been rezoned industrial. It is not "rural in nature," Black said, and he believes that it is legal.
"There's no land, that I'm aware of, that is zoned agricultural and owned by a farming family," Black said.
Black said he contacted the La Vista, Springfield and Gretna mayors last week to give them a heads-up about the annexation. The city also contacted Sarpy County Board members, economic development partners and superintendents of the Springfield-Platteview Community Schools and Papillion-La Vista Community Schools.
If the annexation goes through, Cottonwood residents would see a slight decrease in their property taxes as well as lower water and sewer rates. They would also fall under the Papillion Police Department's jurisdiction rather than that of the Sarpy County Sheriff's Office. Papillion Public Works would maintain their sewer and water lines and plow their streets instead of Sarpy County. The Papillion Fire Department would continue to serve the area.
Annexed areas outside of Cottonwood may see an increase in property taxes. They would also receive city services instead of the county's.
Sign up for World-Herald news alerts
Be the first to know when news happens. Get the latest breaking headlines sent straight to your inbox.