Darwyn "Tony" Snyder, the founder and longtime conductor of Omaha's Nebraska Wind Symphony, will be honored by the French government Feb. 25 for his military service during World War II.
Snyder, 95, will be presented with the French Legion of Honor — France's highest military award — during a ceremony at his retirement home in St. Louis.
Snyder grew up in Marathon, Iowa, and enlisted in the Army about two years after the attack on Pearl Harbor. He was trained to drive armored vehicles and served as a logistician with the 47th Tank Battalion, which landed at Marseille, in southern France, in 1944.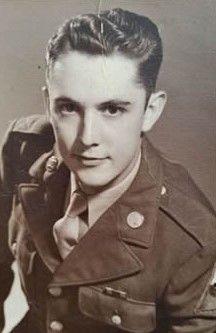 Snyder served in the Ardennes-Alsace and Rhineland campaigns. His unit fought in the Battle of the Bulge in December 1944 and January 1945. He remained with his unit in Europe after the German surrender in May 1945 to help arrange for shipment of the unit's equipment back to the United States.
After the war, Snyder met his future wife, Joan, while both were undergraduates at Morningside College in Sioux City.
They moved in 1954 to Omaha, where Snyder served as band director and district fine arts coordinator for Westside Community Schools until retiring in the late 1980s. He founded the Nebraska Wind Symphony in 1977 as an outlet for talented musicians who had few opportunities to perform after graduating from high school or college.
The couple moved to the St. Louis area in 2013 to be near their son, Mark. They have been married for 72 years.
Guillaume Lacroix, the French Consul General in Chicago, will personally present Snyder with the Legion of Honor. The award was created by Napoleon Bonaparte in 1802 and is awarded for "eminent service" to the French Republic.
About 10,000 Americans have received the award, including Gens. Dwight Eisenhower, Douglas MacArthur and George Marshall; aviator Charles Lindbergh; and actors Kirk Douglas, Clint Eastwood and Jerry Lewis.
Any living American service member who served on French soil during World War II is eligible to receive it. For more information, visit the Legion of Honor website, or contact the Consulate General of France in Chicago at chicago.consulfrance.org.
---
Photos: Offutt Air Force Base through the years
Sign up for World-Herald news alerts
Be the first to know when news happens. Get the latest breaking headlines sent straight to your inbox.
Be the first to know
Get local news delivered to your inbox!