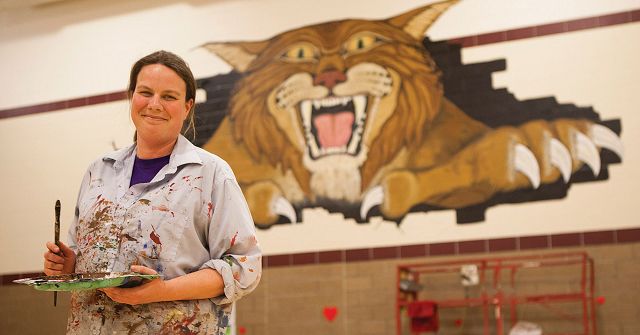 COUNCIL BLUFFS — Cait Irwin says she never questioned that she would become an artist — "I've just always known."
Now, a lot of others are finding out, too, as Cait Irwin puts the finishing touches on a 15-by-25-foot bobcat on the north wall of the gymnasium at the Iowa School for the Deaf. She expected to wrap up the project this week after about eight days of painting.
"The kids have been so great," she said. "I'll be working, and I'll just see a bunch of them glued to the door just watching."
The mural is to replace the mascots that once decorated the gym floor in the Lied Multipurpose Complex, said Cynthia Angeroth, ISD's outreach coordinator.
"The floors were ruined in that terrible rain and hailstorm back in 2011, and we had to replace the wood floor," she said.
Irwin is giving the imposing feline its own style.
"I'm a purist," she said. "I don't project it up there, I just go up to the wall and do it."
Irwin has a day job as a cake decorator at Bliss Old Market Bakery in Omaha.
A 1998 graduate of St. Albert High School, Irwin returned to Council Bluffs about four years ago after earning a degree in studio art at Northland College in Ashland, Wis., and living in Wisconsin for a few years.
"I couldn't believe how much the art scene has grown since I left, so I feel like it's kind of prime," she said. "I've been doing shows with my own fine art stuff and I've been doing murals, too — which have been flooding in."
Irwin has done murals at Uncle Mike & Maggie's Irish Pub, 319 N. 16th St.; Greenstreet Cycles, 1310 Mike Fahey St., Omaha; and Omaha Bicycle Co. at 6015 Maple St., Omaha. She has also done some in private homes.
"Every time you do a mural, you get better," she said. She now sees things she would have done differently in some of her earlier works.
Irwin's interest in art goes back as far as she can remember. "I feel like if I'm not doing art, a part of me dies," she said.