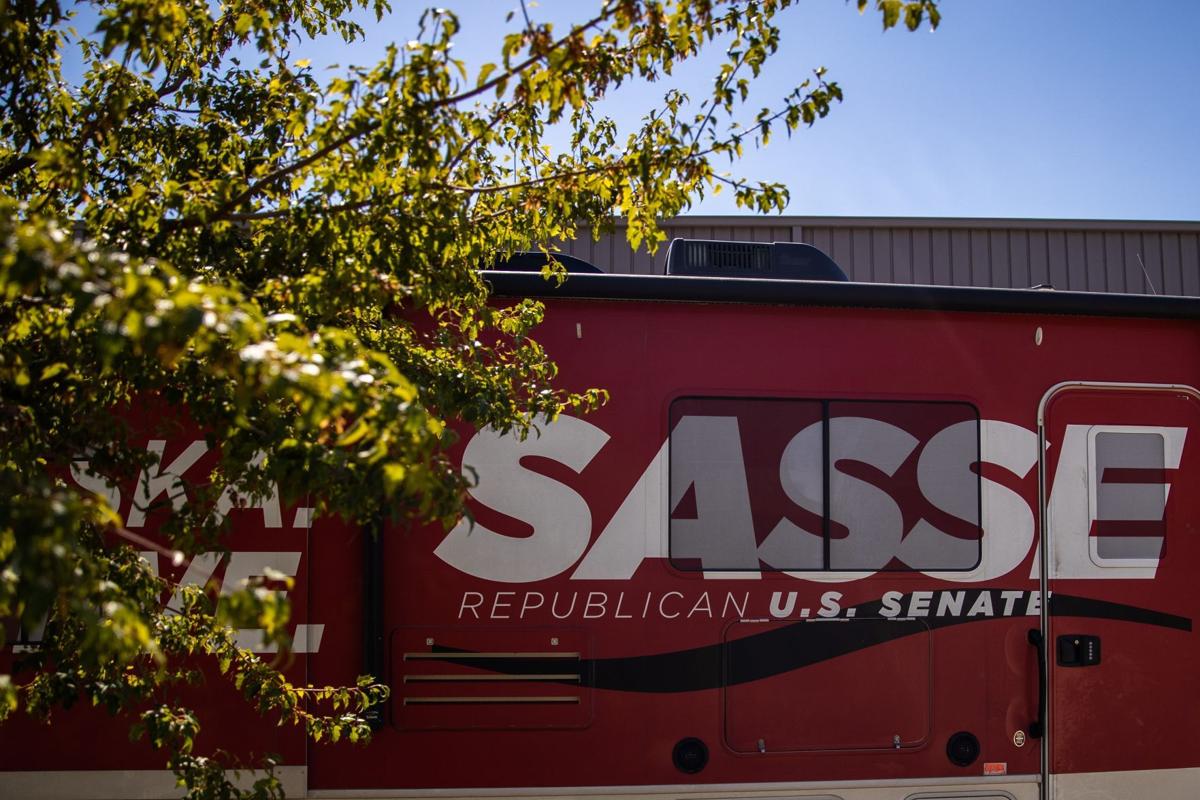 WASHINGTON — The 2020 election results show voters are rejecting the frenzied, Twitter-driven politics favored by President Donald Trump.
That's the assessment of Sen. Ben Sasse, R-Neb., who says his party would be better off emphasizing its traditional policy roots instead of embracing political identity warfare.
"I don't think a politics that primarily tries to define itself by stoking anger and division is going to be a successful politics," Sasse told The World-Herald. "The Republican Party should be talking a lot more like Ronald Reagan than like QAnon."
As Republicans reach a crossroads in the wake of Trump's defeat, Sasse has thoughts about which path they should take. And he's making moves that could increase his influence over that direction.
Sasse has been helping raise money and stump for Republican Senate candidates across the country, which could pay dividends down the road if he seeks the White House himself in 2024.
But his future role in the party is sure to be colored by his rocky history with the president. His scathing criticisms, after all, have rankled many die-hard Trump supporters and party loyalists.
Consider reaction to a telephone town hall he held with constituents less than a month before Election Day.
On that call, he said Trump has cozied up to dictators overseas, flirted with white supremacists at home and botched the federal pandemic response.
In a letter to the Public Pulse, Omahan Harlan Holmes described Sasse's town hall as "another soap box opportunity" for him. Holmes is a registered Republican who said he voted for Trump for president — and for Sasse's Democratic opponent in the Senate race.
"Whenever he nears a microphone or meeting he trashes the president," Holmes wrote. "Apparently Sasse has not heard Ronald Reagan's 11th commandment, 'Thou shall not speak ill of a fellow Republican.' "
Sasse has delivered sharp rebukes to Trump at some points and key support for him at others.
He publicly chided Trump over his handling of U.S. military aid to Ukraine but ultimately opposed removing him from office or even calling more witnesses in the impeachment trial.
For his part, Trump endorsed Sasse's reelection bid during the primary. But after the town hall comments he denounced Sasse as a Republican In Name Only and an embarrassment to Nebraska.
Sasse argued during the telephone town hall that the president's brand of politics was threatening to produce a "blue tsunami" and a "Republican blood bath" come election night.
In fact, Republicans beat expectations when the votes were tallied. While Trump lost, Republicans made gains in the U.S. House of Representatives, and some GOP senators who were seen as vulnerable will be heading back to Capitol Hill for another six years.
They include Sen. Joni Ernst of Iowa, who stood with Trump and won by a solid margin despite massive spending against her from the other side.
Meanwhile, Trump lost the statewide vote in Maine, but Republican incumbent Sen. Susan Collins won reelection.
Sasse argued that those results bolster his point and cited his own numbers in Nebraska, where he set records for the most votes by any Senate or presidential candidate.
Sasse had the advantage of facing an underfunded Democratic opponent who had lost his own party's support over inappropriate texting. Still, Sasse received 580,481 votes — outperforming Trump, who had 553,799.
"Obviously, I have very different views on him than a lot of people right of center in Nebraska and yet I got a lot more votes in Nebraska than he did," Sasse said of Trump. "It wasn't close."
Sasse said Nebraskans understand the way he's approached Trump, who he described as being accessible so that they could wrangle over policy differences in private.
Sasse still refuses to say who he voted for in the presidential contest. Disclosing that would produce national headlines, Sasse said, but is of little interest to most Nebraskans.
He has repeatedly said his focus is on keeping the Senate in Republican hands.
His activities in the months leading up to this year's election included "dozens of hours a month" raising money for vulnerable Senate Republicans, according to spokesman James Wegmann.
Sasse made the case to "his pro-life network" that they should support Collins in Maine, traveled Alaska with Sen. Dan Sullivan and stumped for Sen. Thom Tillis in North Carolina, Wegmann said.
He also went door to door in Iowa for Ernst, helped Nebraska GOP incumbent Rep. Don Bacon in the Omaha area and worked on behalf of other Nebraska Republicans. Sasse is working on plans to head south this winter — and it's not a sunny vacation he has in mind.
"Melissa and I and our kids are trying to figure out if and when we can get the whole family down to Georgia to campaign for a while," Sasse said.
That's because he hopes to aid a pair of Republican Senate colleagues there, Sens. David Perdue and Kelly Loeffler, who face Jan. 5 runoffs against their Democratic opponents.
Sasse isn't the only GOP senator making Peach State travel plans. Sen. Marco Rubio of Florida recently visited to stump for Loeffler, while Sen. Tom Cotton of Arkansas is running digital ads in the state against Loeffler's Democratic opponent.
Sasse, Rubio and Cotton would like their party to retain control of the chamber, of course, but they have something else in common — they're all viewed as up-and-coming party leaders who could make presidential runs in 2024.
Sasse begs off when asked about his own White House ambitions, noting that President-elect Joe Biden has yet to even take the oath of office. The perpetual nature of campaigning these days makes voters want to "puke," Sasse said.
If Sasse decides to go for it, however, he'll have to deal with Trump, who has suggested he could run to reclaim the presidency in 2024.
It's not exactly difficult to imagine Trump spending the next few years hosting his signature rallies around the country, airing claims about rigged elections in front of red-capped crowds and blasting Republican and Democratic critics alike.
Rubio recently told reporters that Trump would have the inside track on the next nomination if he wants it.
"If he runs in 2024 he'll certainly be the front-runner and will probably be the nominee," Rubio said.
Dennis Goldford, political science professor at Drake University, compared the relationship between the GOP and Trump's most ardent fans to the man-eating plant in the classic film "Little Shop of Horrors."
"You fed this thing and now it's grown past where you thought it was going to grow and it threatens to devour you," Goldford said. "So what are you going to do with it? That's the problem for Republicans."
Republican soul-searching after Mitt Romney's 2012 defeat led them to the conclusion that they didn't have to radically change their principles but should improve how they reached out to single women, minorities and young people, Goldford said.
But Trump went another direction, choosing to emphasize a bloc of voters who tend to be older, white and male, Goldford said.
The billionaire real estate developer executed what many — including Sasse — described as a hostile takeover of the Republican Party.
"Since then, essentially, it's become one of the wholly owned subsidiaries of the Trump Organization," Goldford said.
As evidence, Goldford noted that the Republican Party didn't craft a brand new 2020 policy platform but instead decided to simply follow Trump's lead.
He also cited the awkward reluctance of many Republican officeholders over several weeks to acknowledge Biden's victory. Sasse, for what it's worth, was one of the first prominent Republicans to congratulate Biden on his win.
Goldford said Republican politicians find themselves in a difficult spot as they move forward — Trump's base of support often isn't enough for them to win, but they also can't win without it.
"Are the Republicans going to simply be a vehicle for the resentments and the anger and the idiosyncrasies of Trumpism or are they going to reconstitute themselves as a party of principle independent of any particular political figure?" Goldford said.
Mark Fahleson is a former Nebraska Republican Party chairman and longtime Sasse friend. He hopes Sasse runs for president but said the senator has given him no indication whether he will.
Fahleson said Sasse represents the future of the party more than Trump because of the growing influence of suburban and minority voters and Sasse's ability to share his beliefs in a "winsome" and neighborly manner.
"I think after the last four years we're going to want someone like that," Fahleson said.
Sasse said he's focused both on the policy fights coming next year and issues that he thinks will come to fruition in 10 years. He described his priorities as the future nature of work, religious liberty and how to build international alliances based on free trade, open navigation, the rule of law and protecting intellectual property rights.
He rejected Goldford's suggestion that Trump has a lock on the party at this point, saying there is a big difference between the hard-core party activists and rank-and-file Republican voters — those who want leadership that's focused on good governance. He cited statistics about the relatively low percentage of Americans who think about politics on a daily basis.
It is Steve King's fellow Republicans who are pushing the nine-term Iowa congressman out the door.
"They're kind of tired of constant drama that tries to put politics at the center of their entertainment space and at the center of their hates and loves," he said. "Most people don't really want Manichean good-vs.-evil language about everything in politics. I don't believe that most Americans actually want politics to be their center of life and I think there's data to support my view."
But will a Republican base conditioned to Trump's bombastic populism go for a Harvard- and Yale-educated candidate who tosses around words like "Manichean"?
Even if Trump doesn't run, Sasse would likely face a crowded presidential field that includes Trump critics like Maryland Gov. Larry Hogan, who might get a warmer reception than Sasse from the true moderates in the party. And other potential contenders like Cotton have worked to carve a name for themselves without offending Trump supporters. It's not guaranteed that Sasse would find a deep well of support in the party for a national campaign.
Wes Enos was a delegate from Iowa to both the 2016 and 2020 Republican National Conventions and is the former Polk County GOP chairman.
Enos said Sasse didn't help himself with the "blood bath" warning just before the election. Still, he sees a potential lane for the Nebraskan.
He said the 2022 crop of Republican Senate candidates in swing states are likely to resemble Sasse more than Trump, because that approach is more likely to attract the kinds of suburban voters turned off by Trump's brash style.
"A lot of the president's most ardent supporters see him as anti-Trump, and, in that sort of tribal approach, they don't trust Sasse," Enos said. "However, in politics, people have fairly short memories."
---
Our best staff images from November 2020