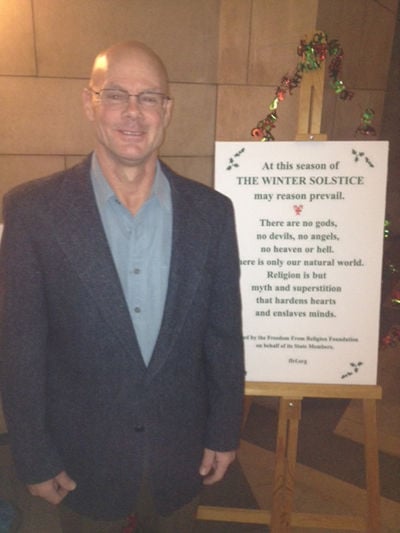 "Religion is but myth and superstition," the sign says.
The poster protest wasn't up for long and was voluntarily removed after about two hours by its instigator, Scott Braley, a Lincoln electrical contractor.
Braley said he felt compelled to provide an atheist message after learning about the Nativity scene, placed in the Capitol by a Catholic-associated group, the Thomas More Society.
Braley said he is an atheist and a member of the Freedom from Religion Foundation, which seeks to keep religion and government separate, and has sponsored displays to compete with Nativity scenes in public places.
"We're not saying we hate God," he said. "But to respect all religions, you can't pick one and put it on a pedestal."
Braley acknowledged that he didn't seek permission to post the sign, which was professionally printed and posted on an easel. He said he didn't think he would get an OK before Christmas.
The Thomas More Society obtained permission from the Capitol Administrator's Office to place its Nativity scene, which is thought to be the first ever in the Nebraska Capitol.
State Capitol Administrator Bob Ripley, contacted after the atheist sign was removed, said he hadn't been aware of it. He said that if an application had been made earlier, the atheist display most likely would have been approved, as long as it was in good taste, and two weeks' advance notice was provided.
State Sen. Ernie Chambers of Omaha, an atheist, came to view Braley's atheist sign over the noon hour Friday and proclaimed, "This is as much his building as the Catholics."
"Thumbs up on this," Chambers said, pointing to the atheist sign, "and thumbs down on that."
A 64-year-old retired Lincoln woman said the Nativity scene needed "a donkey and some straw." When asked what she thought of the atheist message, she replied, "Not much."
Placing Nativity scenes in public places is a nationwide project for the Thomas More Society. It has inspired some pushback: A couple of state capitols now feature displays about devil worship, and one has a "Festivus" pole of stacked beer cans.
The Madison, Wis.-based Freedom from Religion group has been active on the issue. It has erected a "Bill of Rights" Nativity parody at the Florida State Capitol the past two years, and has filed lawsuits against or sought the removal of Nativity scenes and Ten Commandment displays across the country.