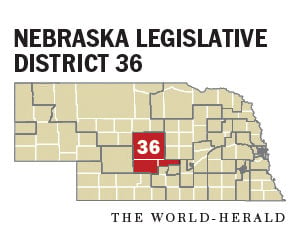 Election Guide: The World-Herald's guide prepares you to fill out your ballot, with candidate biographies, campaign ads, in-depth profiles, sample ballots and more.
LEXINGTON, Neb. — In the District 36 legislative race in west-central Nebraska, a teacher faces a bank president.
Luis Sotelo says his background in education and as the son of an immigrant rancher especially qualify him to be a state legislator.
His opponent, Matt Williams, touts his banking and economic development experience, as well as a lifetime on his family farm.
Both said tax relief, agriculture issues and education are key issues for the district's constituents.
But it was clear what former Teach for America teacher Sotelo believes is the best long-term investment: education.
At his campaign kickoff in February, Sotelo talked about pushing himself to become proficient in English at school.
"That's what makes me uniquely qualified to be a state legislator: I bring an education perspective," said Sotelo, who was valedictorian of his class at Lexington High School.
One of his campaign priorities is creating more economic opportunities in rural Nebraska.
"The first place to start is making sure government is more efficient. You invest where it matters and cut waste," Sotelo said.
He also said he would support initiatives to expand livestock production.
Sotelo said property tax relief for agriculture producers was needed because land valuations have risen and don't reflect incomes.
Although that property tax money helps fund schools in rural communities, he said, that burden shouldn't fall disproportionately on farmers.
Williams was succinct in his views on taxation: "We need to overhaul our state taxes."
Williams said his business experience and efforts to attract companies to his hometown enable him to speak about taxes in a personal, common-sense way.
"We tax people higher during their earning years with state income, real estate taxes, higher than other states," said Williams.
The No. 1 agricultural issue in the state is water, Williams said.
Although agriculture producers are doing a great job using technology to use water more efficiently, a sustainable water policy is needed, he said. He said that's an issue he would tackle if elected.
"Without a sustainable water policy, the first time a person in Omaha flushes their toilet and doesn't have water in the toilet, agriculture in the west will be in trouble," Williams said.
Editor's Note: A bio box with an earlier version of this story listed Luis Sotelo's party affiliation as Republican. He is a Democrat.