An apprenticeship system popular in Germany might be one answer to Nebraska's skilled worker shortage, state and business officials said at a Sarpy County event Wednesday.
Two German companies with American headquarters in Nebraska — CLAAS of America and Graepel North America — signed a pledge to implement a dual study apprenticeship program through the Industry Consortium for Advanced Technical Training.
In these apprenticeships, youths or others seeking job training can work and earn money while also receiving training through Metropolitan Community College.
Those interested in becoming apprentices should contact Metro, said a spokesman for CLAAS.
Gov. Pete Ricketts called it the "earn while you learn" model, and he said it's one way to address Nebraska's shortage of workers with training in manufacturing-related skills.
Several people at a panel on workforce initiatives focusing on apprenticeship programs said that shortage is stopping Nebraska businesses from expanding. And, they said, apprenticeships and other similar job-training programs are part of the solution.
Mark Zumdohme, president of Graepel North America Inc., said he began in the industry as an apprentice in Germany.
"I'm the living example that it's working," he said.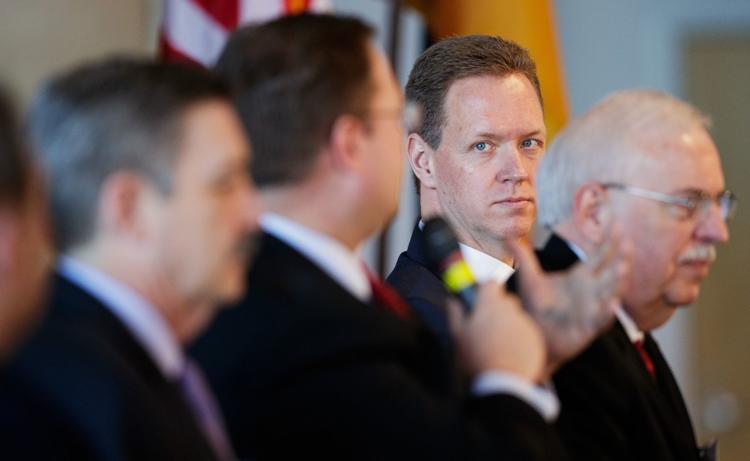 Nebraska Department of Labor Commissioner John Albin said the state is looking to beef up apprenticeship programs.
"You take workers who are good workers anyway," he said. "And you train them up to the skills that are high value to employers."
Apprenticeship programs can teach high school age youths about possible career paths. Or the programs can serve as retraining — officials brought up veterans, in particular, as a group who could benefit from apprenticeships.
Albin, a lawyer who studied political science, quipped: "In my 29 years at the department, I have never heard of an employer approach us and say, 'Can you find me a good poli sci major?' "
Said Phil Raimondo, president and CEO of Behlen Mfg. Co.: "We would love to hire all the poli sci majors — as long as they're willing to learn to weld."
Be the first to know
Get local news delivered to your inbox!