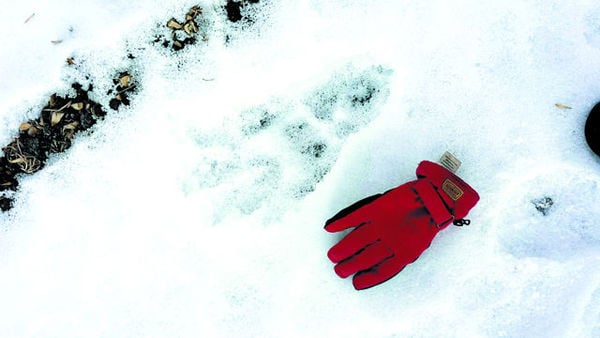 HASTINGS, Neb. — Bigfoot believers, rejoice: you won't have to drive to the Pacific Northwest or Oklahoma any longer for a seminar on sasquatch.
That's because a longtime "bigfooter" from Hastings, Harriett McFeely, is organizing a hometown hoedown on the hairy hominoids.
This weekend, McFeely is hosting the first annual Nebraska Bigfoot Conference. She's inviting true believers as well as those who place Bigfoot in the same category as unicorns and the Loch Ness Monster.
"I don't mind skeptics," McFeely said.
The Hastings conference begins Friday night, with a free showing of the Bigfoot movie, "Something in the Woods."
On Saturday, from 9 a.m. to 5 p.m., several speakers will relate their experiences with sasquatch, including a Colorado educator, Robin Roberts, who regularly takes schoolchildren on "looking for Bigfoot" field trips.
McFeely said that in 2014, she and her husband, Dick, saw a family of three or four Bigfoot creatures in central Colorado during a midnight encounter on a camping trip with Roberts.
"She always talks to them," McFeely said of the Colorado woman. "She called them and they came down ... 'Hey guys, we're here.' "
"It was the weirdest feeling I've ever had in my life," McFeely said. "They were standing in a line, in a row, looking at us. And we were standing looking at them. Nobody was afraid and they never, ever threatened us."
McFeely, a 71-year-old retired caregiver, described the adults as 8 to 10 feet tall, with broad shoulders, covered in dark brown or black hair, with large red eyes as big as "golf balls." One or two juveniles, about 5 feet tall, were with the adults.
McFeely said she has been interested in sasquatch since reading that Sir Edmund Hillary, on his historic climb up Mount Everest in 1953, reported seeing large footprints in the snow.
About five years ago, she said she and her husband began attending Bigfoot events, including the Honobia Bigfoot Festival and Sasquatch Convention, which drew 4,000 people to a small town in southeast Oklahoma last year.
After driving 1,000 miles to another Bigfoot event, McFeely said her husband suggested the couple could avoid the tiring drives by organizing a festival of their own.
McFeely said that despite her husband's death last year, she has forged ahead with the help of her Bigfoot research group, which has five female members. She calls the group the "Bigfoot Crossroads of America."
To sasquatch skeptics, she says "come (to the conference), with an open mind."
"If you have a lot of information, then you can make a much better judgment," McFeely said.
But, she was asked, if Bigfoot creatures readily respond to calls and will come out in the open, why don't more people see them, why aren't there good photographs, and why isn't it widely accepted that they exist?
McFeely said she didn't want to disclose the location of the Bigfoot family in Colorado for fear that someone would harm them. She said she doesn't own a good camera, and her sighting was around midnight. The animals are nocturnal and masters at hiding, she added, and can hear approaching danger from long distances.
McFeely explained it this way: A California friend once asked her if she ever went to Omaha, and if she knew who Warren Buffett was. Sure, she responded. But when she was asked if she'd ever seen him, she had to say "no."
"That's the way Bigfoot is," McFeely said.
She said that Nebraska has all of the habitat requirements for Bigfoot creatures, and that the best places to find them are in wooded areas along streams and rivers.
In 2013, McFeely said she investigated a Bigfoot sighting by a 15-year-old boy driving in the predawn hours on a country road near Linwood, Nebraska.
She said she wasn't able to investigate until weeks after the report, but she found five different "arches" made from tree saplings that she maintained are commonly made by Bigfoot creatures for some unknown reason, possibly to mark their territory.
"I have no doubt in my mind it was true," McFeely said of the Linwood sighting.
She said she has been deluged by phone calls and emails since word started to spread about the first-ever sasquatch conference in Nebraska. The hall she has rented at the C3 Hotel in Hastings holds 400 people, but McFeely said she has no idea how many bigfooters might attend.
"If we break even, it will be a miracle," she said.
Be the first to know
Get local news delivered to your inbox!