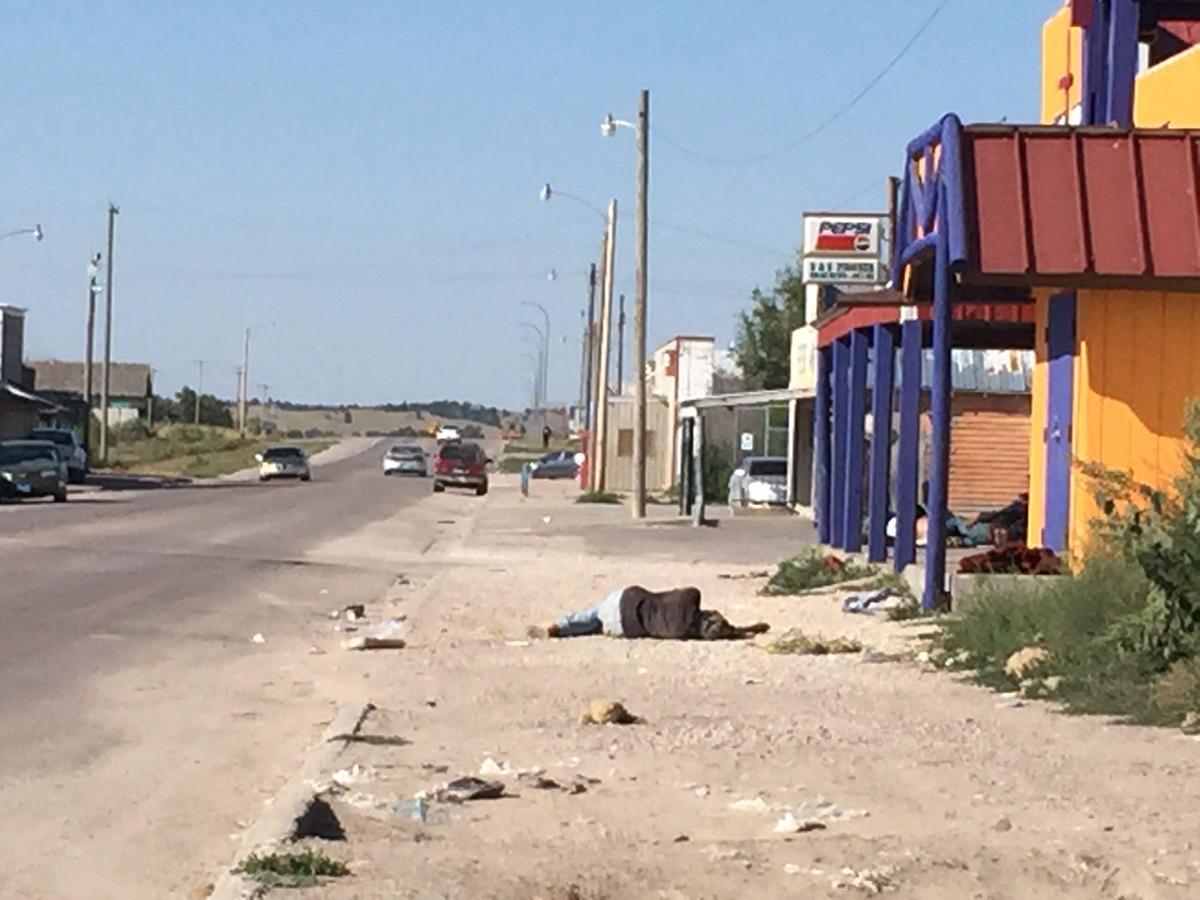 LINCOLN — Activists seeking to shut down the liquor stores in the border town of Whiteclay, Nebraska, said Tuesday that slow response times to assaults, fires and other incidents there give the state plenty of ammunition to close the stores.
"Existing law enforcement is inadequate," said John Maisch, a documentary filmmaker and former counsel for the state liquor board in Oklahoma. "Nebraska has an obligation to either enforce the laws there or revoke or not renew the liquor licenses."
Maisch and a group of activists came to the monthly meeting of the Nebraska Liquor Control Commission on Tuesday to present a summary of law enforcement calls during the month of April. The calls were made to the Sheridan County Sheriff's Office from Whiteclay, an unincorporated village of a dozen on the South Dakota border.
Many of the three dozen calls highlighted by activists were about fights, "trouble with drunks," and people getting run over on the streets of Whiteclay. For most of the calls, it took between 45 minutes to more than an hour for a deputy to arrive, according to a county log provided to the activists.
Maisch, who used to prosecute liquor violations in the State of Oklahoma, said that the commission has failed to follow state law that requires "the adequacy of existing law enforcement" to be considered before allowing liquor sales.
Whiteclay has no law enforcement department and, because it is unincorporated, has no ability to ban panhandling or other problems. As a result, vagrants are often seen drinking or passed out on the streets, or urinating along the highway. The closest law enforcement office is 22 miles away in Rushville, the county seat of sparsely settled Sheridan County.
"What I saw shocked me," said Dennis Carlson of Lincoln, a retired lawyer and former state Counsel for Discipline for the Nebraska Supreme Court, of his first drive through the town. "My reaction was, 'We wouldn't allow this in Lincoln, why is it OK in Whiteclay?'"
The four beer-only liquor stores in Whiteclay sell about 3.5 million cans of beer a year, mostly to residents of the adjacent, and legally dry, Pine Ridge Indian Reservation, which is within walking distance across the border.
Activists for years have been trying to shut down the liquor stores, blaming them for epidemic levels of alcoholism and fetal alcohol syndrome on the reservation, which ranks among the poorest areas in the U.S. But the liquor commission has declined to do that, saying the stores sell a legal product and cannot be shuttered unless multiple liquor law violations are proven.
The commission took no action after the presentation Tuesday, but the appearance sparked an angry exchange between Maisch and Bob Batt, the chairman of the three-member commission.
When Maisch suggested that Batt appeared "agitated" by the statistics on law enforcement response times, Batt angrily responded that Maisch should not "speak for me."
"You're out of order," Batt told Maisch.
Maisch said Batt's lack of leadership on the Whiteclay issue has been "shameful" and that he's seen Batt at liquor conferences "with the beer guys."
"That's a lie," Batt shouted back. "No one is going to challenge my credibility or honesty on this thing."
When contacted later, Batt said he did attend an alcohol policy conference in Chicago two years ago to learn more about his job, and did sit with two members of the liquor industry. He said they were the only people he knew there from Nebraska, and there was nothing wrong about it.
Batt said that Maisch's documentary, "Sober Indian, Dangerous Indian," was shown at the conference, and during his presentation, Maisch called Batt and fellow commissioners "child killers" because the alcohol sold in Whiteclay has been linked with birth defects such as fetal alcohol syndrome.
"They're trying to demonize us," Batt said.
Maisch, after the meeting, said he has stated that the commission has "blood on their hands" for continuing to allow beer sales in Whiteclay.
In November, the commission issued subpoenas on the Whiteclay beer stores, Maisch said, but it has not done anything else over the past few months. Batt declined to comment on the subpoenas, saying he could not comment on an active investigation.
Maisch has long argued that the liquor commission has plenty of legal justification to shut down the liquor stores but has instead chosen to support them. The commission, meanwhile, has said that it lacks adequate cause to do so, and if it tried to revoke the liquor licenses, that action would be overturned in court.