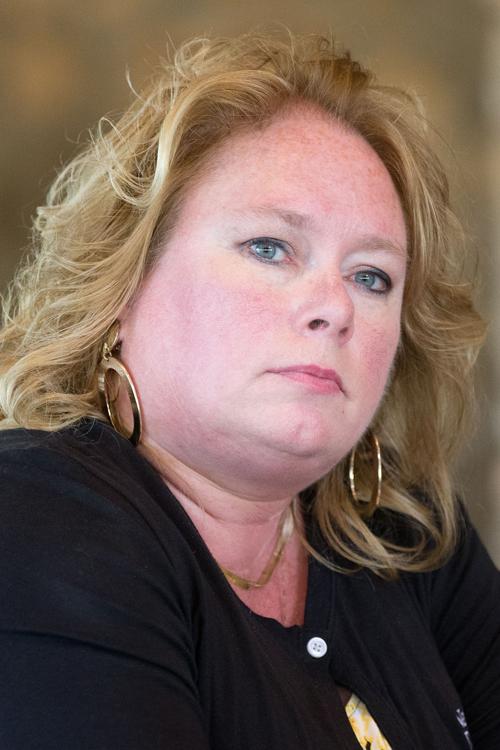 LINCOLN — The embattled director of the Nebraska Tourism Commission, Kathy McKillip, was suspended Friday pending completion of an investigation into dozens of problems uncovered in a scathing state audit.
McKillip, director for the past five years, will be paid during the "investigatory suspension" but must turn in her office keys and have no access to her office or agency computers.
The nine-member board that oversees the commission voted 7-0 for the suspension after meeting in closed session for about an hour Friday morning.
The emergency meeting was called two weeks after a state audit blasted the commission and its director for overspending an advertising contract by $4.4 million, hiring a convention speaker for $44,000 for a 90-minute speech and using McKillip's daughter as a model in its advertising campaign.
McKillip, who is paid $86,364 a year, smiled and left the meeting without comment when asked for her reaction to the suspension.
How long the suspension will last and whether it is a prelude to a dismissal is unclear.
Members of the commission declined to comment, saying that it was a personnel matter and that they had been advised to remain silent by the Nebraska Attorney General's Office, which is conducting the investigation of McKillip.
"That's the way the legal balls bounce," said John Chapo of Lincoln, chairman of the commission, in declining to comment.
A week ago, both Gov. Pete Ricketts and former Gov. Dave Heineman called on the commission to fire McKillip. The state's top two travel associations also called for the director's replacement to restore faith in the tourism agency, which became an independent state agency in 2012.
The Nebraska Travel Association repeated that call Friday.
"If Kathy McKillip genuinely cares about Nebraska tourism, she'll apologize for the black eye she's given the state and she will resign," Andy Pollock, the association's lobbyist, said in a statement.
Before the commission's Friday vote, a letter of support for McKillip was read from former University of Nebraska Regent Nancy Hoch. Hoch is a longtime friend and distant relative.
The letter said McKillip had turned a "forgotten and underachieving" part of state government into a vibrant promoter of state tourism.
Hoch blamed State Auditor Charlie Janssen and Heineman for "orchestrating" a "political circus" to get McKillip.
"This is absurd. There's no one with more integrity and work ethic than Kathy," said Hoch's daughter, Hannah, who read the letter Friday.
Heineman, via email, said he had orchestrated nothing, had not contacted Janssen and had simply responded to reporters' queries about the Tourism scandal.
Janssen called the allegation "laughable." He said his office launched an investigation after fielding several tips about problems at the tourism agency.
"It turns out that in this case, where there was smoke there was fire," the auditor said.
Hannah Hoch said her mother was too ill to deliver the letter herself. She said McKillip has a "very strong personality" that might have led to her problems.
The audit faulted McKillip for several things, including acting independently of her board, seeking an extra $750,000 from the State Legislature without getting board permission, and failing to adopt policies and procedures that would better track spending and contracts.
McKillip attended Friday's meeting but did not speak. She has said that although there were "lessons learned" from the audit, no laws were broken and the commission would tighten financial oversight of its contracts.
One problem noted in the audit was that Tourism had allowed its marketing contract with Bailey Lauerman to be overspent by $4.4 million over the past three years.
The agency had contracted to pay $3.2 million from August 2013 through June 2016 for marketing and website development services. But it had been billed for $7.6 million worth of services.
The audit said Tourism had no system to check purchase orders against its contracts, thus allowing an extra $4.4 million to be spent.
McKillip, in an official response in the audit, acknowledged the overspending but said the problem was being corrected.
Hoch, in her letter Friday, said it was an "error" that should have been caught by Tourism staff and that can be easily corrected.
The Legislature's Appropriations Committee, when it discovered the lack of fiscal control earlier this year, ordered that Tourism contract with another state agency, the Department of Administrative Services, to ensure proper accounting and oversight of spending.
On Friday, the Tourism Commission also approved a motion to immediately require that the commission's chairperson, vice chairperson or treasurer approve any spending or purchases above $1,000, all travel outside the state and all human resources decisions, including hiring and firing.
Meanwhile, a former state Tourism director, Christian Hornbaker, who served from 2006-11, offered a partial defense of McKillip.
Hornbaker said that both Tourism commissioners and Bailey Lauerman officials share blame for allowing the ad contract to be overspent.
"If (Bailey Lauerman) didn't know their limits, they shouldn't have been the ad agency," said Hornbaker, now a marketing manager in Granby, Colorado.
When he was director of the office — then a division of the State Department of Economic Development — Hornbaker said Tourism's ad agency, then Snitily Carr, knew its budget and would seek permission for excess spending.
Mary Palu, an executive vice president with Bailey Lauerman, said the agency did know the limits of its contract but had received approval "by our client" to exceed them.
"We would certainly not undertake unauthorized work for any client, because we would not expect the client to pay for work they had not approved," Palu said.
Commissioners, however, have said they were not aware that the ad contract had been overspent. Chapo, the chairman of the commission, has previously criticized McKillip for not providing "thorough, accurate and honest" information to board members.
Bailey Lauerman signed a three-year marketing contract with the state in 2013, with the option of two one-year renewals "as mutually agreed by all parties."
A one-year renewal was approved July 20, according to state records, through June 2017.
When asked whether commissioners were aware of the renewal, one member, Roger Jasnoch of Kearney, said he was not. A renewal of the marketing contract was not mentioned in the minutes of any of the board's six meetings in 2015.
Tourism also drew criticism for allowing McKillip's daughter to appear on the cover of this year's state tourism guide, as well as in tourism television ads, a calendar and posters. McKillip — as well as a Bailey Lauerman official — has said her daughter was hired by Bailey Lauerman.
But the audit questioned whether the hiring broke a state law that bars state contractors from offering anything of value to a state official and prohibits state officials from seeking favors for family members.
An official with the Attorney General's Office said Thursday that the office was still determining whether criminal charges should be filed.
The tourism agency has 11 employees and a yearly budget of about $6 million, mostly funded by state lodging taxes. It promotes tourism in Nebraska and awards several hundred thousand dollars in grants each year to local visitors bureaus.