NEBRASKA CITY — Nebraska's new tourism marketing campaign concedes that the state is a bit boring, yet it hopes to lure travelers by highlighting that you can escape noisy cities and create your own fun.
"Nebraska Nice" is out. "Nebraska. Honestly, it's not for everyone" is the new tagline in ads.
The new ad pitch, which leans on self-deprecating humor, was developed by a Colorado-based advertising agency, Vladimir Jones, after testing with out-of-staters likely to visit Nebraska.
"Lucky for you, there's nothing to do here," is the headline on one print advertisement that displays a smiling band of partygoers, floating down a Sand Hills stream in livestock tanks in the Nebraska-invented sport of "tanking."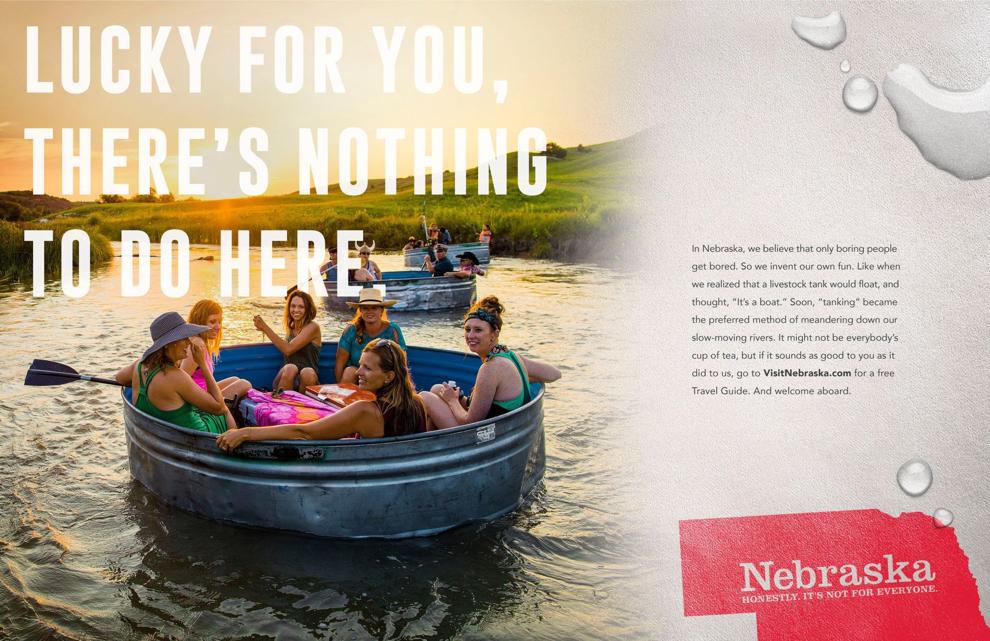 "Famous for our flat, boring landscape," proclaims another ad, which shows a couple leaping between rock formations in northwest Nebraska's Toadstool Geologic Park.
Another ad, which was popular with focus groups in Minneapolis, Kansas City and Denver, was titled "Festivals for everything from mud to testicles." The latter refers to a Father's Day weekend Testicle Festival, at the Round the Bend Steakhouse east of Ashland, that features deep-fried sheep and beef testicles.
State Tourism Director John Ricks said that because Nebraska has consistently ranked as the "least likely state" tourists plan to visit, the marketing campaign needed to be different.
"To make people listen, you have to hook them somehow," Ricks said. "We had to shake people up."
The process began last year when the Tourism Commission hired Brand Lever, a brand consultant specializing in destination marketing, to gauge awareness of Nebraska. This spring, the campaign was pretested in one-on-one interviews.
The research showed that people weren't aware of Nebraska's destinations, and even the state's residents often say "there's nothing to do here."
"I call bunk on that," said Ricks, who came from Colorado two years ago. "There's a lot of cool, fun stuff to do here."
When asked, Ricks said he didn't think the new campaign reinforced negative stereotypes about the state, but instead provided an honest and different marketing pitch from those of other states.
The focus groups liked the self-deprecating humor, he said, and appreciated the honesty of the approach.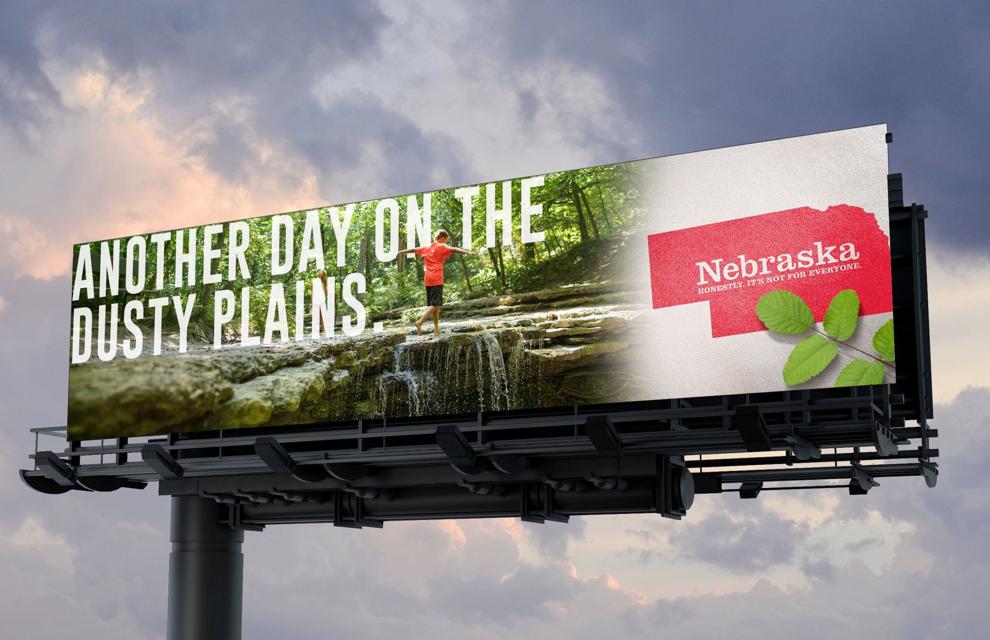 The new campaign, which debuted Wednesday afternoon at the annual state tourism convention at the Lied Lodge & Conference Center, got a mostly positive reception.
"It's probably more edgy than we're used to," said Lori Paulsen, executive director of the Nebraska Winery and Grape Growers Association. She said she hated the old slogan, "Nebraska Nice."
"No one goes somewhere because it's nice," Paulsen said.
State Sen. John Stinner of Gering called the new ad pitch "wonderful."
"It's a different approach, but I think it's going to be very effective," the senator said.
Brand Lever, out of Milwaukee, was paid nearly $74,000 for its work a year ago. Vladimir Jones, based in Denver, was selected as the state's tourism ad firm last year. Tourism officials estimated the cost of developing the campaign at $450,000.
The first ads from the new campaign will roll out in January and will focus on the sandhill crane migration in central Nebraska, touted as a world-class wildlife event. "How can 500,000 cranes be wrong?" is the likely theme of those ads, Ricks said.
"Visit Nebraska. Visit Nice." was rolled out as the state's tourism pitch in 2014 to mixed reviews. Many still believe, incorrectly, that "Nebraska: The Good Life" is the state's tourism motto. That tagline has been used on highway signs at the state's borders since the 1960s by the Nebraska Department of Transportation, formerly the Nebraska Department of Roads.
Edgy marketing campaigns in Nebraska have generated buzz in the past. In 2001, the then-struggling Nebraska State Fair rolled out a humorous group of ads including one that boldly stated: "See bands you thought were dead." While the ads drew criticism — and offense from some bands that performed — they also won a top statewide advertising award.
Ricks, who has been involved in developing marketing campaigns for four states, said Nebraska's was the most difficult, because of the lack of awareness about the state. But the positive response by focus groups, he said, gives him confidence the campaign will change attitudes about the state.
Do you like Nebraska tourism's new slogan?
Nebraska tourism's new slogan is "Nebraska: honestly, it's not for everyone." Do you approve?
You voted:
Check out nearly 100 stunning photos of Nebraska
Check out some of the most beautiful images of Nebraska.