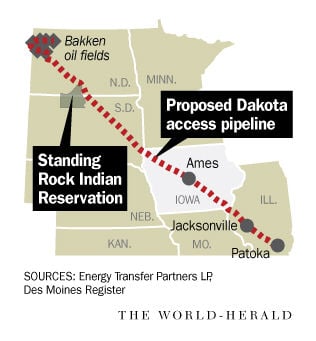 LINCOLN — Nebraska has sent a contingent of 11 state troopers to North Dakota to help provide law enforcement as protests to block construction of a pipeline there have escalated.
The troopers were sent at North Dakota's request on Sunday through a compact agreement between the states to provide help, when possible, to cover personnel or equipment shortages.
The compact, the Emergency Management Assistance Compact, has helped Nebraska in the past when it needed planes and trained personnel to fight wildfires, according to Earl Imler, a manager with the Nebraska Emergency Management Agency who coordinates compact activities for the state.
The deployment comes as about 200 protesters have recently established a new encampment directly in the path of the Dakota Access pipeline on private land owned by the pipeline company.
On Wednesday morning, two North Dakota county sheriffs, the state adjutant general and the head of the North Dakota Highway Patrol asked protesters to move off the new encampment site, which is blocking a state highway, but were rebuffed. The authorities then left.
Law enforcement reinforcements from Nebraska, Wisconsin, South Dakota, Minnesota, Wyoming and Indiana arrived this week, and additional forces from Ohio are en route, according to Cecily Fong of the North Dakota Department of Emergency Services.
"You can read between the lines," Fong said. "We obviously wouldn't be bringing in this amount of law enforcement if something wasn't in the plans.
"The sheriff cannot allow these people to occupy private land and block the highway."
Protesters vowed to stay put, at one point chanting, "Stand in peace against the beast."
"We're going to hold this ground," said protester Mekasi Camp Horinek.
"I'm here to die if I have to. I don't want to die but I will," said Didi Banerji, who lives in Toronto but is originally from the Spirit Lake Sioux reservation in North Dakota.
Imler said that the request to send troopers was formally approved last week by Gov. Pete Ricketts, though North Dakota officials were informed earlier that Nebraska could help.
Under the rules of the compact, Imler said, states can provide help if doing so does not create a resource shortage for that state. All costs are paid by the requesting state. He declined to say whether other Nebraska law enforcement agencies had sent officers.
Douglas County Sheriff Tim Dunning said Wednesday that his office also has been asked to provide deputies but that he has none to spare.
The Nebraska state troopers are scheduled to remain in North Dakota until Nov. 6, Fong said.
The protests, near Cannon Ball, North Dakota, on the Missouri River, have sought to halt construction of the Dakota Access oil pipeline. Protesters had erected a trio of tent and tepee encampments near the construction route that, earlier this year, swelled to several thousand protesters. The older encampments have been on land where protesters have permission to camp, unlike the new encampment.
"Now, they are truly squatting on private land," Fong said.
Native Americans claim that the area rightfully belongs to them and that they were not properly consulted before the start of construction — construction that protesters say could threaten cultural sites and the Missouri River, which provides drinking water for dozens of communities.
About 1,000 to 1,500 protesters now occupy the encampments, Fong said, though the population typically rises on the weekend.
Protests supporting the Standing Rock Sioux Tribe's opposition to the pipeline have been ongoing for months, with more than 260 people arrested so far in North Dakota.
The pipeline will carry oil from western North Dakota through South Dakota and Iowa to an existing pipeline in Patoka, Illinois. Energy Transfer Partners has said the pipeline is nearly complete except for the portion in south-central North Dakota.
In a related development, Native American activist Frank LaMere, in a letter to Gov. Ricketts, urged him to keep the state troopers in Nebraska. Whiteclay, Nebraska, LaMere said, has a much worse law enforcement problem than North Dakota due to the millions of cans of beer sold in Whiteclay.
This report includes material from the Associated Press.