LINCOLN — Hudl represents an economic development touchdown for Nebraska, a software startup that literally transformed the way football teams break down film and prepare for games.
But to fuel the explosive growth that has seen the company go from three workers to more than 1,400 in just 13 years, Hudl in the past year had to farm out about a dozen high-paying, high-tech jobs to locations outside Nebraska. Hudl simply couldn't find the workers here to fill them.
"It's turning into more and more of a problem for us," said Brian Kaiser, one of Hudl's co-founders. "We have some skills sets that are very hard to hire in the state of Nebraska."
Business leaders in Nebraska say Kaiser's story is unfortunately not a unique one. They say many employers are struggling to find the workers they need and often filling jobs outside Nebraska, costing the state thousands of lucrative jobs.
It's reached the point that some state leaders are now sounding the alarm.
"We have a workforce crisis in this state," said University of Nebraska President Hank Bounds.
"This is now the most pressing economic issue in the state," agreed Bryan Slone, president of the Nebraska Chamber of Commerce and Industry. "It doesn't get a lot of attention, but we are on the cusp of this becoming the 1,000-pound gorilla."
The examples of firms struggling to find the skilled workers they need are many, from tech startups to some of the state's legacy corporate stalwarts. While the crunch seems most acute for computer programmers and other information technology workers, it's not limited to such jobs.
Worse, the challenge will only become larger in the decade ahead. With the huge generation of baby boomers moving into retirement, the number of working-age Nebraskans actually peaked in 2018 and is set to decline for the next decade.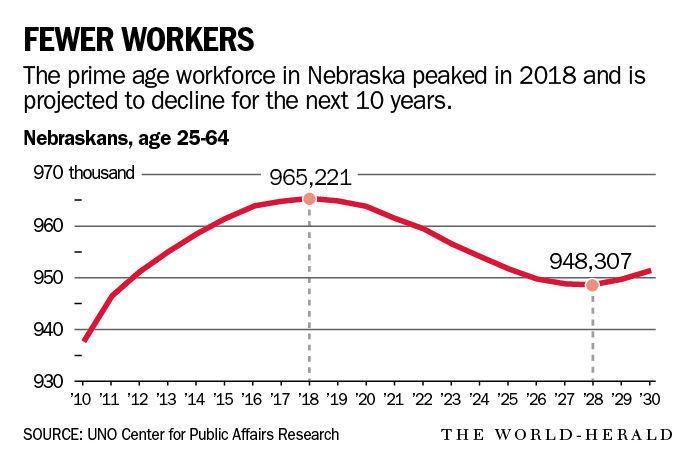 "I've had countless conversations with business leaders and educators and know we've lost well over a thousand jobs in the last couple of years," said Dana Bradford, outgoing chair of the Greater Omaha Chamber of Commerce. "And I know we will lose thousands more if we don't get this turned around."
Some are likening this moment to the wake-up call Nebraska received more than three decades ago when Northern Natural Gas left Omaha and ConAgra threatened to move out, actions that spurred Nebraska to create its first major tax incentives program.
"I think it's significantly worse," longtime Omaha financier Mike Yanney said of the current situation. "It's very quiet, and it's happening at record speed."
For decades, the economic development strategy of the state has been largely built around attracting employers and their jobs into the state. But Slone and others say the biggest challenge over the next decade will likely be training, keeping and luring the people needed to fill jobs in Nebraska.
There have been a number of state and local initiatives in recent years aimed at boosting workforce development, seeking to match the state's employers with the skilled workers they need. They've ranged from career apprenticeship programs in K-12 schools and programs helping people on public assistance reach better-paying jobs to new facilities for construction trades, manufacturing and technology at Metropolitan Community College.
But some say the time for bold action has arrived.
Underscoring that, a group of prominent business leaders from Omaha and Lincoln — among them retired Peter Kiewit Sons' Chairman Walter Scott, First National Bank of Omaha President Clark Lauritzen, Union Pacific President Lance Fritz, Crete Carrier CEO Tonn Ostergard and Yanney — met with Gov. Pete Ricketts in January to urge action on tackling the workers crunch and other state challenges.
In an interview last week, Ricketts noted workforce development has long been a focus of his administration. He pointed to several initiatives aimed at filling jobs in key fields, including a new scholarship program he proposed in January.
He said he also expects workforce development to be a major thrust of Blueprint Nebraska, a group Ricketts co-launched with Bounds that's working on a statewide economic development plan.
Bret Griess, the CEO of Omaha tech firm CSG, said right now Nebraska isn't making the same concerted effort to develop, retain and lure workers that he sees in other markets where his company has been adding jobs. "It's going to take funding, leadership and a consolidated effort with a sense of urgency," he said.
Nebraska's workforce problem is in many ways a product of business success.
Sign up for our Money headlines newsletter
Get the latest development, jobs and retail news, delivered straight to your inbox every day.
A number of tech startups have become some of the region's fastest-growing companies, among them Toast, Spreetail, Buildertrend, Flywheel and Hudl.
While obviously a great thing for the state and its economic prospects, many of the firms are now competing with each other and more established companies for "H3" workers: those in high-skill, high-demand, high-paying fields.
Hudl was started in 2006 by three fresh graduates of the University of Nebraska-Lincoln's Jeffrey S. Raikes School of Computer Science and Management who had an idea for a computer program that would replace the playbooks football coaches use to prepare their teams.
They first went after the NFL market before realizing every football coach would want to use the high-tech tool. Once they pitched it to colleges and high schools, and then launched into other sports like soccer and basketball, the firm took off.
Kaiser said Hudl's preference has always been to grow in its home state. That's why Hudl built a new headquarters in Lincoln last year and five years ago opened an office in Omaha's Old Market to tap into the metro area's talent pool.
But Hudl has recently had to create about a dozen jobs elsewhere that it would have preferred to fill in Nebraska. While that might not sound like a lot, they're also good-paying jobs that could support families and contribute to Nebraska's economy "in a serious way," Kaiser said. And the situation isn't getting better.
"There's just a lot more demand than there was a few years ago, and the supply side is not keeping up," he said.
It's a familiar story to Dusty Davidson of Omaha tech firm Flywheel. The company has similarly filled about 25 jobs outside Omaha recently that it would have preferred to fill here.
Lincoln financial services firm Nelnet has also been hiring technical workers at company locations in Wisconsin and Texas that it can't find here. "We are always going to fill any we can in Nebraska," said Nelnet CEO Jeff Noordhoek. "But if we can't, we will fill them elsewhere."
For more than two decades, Omaha was the fastest-growing of nearly two dozen employment hubs for CSG. Now it's one of the slowest, Griess said, simply because "we can't get the talent that we need."
It's not just high-tech job openings that are going wanting. The State Labor Department says there are more than 36,000 open jobs in Nebraska, across nearly all fields. The state chamber's Slone estimated Nebraska's manufacturing sector would grow by 10 percent right now if it could attract all the skilled workers it needs.
Dan Houghton of construction management software startup Buildertrend said his firm is looking to hire 250 new workers this year alone, ranging from customer support and sales to software engineers. It's been tough, he said, prompting the firm to begin scouting locations outside Nebraska for a possible second office. "If we can't find a way to get people here and keep people here, we will lose out on some opportunities," Houghton said.
Crete Carrier's Ostergard said his concern is that at some point Nebraska could lose entire firms due to worker shortages.
"You don't want to sound like Chicken Little," he said. "But we also have to be objective and say we have issues staring us in the face."
Part of the issue is no doubt Nebraska's 2.8 percent unemployment rate, so low many economists consider the state to be at full employment.
But those sounding the alarm say there's no question the state could do more to keep the state's high school graduates here and connect them to careers, step up training of underemployed workers and sell out-of-state workers on making their life in Nebraska.
Many are calling for the state to invest more for scholarships at the state's colleges and universities, community colleges and nontraditional training programs like code schools.
Kandace Miller of Omaha's AIM Institute, a nonprofit that works to develop IT talent, said the institute has identified 100 students who would enroll in code school right now if they could afford to do so. There's available talent in the state that's not being tapped, she said.
Nebraska also continues to lose too many of its brightest students to colleges and universities in other states. Some state universities outside Nebraska are offering more lucrative scholarship packages to Nebraska students scoring high on the ACT than their home-state schools are, said Millard Public Schools Superintendent Jim Sutfin. "Families will go where the money trail is," he said. "We should never let these kids walk away without a competitive offer."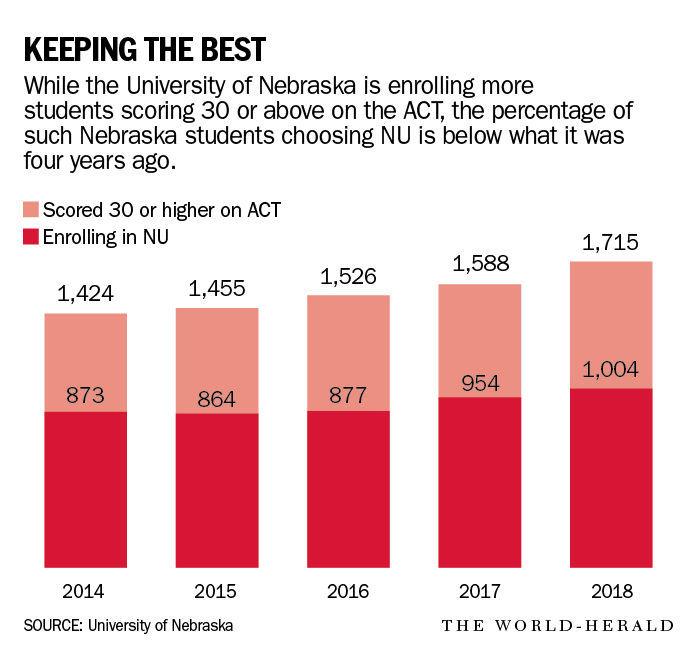 Even when students who score high on the ACT do go out of state for college, Sutfin said, Nebraska needs to welcome them back home each summer with a robust internship program that keeps them connected to the state.
Ricketts in January proposed spending nearly $7 million over two years on additional college scholarship aid. Under the plan, some 1,000 Nebraska students would be eligible for $4,000 annual scholarships if they study in high-need fields.
Bounds, the NU president who is leaving his post later this year, said he appreciated the governor's proposal. But he said that funding level is just a fraction of what other states in recent years have put into attracting top students — including kids from Nebraska.
Bounds has backed another proposal in the Legislature that would put $30 million annually into scholarships aimed at producing grads in H3 fields. "I think the workforce issue is that big," Bounds said.
Asked about the larger proposal, Ricketts said the state has to "live within our means." He also said the university receives "abundant resources," adding, "How they allocate their dollars is up to them."
Ricketts' scholarship plan has been included in the Legislature's preliminary budget proposal, along with a $2 million expansion of a program Ricketts created four years ago to connect high school students to manufacturing and technology jobs.
Any other new initiatives from lawmakers on the workforce development issue this year are considered unlikely. Steve Seline, the Omaha chamber's public policy chair, said he's hopeful a workforce development package can be prepared for the 2020 session.
"People don't understand how many tech jobs we're losing right now," he said.
But the chamber and others also aren't waiting for the state to act.
Dee Baird, the Omaha chamber's vice president for economic development, said the business community will soon unveil two initiatives aimed at bringing 10,000 new tech workers to market within the next five years. Others say there has been unprecedented cooperation on behalf of the Omaha and Lincoln chambers toward addressing the issue.
"There is a lot going on behind the scenes," Baird said.
In addition, Avenue Scholars, a school mentoring and scholarship program for at-risk youths, is working with the Millard Public Schools to launch a summer internship program aimed at connecting high school juniors with possible careers in high-need fields like information technology, business, manufacturing and engine repair.
Underscoring the pent-up demand, when Avenue Scholars last week briefed representatives of 30 Omaha firms on the proposal, most of them signed up to participate on the spot.
"Everyone is talking about workforce development," said Avenue Scholars CEO Ken Bird. "We've got to act."
Hudl's Kaiser said he thinks Nebraska needs to not only embrace the challenge, but also the possibilities the worker crush creates: Combine the right supports with the state's quality of life, and Nebraska could find itself in a "sweet spot" when it comes to attracting and keeping workers.
"Nebraska has an opportunity here," he said.
Sign up for The World-Herald's afternoon updates
Receive a summary of the day's popular and trending stories from Omaha.com.