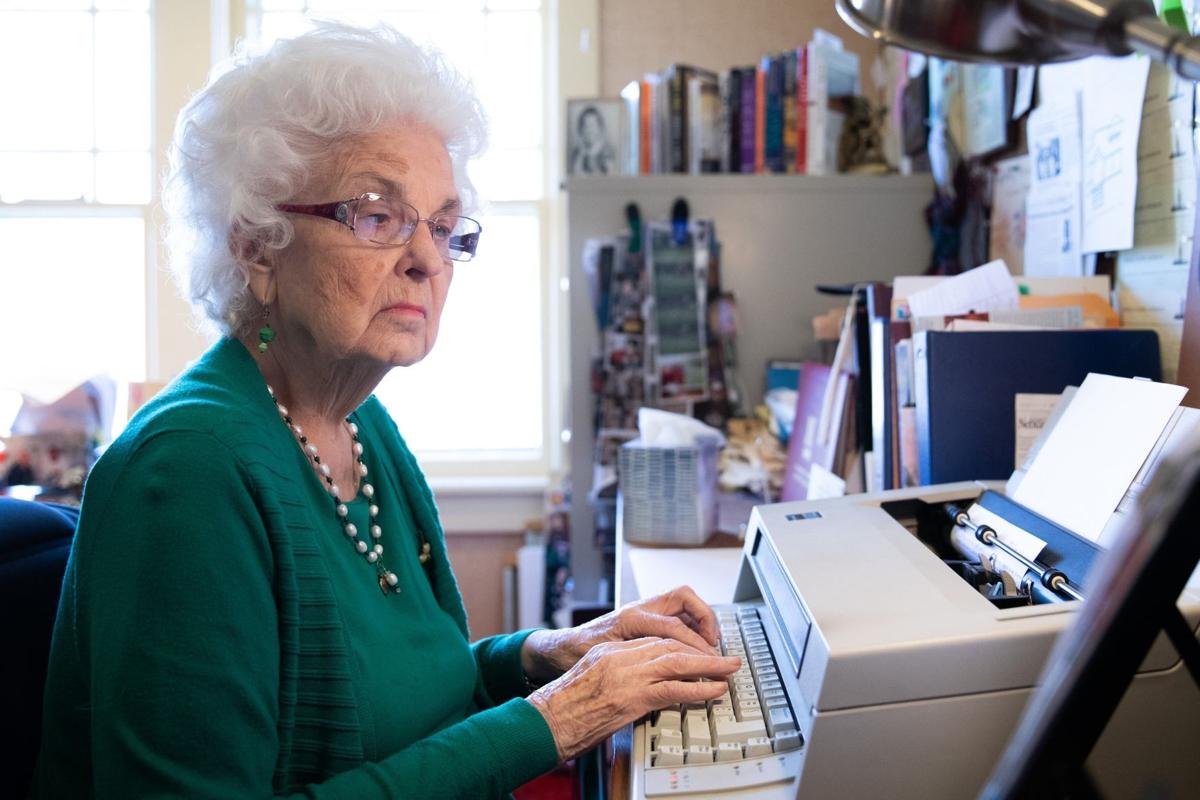 Christmas time for the Omaha family of Jane and Bob Meehan invariably included a visit from the book fairy, as well as St. Nicholas.
Mary Jane "Janie" Meehan was a tireless promoter of reading and communication, said daughter Monica Meehan of Colorado Springs, Colorado. The books Janie gave as Christmas gifts would include the recipient's name, the year and a signature from "The Book Fairy."
Meehan did not send Christmas cards, but she did send annual St. Patrick's Day letters to her nearest and dearest — 363 people this year. The 88-year-old proud Irish American, with a bust of JFK on a shelf in her Dundee home, typed long letters stuffed with family news every spring.
There will be no letters in 2021 as Meehan died at home on Aug. 6 from natural causes. Due to COVID-19, the family will schedule a memorial service at a later time, but donations in Meehan's name are suggested to the Omaha Public Library Foundation.
Meehan, as her husband had done, donated her body to the Nebraska Anatomical Board for medical students to study. She will be interred with her husband, who died in 2018, at the McCullough Cemetery near Brady, Nebraska.
Mike Carroll, a cousin and a University of Nebraska at Omaha Goodrich Program professor emeritus, said Meehan was very proud of her rural roots. She was the salutatorian of the Brady High class of 1950 and was selected to attend Girls State in Lincoln in 1949.
Meehan received a Bachelor of Science degree in English and journalism from the University of Nebraska-Lincoln in 1954. After college, she taught junior high school English and journalism in Beatrice and Lincoln for several years before her marriage to Bob in 1957. The couple bought a house in Dundee in 1963, and she quit teaching to raise a family.
When the nest emptied, Meehan obtained a master's degree from UNO in 1988 and began teaching freshman English at UNO. She loved all forms of literature, but had a special interest in poetry, counting former Nebraska poet laureate Rae Turnbull as a close friend.
"For many years, she was the driving force for a women's intergenerational poetry publication written by and for women called, 'Celebration,' " Carroll said. "I think it would be important to celebrate her as an influencing champion of women's agency before it became widespread."
Meehan taught her children that giving back to the community was an important part of a fulfilling life, her daughter said. St. Margaret Mary's Church and School, Central High School, St. Joseph Hospital Board, the League of Women Voters, Great Books, Fine Lines and an Irish book club were among her favorite organizations to which she volunteered her time.
"Our mom was a role model for and an encourager of investing oneself in family and community," she said.
Meehan is also survived by daughter Molly Meehan-Rasby of Rapid City, South Dakota; and sons, Patrick of St. Petersburg, Florida, Dan and Michael of Omaha, and Iranian-born Mostafa Jamshidi of Lincoln. The family considers Jamshidi to be an adopted son.
Jamshidi met the Meehan family as a UNO student in 1978 when he was hitchhiking to UNO. Since 1979, Jamshidi told The World-Herald in a 2017 article, there are no Meehan family photos that he isn't in.
Janie Meehan is also survived by 16 grandchildren and four great-grandchildren, with another expected in December.
To each of them, her family said, "she left a passion for reading, a curiosity for knowledge, a pride in their Irish heritage and love for the Big Red."
Photos: Omaha woman has written Irish letter for St. Patrick's Day for nearly 50 years