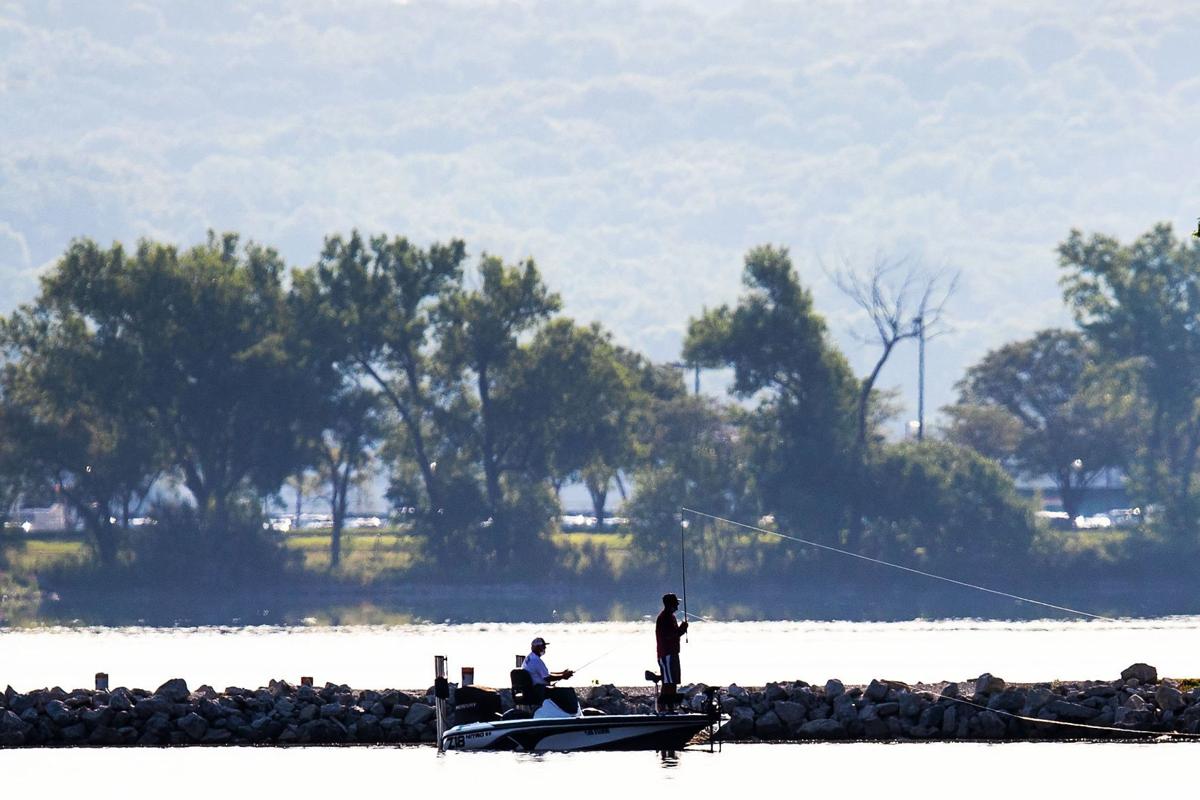 This has been one of Omaha's hottest summers on record as much of the nation bakes under persistent heat. While the weekend should bring temporary relief to the metro area, the heat is expected to return stronger next week, according to the National Weather Service.
The effect has been wide-ranging but not always obvious since the heat has been chronic, not extreme. Electric bills are up, tomatoes are refusing to set fruit, and drought is beginning to emerge.
It's the kind of summer we'll need to get used to as the planet warms because of rising greenhouse gases, climate scientists say.
"The conditions thus far in June and July point to a sign of what is to come (in Nebraska), warmer summers, warmer days, high humidity," said Martha Shulski, state climatologist for Nebraska.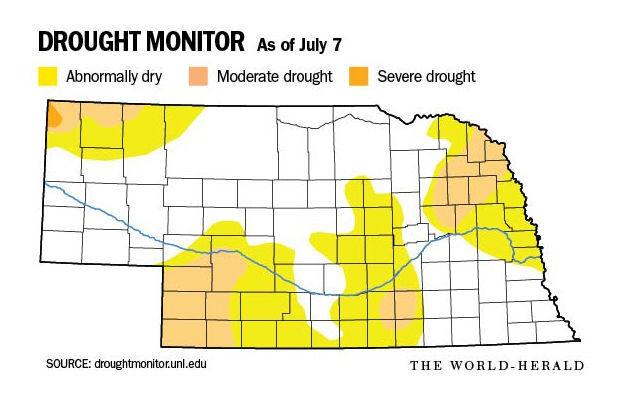 Omaha's fifth hottest summer
Through Wednesday, Omaha was averaging its fifth hottest summer since record-keeping began in 1871, said Van DeWald and Paul Fajman, meteorologists with the weather service.
The reason? Nearly every day since June 1 has been above average. Just six days have seen temperatures below average, and generally just by a few degrees.
From June 1 through Thursday, Omaha's high reached at least 90 degrees on 22 days. That's more than the 19 recorded in June through August of 2019, DeWald said.
And while daytime highs are what people notice, it's at night that Omaha's temperature records have been set so far this summer. Warm nights are considered one of the chief markers of a warming planet.
Omaha set a June record for the average low temperature being the highest since record-keeping began in 1895, according to the National Centers for Environmental Information. In other words, nights averaged the record warmest for any June in 125 years. On two nights, Omaha set individual records: June 7 and 8, when the overnight low failed to drop below the upper 70s.
"We just have had a lot of consistently warm days, and we're not cooling off much at night," Fajman said.
Omaha's been hot because the central U.S. has been well above normal from Kansas north into the Dakotas. Nebraska averaged its ninth hottest and 18th driest June on record, according to data released this week by the National Centers for Environmental Information.
Electric bills are rising as people, many homebound because of the pandemic, crank up their air conditioners. The Omaha Public Power District reports seeing an increase in residential electric use in June.
David Houk, a meteorologist with AccuWeather Inc., The World-Herald's weather consultant, said the need for air conditioning is up 60% in the Omaha area over normal, based on "cooling degree days." From June 1 through Wednesday, Omaha had accumulated 520 cooling degree days compared with the usual 322.
A cooling degree day is a proxy for energy use, based on how much the average daily outdoor temperature varies from what's considered comfortable without air conditioning.
Punky tomatoes; worries about drought
Nearly the entire state was shy on rainfall in June, and some areas received only 10% to 25% of normal rainfall, according to the National Integrated Drought Information System.
Almost a third of Nebraska is at risk of slipping into drought, and 14% already has, according to the National Drought Monitor. Likewise, drought is creeping into western Iowa.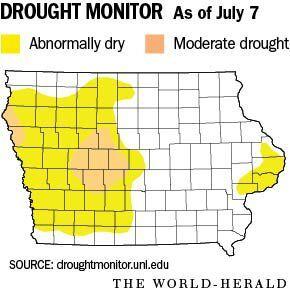 The heat and lack of rain are worsening those conditions, Shulski said. "Depending on amount and timing of rainfall, conditions could continue to deteriorate relatively quickly this time of year," she said.
Pastureland, corn and cattle are most at risk, said Shulski and Al Dutcher, associate Nebraska state climatologist.
Pastures are the immediate concern, and several bouts of rain will be needed for them to be semiproductive, Dutcher said. Heat stress can prove fatal to cattle, and the risk next week is being closely watched. Corn, too, is at risk of diminished yields because of heat stress.
In the backyard garden, vegetables such as tomatoes and peppers aren't setting fruit because it's been so hot, said Scott Evans, horticulturist with the University of Nebraska-Lincoln Extension. By this time of year, tomato plants should at least have green tomatoes on them, and so far many don't, Evans said. The problem? Once temperatures rise above 90 degrees, the pollen can become sterile or the flowers can drop without setting fruit, he said. "That is all heat-related," he said.
While it's hard to tie the weather in a given season at one locale to global warming, the type of weather Nebraska has seen this summer is indicative of climate change: chronic heat, hot nights and extreme precipitation, Shulski said.
"The question is not did climate change cause it, the question is how much worse did climate change make it?" Shulski said.
Rising night-time temperatures, which are increasing at a faster pace than daytime temperatures, are one of the insidious aspects of global warming, climate scientists say. That's because it is at night that living things — plants, animals, humans — have a chance to recover from daytime heat. With less chance to recover, food production could be affected and mortality could increase from heat waves.
Summer 2020 forecast: Expect more heat
The U.S. Climate Prediction Center says the odds favor warmer than normal weather for the rest of July across much of the U.S., including Nebraska and Iowa. The agency said much of eastern Nebraska and most of Iowa are at high risk of excessive heat late next week.
Dutcher said the key to next week's weather will be this week's rains and next week's winds. If it's rainy, the landscape will have more moisture to fuel humidity. If that happens and winds don't kick up next week, then models indicate that the weather could become dangerously hot and muggy.
"If we can maintain a decent breeze (greater than 8 mph), then it will be tolerable," he said. Otherwise, he said, heat index values late next week could exceed 110 degrees.
---
'The Night of the Twisters' in Grand Island 40 years ago
Grand Island tornadoes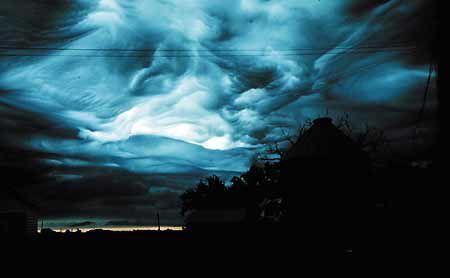 Grand Island tornadoes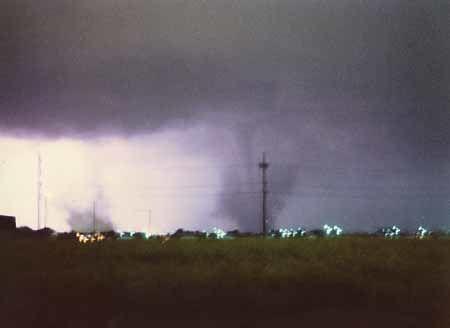 Grand Island tornadoes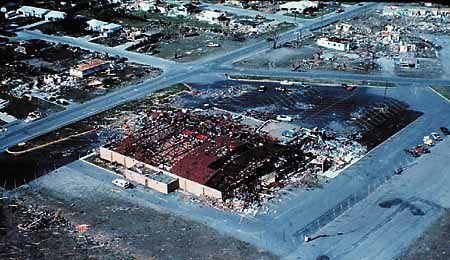 President Carter's visit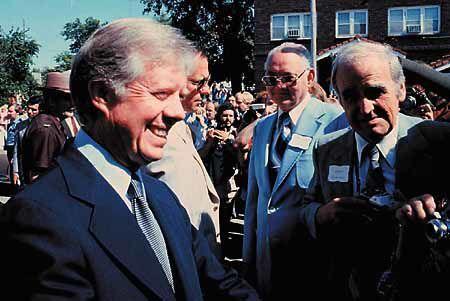 President Carter's visit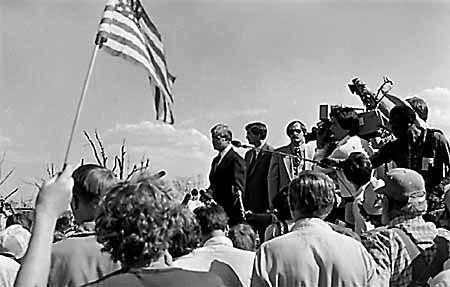 Dairy Queen damage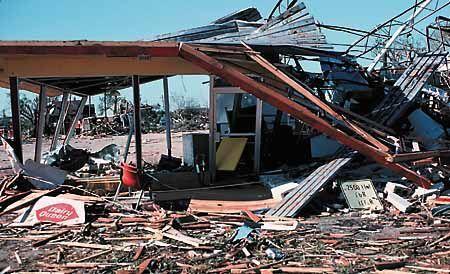 Car damage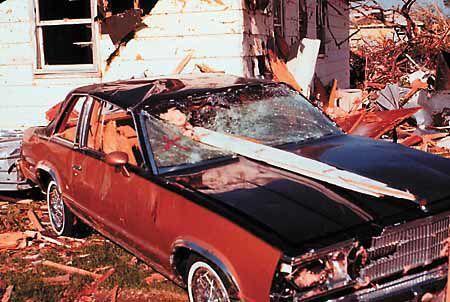 Grand Island tornadoes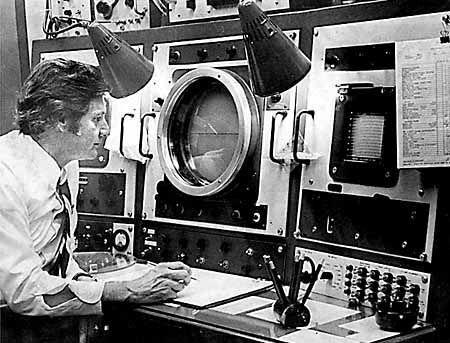 Village Inn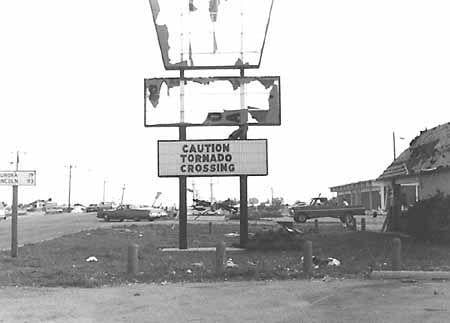 President Carter's visit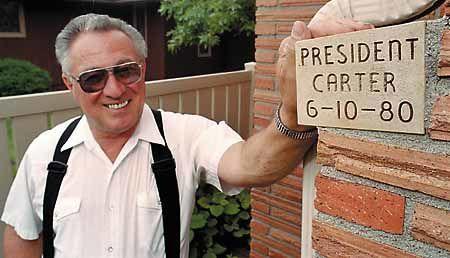 Grand Island tornadoes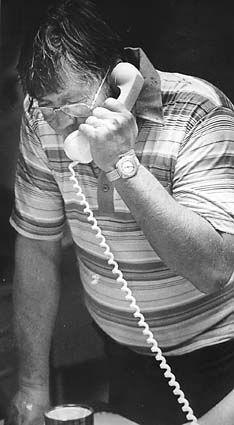 Grand Island tornadoes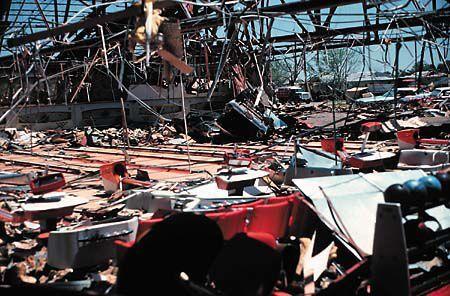 Grand Island tornadoes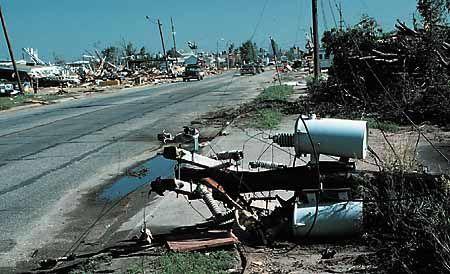 Grand Island tornadoes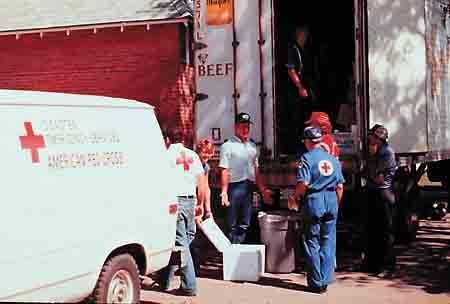 Grand Island tornadoes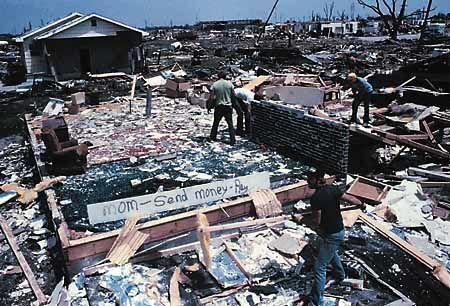 South Locust Street
Grand Island tornadoes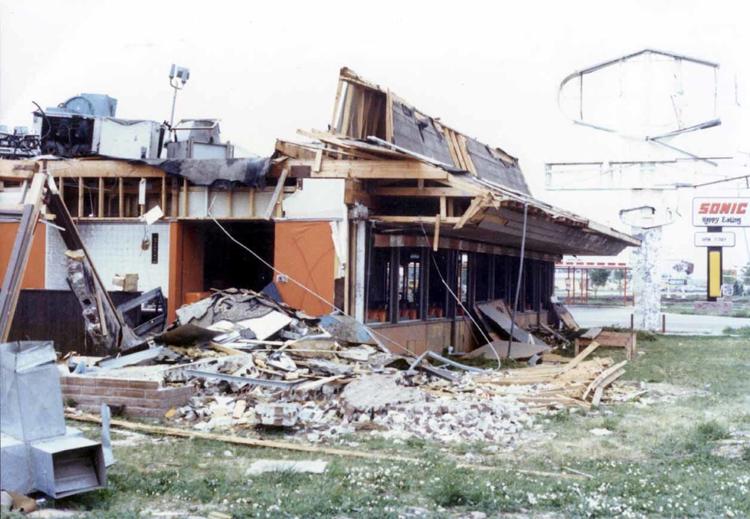 Grand Island tornadoes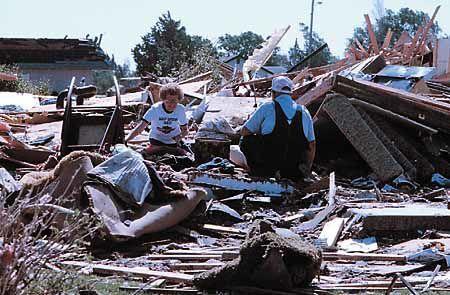 Twister map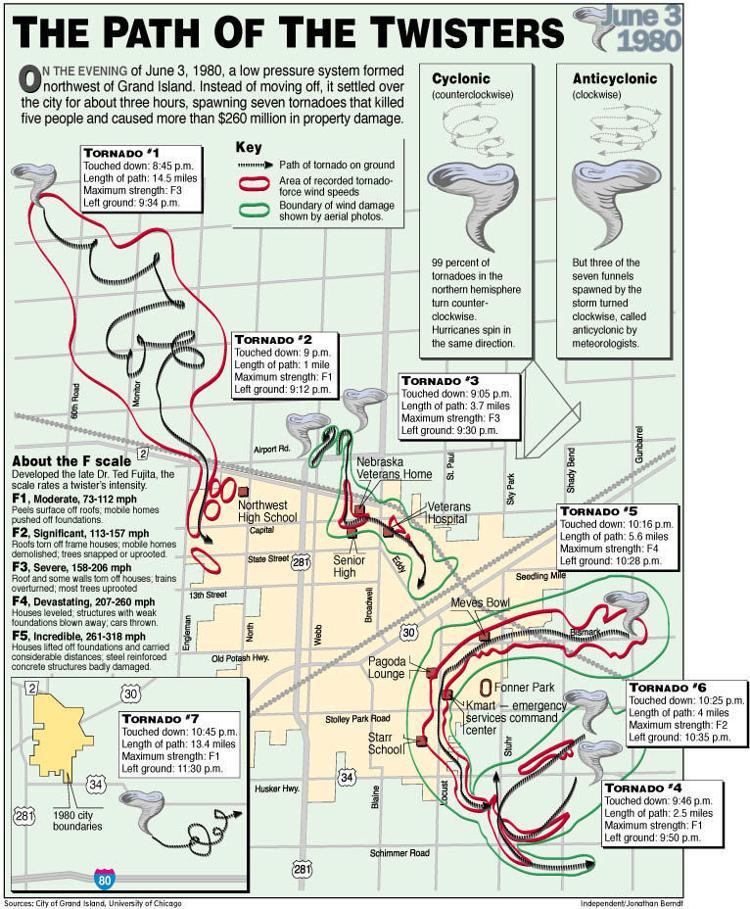 Be the first to know
Get local news delivered to your inbox!