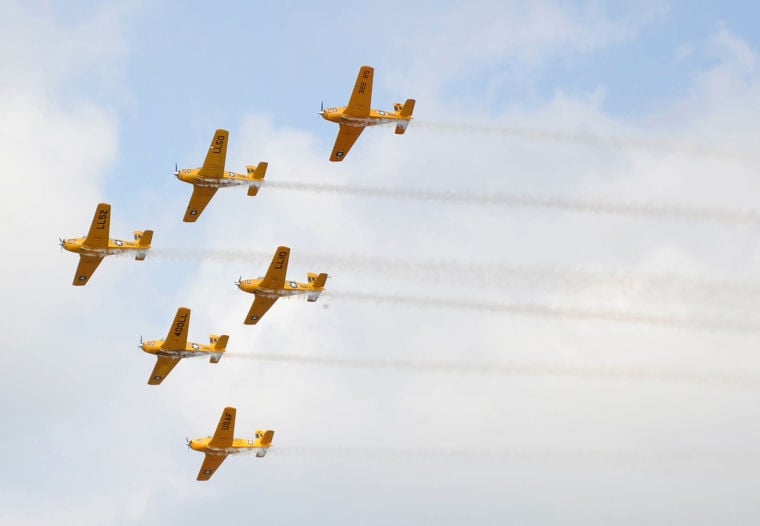 The military has lifted the grounding of its precision flight teams, which means the Navy Blue Angels will be roaring through the skies of eastern Nebraska next summer.
Navy officials announced Tuesday the Blues will perform at Offutt Air Force Base's Defenders of Freedom Air Show July 19-20, 2014. The 2013 show, which was to feature the Air Force Thunderbirds, was canceled because of the federal budget sequester.
Next summer's show will be the culmination of "Navy Week 2014," which will feature the Leapfrogs parachute team, the Navy Band, and Navy SEALs and Explosive Ordnance Disposal teams.
Admirals and other senior Navy leaders will talk with civic, government, business and educational leaders while sailors will visit local schools and carry out community service projects. The weeklong event will begin July 14.
Omaha is one of six cities selected to host Navy Week events next year, along with St. Louis, Baltimore, Dallas-Fort Worth, Pittsburgh, and Mobile, Ala.
The Navy's Office of Community Outreach described Navy Week as its top program to meet people in communities with little or no Navy presence.
The event has been held 148 times in 62 cities since the founding of the program in 2005. It was held twice previously in Omaha, in 2007 and 2009.
Hearing the news thrilled former Navy Cmdr. Butch Kirkland, a 30-year veteran and the leader of the local Navy League chapter.
"I got chill bumps all over my body," said Kirkland, who retired in 2005 and now works at U.S. Strategic Command as a civilian. "The Navy made me what I am today."
Kirkland said Omaha's 65-member Navy League support group didn't know about the plans in advance, but they are hoping they'll be able to help. Between 75 and 100 events typically take place, according to a Navy press release.
The Navy's announcement also surprised some officials at Offutt, who said they hadn't set dates for next year's air show and open house. The event typically is held in August.
"We're awaiting guidance from the Air Force," said Ryan Hansen, a spokesman for the Offutt-based 55th Wing. "The decision process is ongoing, but obviously the Navy's announcement regarding the Blue Angels is exciting and encouraging."