Douglas County is seeing a 13-year high in property valuation protests this summer after the county assessor implemented a set of sizable increases.
The property valuation and protest period has been proceeding through the pandemic, and County Assessor Diane Battiato said she would speculate that the pandemic's economic impact is a factor in the protests.
Overall, the Assessor's Office increased existing residential properties 7%, attributing the move to Omaha's continuing hot housing market and the office's obligation to keep up with the market.
But that overall increase understates the impact on homeowners getting an increase. A World-Herald analysis of property valuations shows that the typical hike equaled nearly 13% for homeowners getting an increase on their existing home.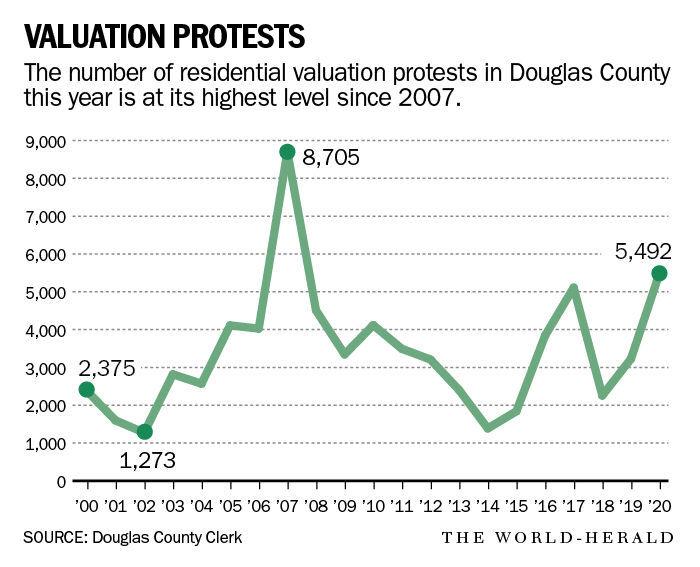 North Omaha is one area particularly experiencing increases. In the community around North High School, the average home valuation rose 24% since last year, according to Douglas County data provided to the Nebraska Department of Revenue.
In turn, the county received nearly 5,500 residential property protests — the highest number since 2007. Protest filings are particularly high from North Omaha; one-fourth of all the residential filings came from four ZIP codes there.
Battiato said the number of properties receiving an increase this year isn't any more than the total from the last several years.
But last year, the valuation on existing homes rose 6%; the year before, 4%, according to figures from the state property tax administrator.
Battiato said the higher number of protests might stem from property owners feeling financial distress during the pandemic.
"There's a fear of the unknown because of this pandemic," she said.
The pandemic also is affecting how Douglas County is handling protests.
This year, the county has mainly handled protests over the phone, instead of the normal face-to-face meetings, County Clerk Dan Esch said.
Last week, the Douglas County Board also loosened the hiring qualifications for protest referees after the county had trouble scheduling referees for some protest cases. Officials said that partly relates to the pandemic, but it's also because appraisers are otherwise busy in the strong housing market.
Homeowner Victoria Harder protested the higher valuation on her home near North Omaha's Miller Park. Her house's tax value rose from $67,400 last year to $119,100 — a 77% increase.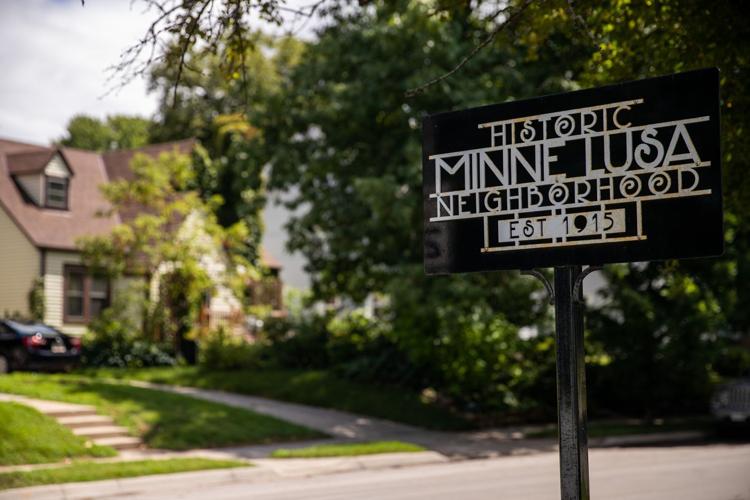 She figures her property taxes will go up $1,200 a year, or $100 a month on her mortgage. Asked about her capacity to pay that, she said, "It's not great, not great at all."
Harder said she hasn't made improvements worth her increase. She said she doesn't understand the basis for that much of an increase.
"I don't understand how there's that large of a jump when nothing's changed," she said.
Michelle Jackson-Triplett, president of the Miller Park Minne Lusa Neighborhood Association, said it's interesting to see how quickly valuations in her neighborhood have changed.
Just a few years ago, North Omaha properties were dropping in tax value, Jackson-Triplett said. But now, she said, "property values went straight through the roof — and quickly."
Still, Jackson-Triplett notices the growing popularity of the neighborhood for its inclusive character, strong sense of community and relatively affordable homes for first-time buyers. That strong housing market, she said, means "the price of a property for a first-time buyer is becoming steeper by the second, unless you want to rehab it yourself."
Jackson-Triplett said the increases have made some neighbors extremely upset, and people want to know what caused the change. She said she's sure that the state of the economy in the pandemic has heightened people's concerns about their tax values.
"Every dollar starts to count," she said, and for some people, the increase in taxes can quickly amount to "a ridiculous amount of money."
Gregg Mitchell, a real estate appraiser associated with Mitchell & Associates, said the local housing market has been on a roll since 2011, and even with the pandemic, "it's stunning to see what's going on."
A traditional home for Omaha — an 1,100-square-foot split level with a two-car garage and finished basement — now can be appraised at more than $200,000, Mitchell said. As Omaha west of 72nd Street runs out of homes priced at less than $150,000, more people are looking at North and South Omaha, he said.
"It's understandable to see why people have sticker shock," Mitchell said.
Battiato described the housing market as "exuberant" and said that, although she keeps expecting the pace to slow, it has stayed strong year after year. Even this year, she said, "it hasn't slowed down at all. Not even COVID is stopping it."
Battiato said she understands that homeowners who don't plan on selling or haven't updated their homes may not feel the pulse of the housing market.
But the Assessor's Office offers homeowners an opportunity before the official protest period to discuss any discrepancies in the office's information and the housing market data supporting the valuation, Battiato said. Almost every time, she said, the housing sales in an area and the valuation are in line.
Legally, the Assessor's Office is responsible for setting a home's tax value within close range of actual market value. This year, Douglas County's residential valuation is considered to be 95% of the true housing market value.
Battiato said she also wanted people to remember that local government subdivisions drive the tax rate — the other factor in determining a homeowner's tax bill.Photos: Our best staff images from July 2020