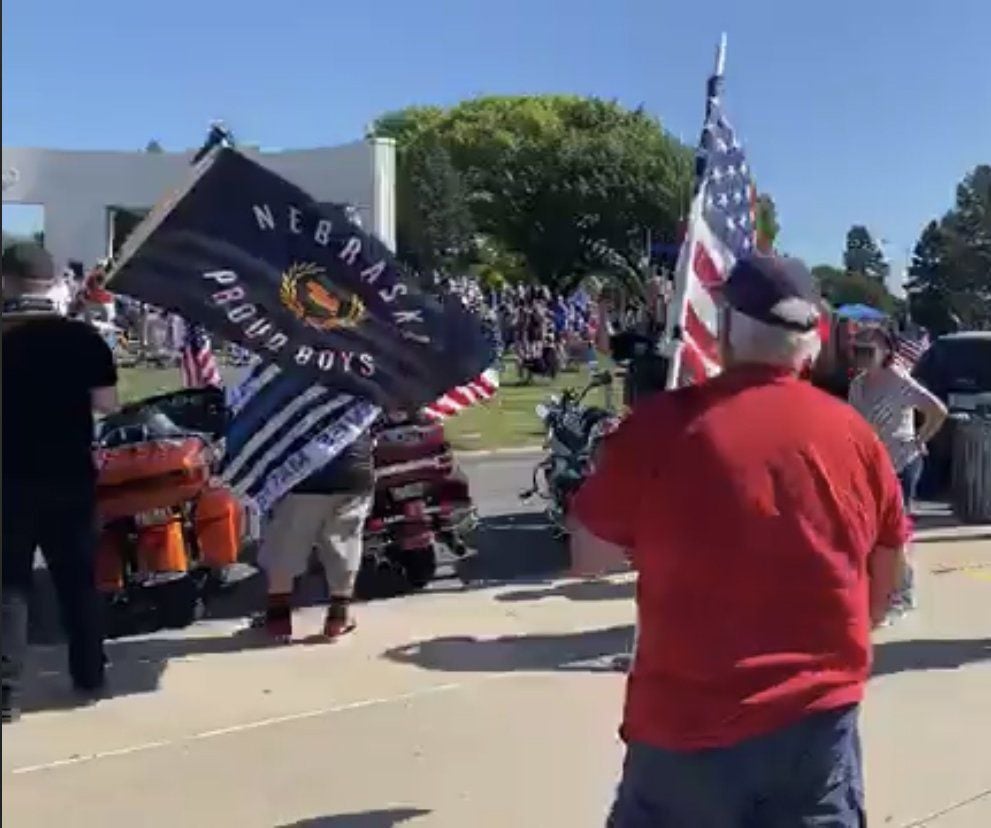 A small group of men stood near the edge of Saturday's pro-police rally, one holding the flag of the "Proud Boys," which a civil rights organization has labeled a hate group.
The Proud Boys' presence, once it was known, angered local rally organizers, participants and protesters with the Black Lives Matter movement.
"I'm unhappy to know that this group ... came to an organized event," said former Omaha Mayor Hal Daub, who emceed the rally. "My attitude is: The less we pay attention to them, the better."
A spokesman for the Nebraska Proud Boys, who would not give his name, told The World-Herald in response to emailed questions that five members attended to support police, not to stir up protesters.
Three members stood by the group's flag, which is emblazoned with the words "Nebraska Proud Boys." The flag holder and a handful of others wore their telltale black Fred Perry polo shirts with gold trim.
The men's-only organization has been called extremist by the Anti-Defamation League and described as a hate group by the Southern Poverty Law Center. The Proud Boys dispute the civil rights groups' labels.
Nationally, members of the Proud Boys have been arrested in street violence against left-wing activists. Members have also been arrested after fights with Black Lives Matter protesters in Seattle.
The president of the Omaha police union, Sgt. Tony Conner, who spoke at Saturday's pro-police rally, said he had never heard of the Proud Boys before the rally.
"My only goal was to tell the truth about law enforcement," said Conner, who is black.
Proud Boys members weren't invited, Conner said, nor were they welcome. But he said people can't be removed from a rally in a public park unless they break the law.
Deputy Police Chief Scott Gray, speaking on behalf of Omaha police, said Tuesday that he had heard of the national group but not the state chapter.
He said the Police Department would never attach itself to an extremist group like the Proud Boys. Officers' job at such events, he said, is to help people demonstrate by keeping the peace.
"Certainly the presence of fringe groups like this on either side of the equation can escalate tensions," Gray said. "Most of the time, we try to diffuse those situations."
Anthony Rogers-Wright of Omaha, who was at Memorial Park on Saturday, said he and other protesters advocating for policing changes were not surprised to see "a hate group" at the rally.
"We should be concerned with the fact that people like the Proud Boys are showing up to support police officers," he said. "It shows that groups like them support police."
Last week, before the rally, Smith described it as a white supremacist event. Creighton said in a statement that the professor's views, expressed on Twitter, did not reflect the university's and that Smith regretted his comment.
Conner said that he and Douglas County Sheriff's Capt. Wayne Hudson, who is also black, would not have spoken at a white supremacist rally and that they participated because they believe in law enforcement.
No Proud Boys members were arrested Saturday. Several people who saw the group's members at the rally asked The World-Herald why police and rally organizers allowed them to stay.
Conner compared the Proud Boys' right to protest to that of the people protesting police mistreatment in other cities who have carried signs suggesting that "the only good cop is a dead cop."
University of Nebraska College of Law professor Eric Berger said First Amendment protections prevent governments from cracking down on groups and messages they find distasteful, even if their messages are "deeply offensive, racist or sexist."
The Williamses said they didn't know what the group was or that members of the group were at the rally until their son shared a picture the next day. Even if they had known, they said, they couldn't have tossed people out of a public space.
The only person ticketed at the rally was a white Black Lives Matter protester who police said yelled profanities at officers and didn't leave after being told to do so. The man argued in a Facebook post that he was not given time to leave.
Andrew Bailie of Omaha, a white Black Lives Matter protester who was at the rally, worries that there might be Omaha police officers who are sympathetic to the Proud Boys, which he said has been the case elsewhere.
But Conner said officers know that part of their job is building and maintaining public trust. Any officer affiliated with a hate group would violate department policy and human decency and be fired, he said.
Proud Boys' Nebraska spokesman said his group has been miscast by the press, civil rights groups and others. The group characterizes itself as a "Western chauvinist fraternity."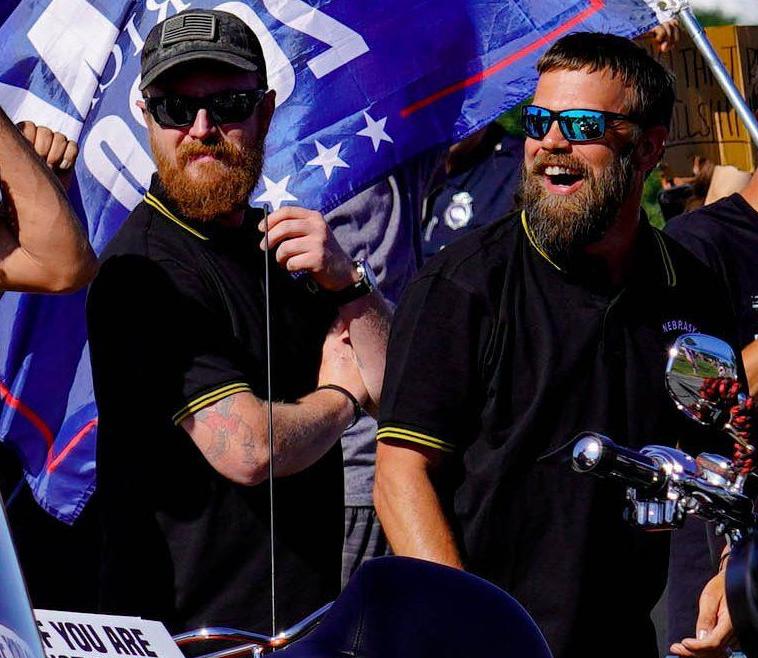 "We are not a hate group," the spokesman said. "We have no links to the rally's organizers or local police besides we generally support law enforcement."
Founded in 2016, the Proud Boys say they advocate for traditional masculinity and will not apologize for the dominance of Western culture. They got their name from a song in the musical "Aladdin."
The group's founder, Gavin McInnes, sued the Southern Poverty Law Center for defamation in 2019, saying its false designation of the group cost him and many of the group's members their careers.
McInnes, who co-founded Vice Media, said he quit the Proud Boys, but he has railed about him and the group being banned from Facebook, Twitter and Instagram.
Pete Simi, a sociology professor who studies hate groups at Chapman University in California, said people shouldn't be fooled by the group's innocent-sounding "core values."
"It's extremism in a better outfit," he said.
Simi conducts research for the National Counterterrorism, Innovation, Technology and Education Center based at the University of Nebraska at Omaha. He also taught at UNO.
He said the Proud Boys are part of a new generation of far-right extremists who focus heavily on optics. They want to look like patriots and nationalists, Simi said.
Proud Boys frequently attend political events, including rallies for President Donald Trump. Roger Stone, a longtime Trump confidante whose sentence the president recently commuted, has been photographed with members of the group.
The group's membership is more diverse than most similar extremist groups in terms of race and sexual orientation, Simi said. The group uses that as evidence that its members are not racist and that they're not white supremacists.
But Simi said it's not surprising that the group wants to avoid such toxic labels.
"If you were to leave it up to white supremacists to self-define, there would not be any white supremacists," he said.
The Proud Boys are anti-Muslim, anti-immigrant, hyper-masculine and glorify violence like a street gang, he said.
Simi said it's likely that members attended Saturday's pro-police rally, as in other places, to make themselves more palatable and to provoke a response from "snowflakes."
"They want the lines blurred," he said. "And they like to trigger people."
---
Our best staff photos from July