Nebraska's disastrous weather in 2019 caused more than $3.4 billion in losses, according to a recently released federal report.
The bomb cyclone that ravaged the state in March was responsible for most of that damage, or $2.6 billion, said the report by the National Centers for Environmental Information, a division of the National Oceanic and Atmospheric Administration.
The bomb cyclone triggered a torrent of runoff from rain and snowmelt, resulting in one of the nation's costliest inland floods on record, according to the report. In Nebraska, it was also accompanied by one of the worst blizzards in decades.
The storm caused an estimated $10.8 billion in damage, primarily in Nebraska, Iowa, Missouri, South Dakota, Minnesota, North Dakota, Wisconsin and Michigan.
Iowa sustained about $1.9 billion in damage last year.
Nationwide, the U.S. sustained $45 billion in weather-related losses last year, according to the report.
Billion-dollar disasters are on the increase because there are more people and infrastructure in harm's way and because climate change is increasing the frequency of some types of extreme weather, the report notes.
The report said that the flash drought of 2012, Nebraska's hottest, driest year on record, was the state's costliest on record. It caused an estimated $4 billion in losses. However, those losses developed over months in mostly rural areas. There was not the extensive damage to communities and roads and bridges that occurred in 2019 in Nebraska.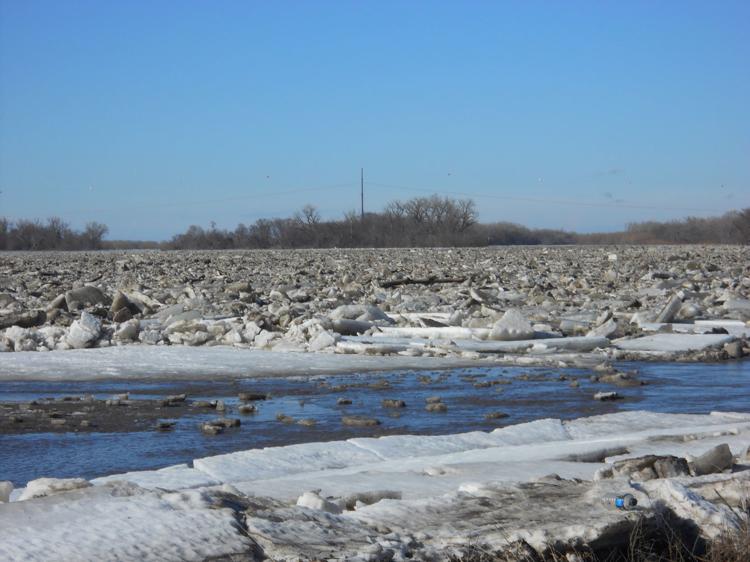 Iowa's costliest year was 1993, when the state sustained more than $11 billion in losses, largely the result of widespread flooding.
The bomb cyclone "was an unprecedented event, in scope and size and impact on the state of Nebraska," said Bryan Tuma, assistant director of the Nebraska Emergency Management Agency. "I don't think we've ever quite experienced anything like this before."
Four people died in the flooding in Nebraska in March.
The flooding left levees across eastern Nebraska shattered. Even though some have been repaired, many levees haven't been fixed or remain weak, exposing the land behind them to possible renewed flooding this year.
Gov. Pete Ricketts on Tuesday described helping Nebraskans recover from last year's disastrous weather as a priority this legislative session. "The state … has to do its share to fully repair our infrastructure," Ricketts said.
He will address flood recovery in his State of the State speech today.
It's impossible to know the full cost of Nebraska's losses because no one fully tracks damage to the private sector, be it losses in agriculture or among households and businesses. What is known is that various governmental agencies are spending more than $1.4 billion on recovery in Nebraska, based on readily available but incomplete figures.
The single most expensive loss to infrastructure was the damage inflicted on Offutt Air Force base, where losses from flooding have been documented at $790 million. Military officials have said they believe the final damage figure will exceed $1 billion.
Otherwise, roads and bridges took the biggest hit in 2019, largely because of the power of the ice jam flooding as water and massive blocks of ice tore through roadways and blew out bridges. More than $236 million is being spent repairing roads and bridges in Nebraska.
On the agricultural side, figures on losses aren't readily available.
"A loose estimation is that there's probably a billion-dollar impact to agriculture," Tuma said.
Losses included livestock deaths and fields destroyed by flooding. The highest crop losses probably came after the bomb cyclone, when flooded fields and continued rain kept farmers from getting into fields to plant, said Tyler Williams, an extension educator specializing in agriculture, climate and weather at the University of Nebraska-Lincoln. More than 420,000 acres in Nebraska went unplanted last year, according to a UNL CropWatch report.
The Nebraska Farm Bureau has nearly finished distributing $3.35 million in disaster donations that it received, said Vice President Craig Head. But that paled in comparison to the $35 million in applications it received for that money.
Many costs can't be calculated, Tuma said.
"How do you put a number on things like loss of productivity, loss of work hours, extra commuting distances? How much personal property was lost, those kinds of things," he said. "It would be difficult to affix a real number to all that."
A federal disaster declaration by President Donald Trump is helping the Nebraska recovery effort. Tuma said that losses covered through the disaster declaration total about $404 million. Under such a declaration, the federal government typically foots 75% of the bill, with state and local governments usually covering 12.5% apiece.
The disaster declaration is for losses during the period of March 9 through July 14.
Nearly every corner of the state was affected by the bomb cyclone and the domino effect of ongoing rainy weather. Of Nebraska's 93 counties, 84 qualified for federal disaster assistance.
More than 7,000 homes were damaged in the severe weather, Tuma said, based on figures gathered by the U.S. Department of Housing and Urban Development.
Likewise, about 7,000 Nebraska families registered for, and received, outright grants to help them get back on their feet.
Many Nebraskans suffered uninsured losses because they didn't have flood insurance. But about 1,000 households received a total payout of nearly $40 million from flood insurance.
Photos: Major flooding hit Nebraska and Iowa towns in March 2019