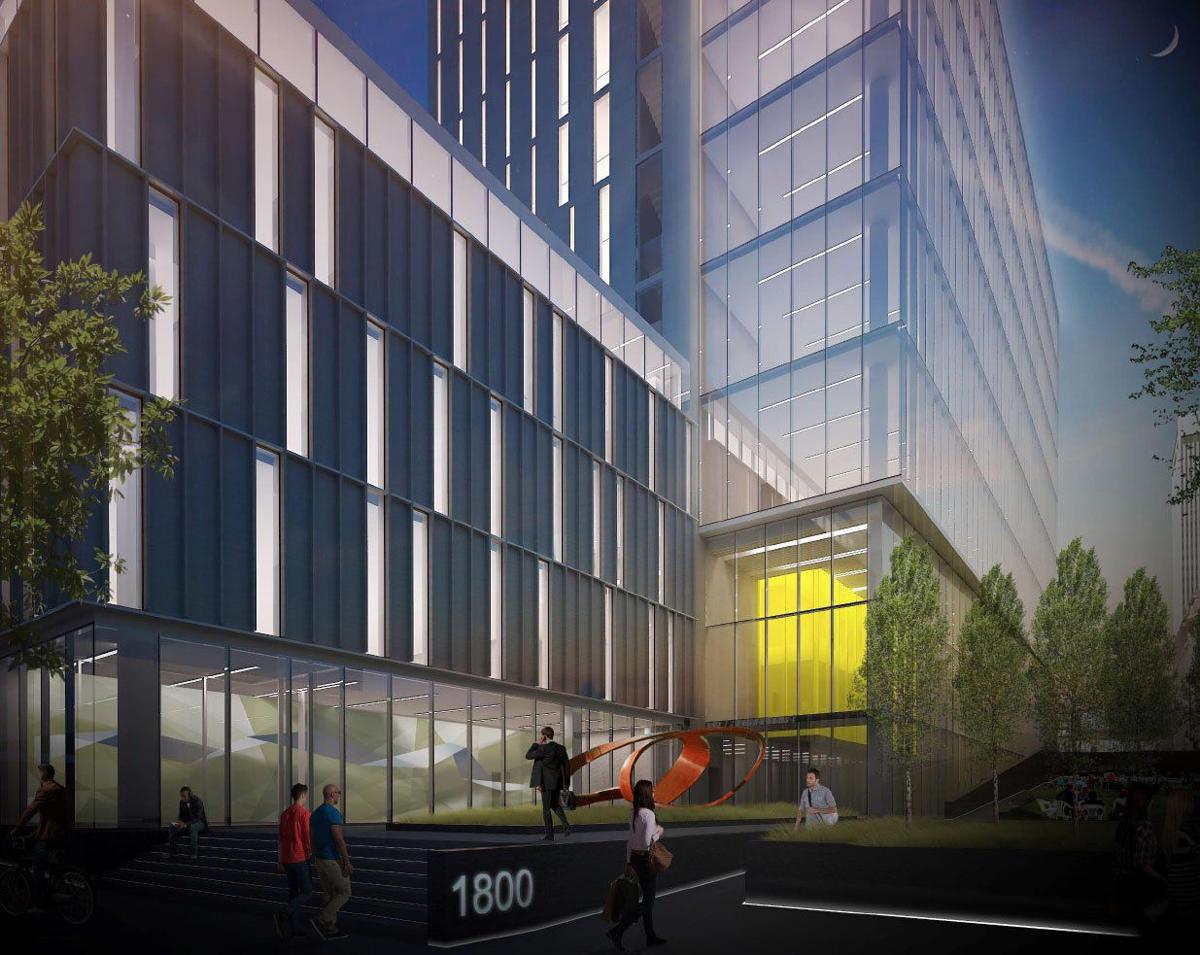 Douglas County Board member Jim Cavanaugh is calling for the county to scale down its plans for a $120 million complex to house attorneys' offices, juvenile courts and youth detention.
Cavanaugh has been the County Board's lone critic of the proposal to erect two buildings and a parking garage southwest of 18th and Harney Streets. A 10-story tower would house juvenile courtrooms, juvenile judges' offices, juvenile and family court services, and the entire staffs of the Douglas County Attorney's and Public Defender's Offices. The other building would be a new juvenile detention center, deliberately designed to house fewer youths than are currently held at the Douglas County Youth Center.
Cavanaugh said the county instead should erect a four- or five-story building for juvenile courts. He said the county should renovate the juvenile detention center off of 42nd Street and Woolworth Avenue instead of building a new one. He said the county should buy and renovate an existing building near the Douglas County Courthouse for the public defender and county attorney staffs. And he said the county does not need to build another parking garage.
"These things have the cumulative effect of bringing the price of this project way down and doing it better," Cavanaugh said.
[Read more: Owner says he'll sue over Douglas County's plan to seize building for juvenile justice center]
As proposed, a private nonprofit, the Douglas County Unified Justice Development Corp., would manage the project and oversee construction. The corporation's board would include several public officials, including Douglas County Attorney Don Kleine, but its meetings would not be open to the public and it appears it would not be subject to public records law. While proponents have said 80 percent of the construction work would be put out for bid, it remains unclear what, if any, of the construction work would go through the county's or building commission's public bidding process.
Cavanaugh said the county should instead submit the project to voters through a bond issue election.
"That gives people the right to say yes or no," Cavanaugh said. "It should go to a vote."
He said Douglas County has a better bond rating than the public building commission does, so county-issued bonds would cost taxpayers less in interest payments.
He also said the county should bid out and oversee the work itself instead of going through the nonprofit corporation. Cavanaugh said that's how the county is handling county jail and 911 call center renovations and other work from a $45 million bond issue that voters approved in 2016.
That work is "on budget and on time," Cavanaugh said, citing the phrase often used by proponents of using the nonprofit development corporation.
He said he'll explore his alternatives at meetings of the County Board's Administrative Services Committee, which Cavanaugh chairs.
[Read more: Proposed $120 million Douglas County justice complex would shrink youth detention center, raise taxes]
Douglas County Board member Mary Ann Borgeson said she "very much questions" whether Cavanaugh's proposal would be cheaper. She said it would not be better than the proposal on the table.
"That's just grand that he's coming up with an alternative," Borgeson said. "But it's missing the main concept of having everything on one campus to better serve the kids and families we're talking about."
She said building a new, smaller youth center connected to a new building housing juvenile courts, attorneys and related agencies and services would enable and inspire better, more efficient juvenile and family court services.
"A campus-like environment is the best environment," Borgeson said.
Borgeson said the county has taken several steps in recent years that have reduced the number of youths in detention.
"It's not that the youth center is doing a horrible job," she said. But building a smaller youth center next to a new courthouse "gives us the fire and incentive to work really, really hard" to find more programs and alternatives to detention that will better help troubled youths and families.
Borgeson said there would be a lot of public oversight of the nonprofit and the project, including frequent reports to the County Board.
"There's no hidden agenda," she said. "There's no secretive stuff to it."
[Read more: Building Commission may use a nonprofit corporation to develop juvenile justice center]
Borgeson is on the nonprofit's board, along with Kleine, Douglas County Board member P.J. Morgan, Omaha City Council President Ben Gray, Public Building Commission Chair John Christensen, and Omaha Housing Authority Board member David Levy.
Kleine said he would endeavor to make the nonprofit's work "as transparent as it can be."
"My role as I see it is to make sure everything is done the best way it can be, that taxpayers get the best bang for their buck," Kleine said. "If I saw something that I thought was inappropriate or wasn't kosher, I wouldn't be a part of it."
Morgan and County Board member Mike Boyle have in recent months urged Cavanaugh to bring alternatives to the board. Morgan said Friday that board members want to consider all options, and that he'll listen carefully to what Cavanaugh has to propose. Boyle said he also wants to hear more details from Cavanaugh about what he proposes.
"I hope he (Cavanaugh) presents it Tuesday at the County Board meeting," Morgan said. "We'll certainly look at it. ... It's always good to have options, and I look forward to his presentation."
He said the county does have a better bond rating than the public building commission. But delaying the project and requiring a bond issue vote could negate any savings from that, Morgan said, because interest rates are going up and because of the cost of an election.
Be the first to know
Get local news delivered to your inbox!