WASHINGTON — In his first term, Rep. Don Bacon has helped pass a sweeping GOP tax package, cast an enthusiastic "hell yes" vote for repealing and replacing the Affordable Care Act and backed significant increases in military spending.
In other words, the Omaha-area congressman has been a reliable GOP vote on the biggest issues of the day.
Along with Republicans across the country, Bacon is touting those moves as delivering peace and prosperity for the American people.
His opponents say that agenda has benefited the rich at the expense of everyday Americans, all while driving the federal budget deficit through the roof.
Randall Adkins, political science professor at the University of Nebraska at Omaha, said Bacon is one of a number of House members navigating a starkly partisan institution while representing a politically balanced district.
"They represent an entire geographic constituency, which means that you're also representing people in the other party, you're representing independents, and I think that's the challenge that somebody like Don Bacon has to deal with."
Bacon welcomed one of his colleagues to town earlier this year as part of a bipartisan congressional exchange program.
Despite their ideological differences, Bacon and Rep. Salud Carbajal, D-Calif., have worked across party lines to advance legislation on everything from immigration to national defense.
"I'm pro-choice, he's pro-life. There's a number of issues where we differ significantly," Carbajal told The World-Herald. "He's open to listening and I think that's important if we're going to build a relationship and try to find common ground."
An ally of President Donald Trump, Nunes has fiercely defended the president over the investigation into possible collusion between Russia and the Trump campaign, in part by attacking those doing the investigating.
Civility and bipartisan cooperation are at the heart of Bacon's pitch to Omaha area voters for a second term.
But that pitch comes at a time of fierce partisan battles — battles in which Bacon consistently lines up with fellow Republicans and Trump. That includes a voting record that's backed Trump's position 97.8 percent of the time, according to FiveThirtyEight.com.
Democrats say that shows he's followed the lead of party bosses.
"He's been lockstep with the Republicans," said Rep. Ben Ray Luján, D-N.M., chairman of the Democratic Congressional Campaign Committee. "Congressman Bacon said that he was going to come and work together across the aisle and find solutions and we have not seen that."
Bacon rejected that characterization. He said he votes for what's best for his constituents and cited Democrats he's worked closely with such as Carbajal. Asked for specific examples of when he's bucked his party, Bacon said his preference is to express concerns early in the legislative process.
He said he's done just that by objecting to certain provisions of bills related to higher education, taxes and other issues. And his concerns were addressed before the measures ever hit the floor.
"I've been able to work before the votes to get in the right spot to vote yes," Bacon said.
And Bacon says his voting record should be no surprise given that he campaigned on the central planks of the Republican agenda in this session of Congress — cutting taxes, rolling back regulations and boosting military spending.
"I was honest about where I stood and got elected," Bacon said.
And he says those Republican measures have protected national security and produced an economic boom. From a low unemployment rate to rising GDP growth, the economy hasn't been this good in decades, he said.
"That didn't just happen," Bacon said.
Amid the policy battles, Republicans also have to contend with the tweeter-in-chief. Bacon took issue with Trump's tone and some of his rhetoric, even as he said Trump suffers his own share of abuse from the other side.
He praised Trump's overall job performance.
"I think he's delivered great results on the economy and national security," Bacon said.
Bacon said while he differs with the president on his approach to trade, he agrees with roughly 90 percent of Trump's policies.
"The other side of the aisle wants me to focus all my time on that 10 percent," Bacon said. "I'd rather get 90 percent of the stuff done."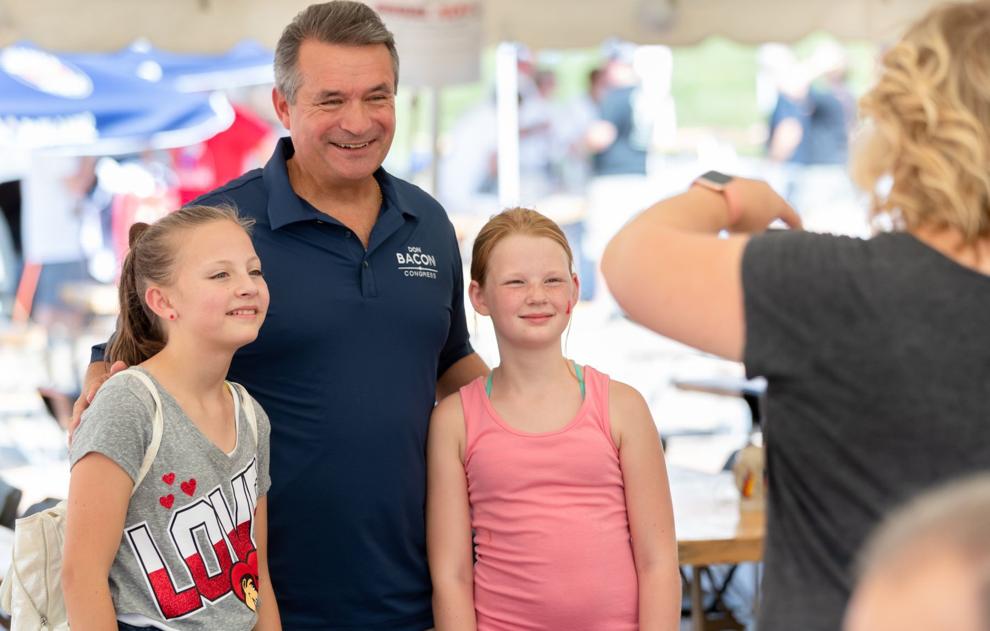 A retired Air Force brigadier general, Bacon was commander of the 55th Wing at Offutt Air Force Base south of Omaha. He has focused much of his first term on military issues, serving on the House Armed Services Committee, where he advocates for improvements to Offutt and more military funding.
He has twice been tapped to be in the group responsible for reconciling differences between the House and Senate versions of the annual defense policy bill — an unusual honor for a freshman.
Bacon landed a seat on the Homeland Security Committee, where he's working on cyber issues that connect back to his time in the military. He serves on the Agriculture Committee, where he supported a Republican farm bill that would put new work requirements on food stamps.
He said he favors finding a way to direct state and federal money to help cover higher-risk individuals in order to bring down premiums.
Immigration is another area where Republicans have been unable to find consensus. He said he continues to favor a comprehensive measure that would both bolster border security and protect DACA recipients, or those brought here illegally as children.
That approach reflects the district's wishes, and even more conservative members of the House have started to come toward it, he said.
Bigger picture, Bacon said his contributions to the last couple of defense bills have been most important.
On the deficit, Bacon pointed to Democratic lawmakers' insistence that increases in military spending be paired with hikes in domestic spending — a deal he reluctantly backed because he felt the military funding was so important.
Bacon said he's not taking anything for granted in the election — an attitude that makes sense to Adkins given the swing nature of the district and the headwinds of a national environment not favorable to Republican incumbents.
"All of the polling data is telling us that the tide is on the Democratic side," Adkins said of the national picture. "If I were Don Bacon, I would not be resting on my laurels right now."
Still, Rep. Steve Stivers, R-Ohio, the chairman of the National Republican Congressional Committee, expressed confidence that Bacon will prevail, predicting he'll win by 10 percentage points or more.
"If I could clone Don Bacon and make 435 candidates like him — we'd have 300 seats," Stivers said. "He's that good a candidate. He's solid."