The weak moment came roaring in Monday morning, Day 4 of being stranded in Fremont.
I got sick to my stomach. I'll spare the details, but as I tossed my cookies in the Hy-Vee bathroom, I realized just how much I missed my home.
The privacy. The comfort. The relative peace and quiet, where there was no Muzak like at Hy-Vee, which happened at that very moment to be blaring the Motown hit, "Nowhere to Run, Nowhere to Hide."
As I white-faced it through the aisles, grabbing Sprite and ibuprofen, World-Herald photographer Kent Sievers was back at our home base, Village Inn, trying to find us a way home. Midtown Omaha for me. Papillion for Kent.
Day 4 in Fremont. Going to try hard to get to Omaha.

— @ErinGraceOWH (@ErinGraceOWH) March 18, 2019
We'd heard the good: Potentially free flights inside tiny airplanes, which would mean leaving our cars in Fremont. We'd heard the bad: All direct routes to Omaha still closed. We'd heard the ugly: A mishmash of highway and county roads — in two-plus hours.
(Note: By Monday evening, Nebraska Highway 36 into Fremont had one lane of traffic open, directed by a pilot car. By Tuesday morning, more routes into Fremont, including U.S. Highways 275 and 77, were open.)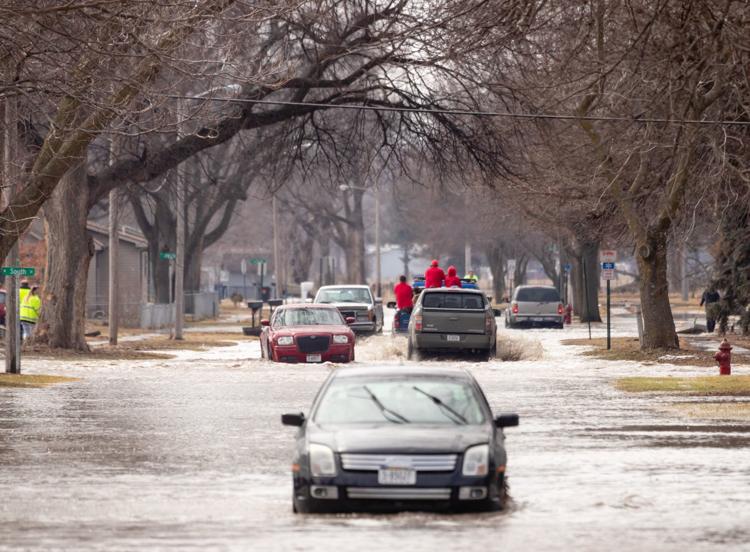 At least we had homes to return to. It's one thing to be stranded temporarily. It's another thing to have that whole sacred idea of home thrown into question.
Given the scope and scale of the disasters that unfolded last week across the state, from blizzard in the Panhandle to swamped towns in the east, being stuck in Fremont with easy access to anything we needed and with a dry home waiting was far, far from the worst-case scenario here. So many people have lost everything.
During our four days in Fremont, Kent and I heard from people like that, from people who were doubled-up in homes or stranded, too, but didn't know what waited for them when the floodwaters receded. None of these people were going to have the comfort of their own bathrooms any time soon. The disaster had taken away what is so essential about your own place: privacy and familiarity. There is so much comfort in that.
We were interlopers. Not planning to spend one night, let alone three, in Fremont. But the city itself, while an island, had a lot of creature comforts untouched by the flood:
Places to stay, for instance. Hotels booked fast, but each of us eventually got a room. And while I was waiting, a very kind couple, Lee and Jeri Gohlmann, put me up for a night in their lovely home. The Gohlmanns were virtual strangers — friends of a friend — and yet they made me feel like family. Amaretto sour when I appeared on their doorstep after 9 p.m. Friday. Hot coffee and fresh oatmeal at 6:30 a.m. Saturday morning. The breakfast was made to accommodate my schedule and was served on quilted place mats. I was given an open invitation to return.
This entire time, we had plenty to eat. A Village Inn regular named Roy paid for our dinner Sunday night.
And our cars got around just fine.
Just begged Village Inn waitress for fresh fruit and boiled eggs not out of showiness but desperation for something not fried. Grateful for hot meals so far but this is my fried food rock bottom.

— @ErinGraceOWH (@ErinGraceOWH) March 18, 2019
This wasn't New Orleans after Hurricane Katrina in 2005, where Kent and I had worked after that disaster. There were no hotels then, no Village Inns, no Walmarts to run in for toothbrushes and undies.
But Fremont did remind me of Katrina in this respect — the ruined infrastructure. Highway ramps that led to water. Ruined streets. Warnings abounding. And no clear-cut answer on escape. Law enforcement personnel from various agencies that parked at various exits from town didn't seem to know a good way out. An eight-semi convoy that had gotten to Fremont from Omaha by way of Lincoln — a 2½-hour trip that required a snowplow to clear debris — offered one long potential route.
Photos: Major flooding hit Nebraska and Iowa towns in March 2019