Hope rolled into Fremont.
It rolled in the two fuel tankers that filled thirsty pumps. It rolled in six semitrailer trucks loaded with everything from milk to toilet paper, bleach to bedding.
The Sunday night arrival of a much-awaited convoy of donations and commodities, coordinated by the local Hy-Vee, was a sign that shelves could get filled and that people, perhaps, could get in and out.
But the Nebraska State Patrol troopers that had led the way through a circuitous 2½-hour journey that started at the Millard Airport and went to Fremont by way of Lincoln were grim about the odds of getting out on Monday.
Their journey required a state snowplow to clear mud off U.S. Highway 30 to open up one free lane.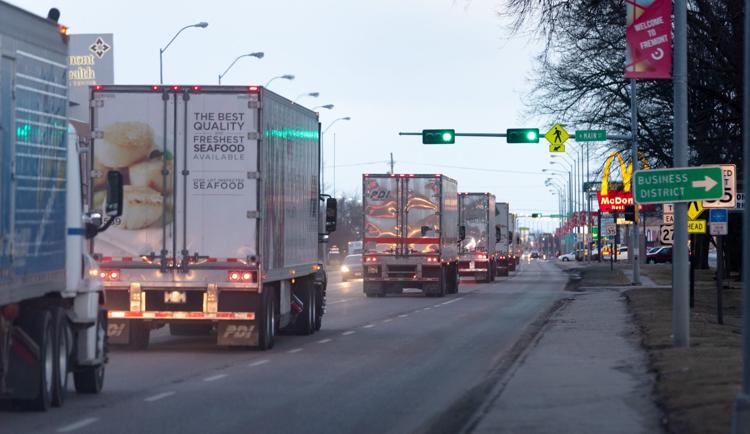 But State Patrol spokesman Cody Thomas offered this silver lining: "No water on the road."
Fremont became an island, virtually cut off from all road travel Friday afternoon after the Elkhorn and Platte Rivers started flooding. The Elkhorn cut off access to the east and south. Platte flooding cut off routes from the north and west.
The state's 511 app showed Fremont surrounded by red X's. Roads closed. And if that wasn't enough to stop would-be travelers, giant trucks, law enforcement personnel, barricades and warnings about others who'd ignored the warnings kept people in Fremont in Fremont and kept others out.
Most of the city itself has remained dry and, under the sunny skies all weekend, provided a surreal backdrop to the danger all around. It looked fine. Things seemed fine. But the south and west parts of town were inundated. And, of course, there were no ways in or out.
And store shelves were beginning to empty. Fremont had run out of bottled water Saturday. Walmart nearly ran out of toothbrushes.
So the actual arrival around sunset Sunday of all these supply trucks was a morale boost, a sign of normalcy.
People standing on the corner of Broad and 23rd Streets cheered and captured the 18-wheelers on their phone cameras.
The convoy included the Nebraska Army National Guard. Everyone headed for the Hy-Vee loading dock, where store staffers were ready.
Unloading trailers two at a time, workers carted out shrink-wrapped pallets of commodities and carried bags of donations.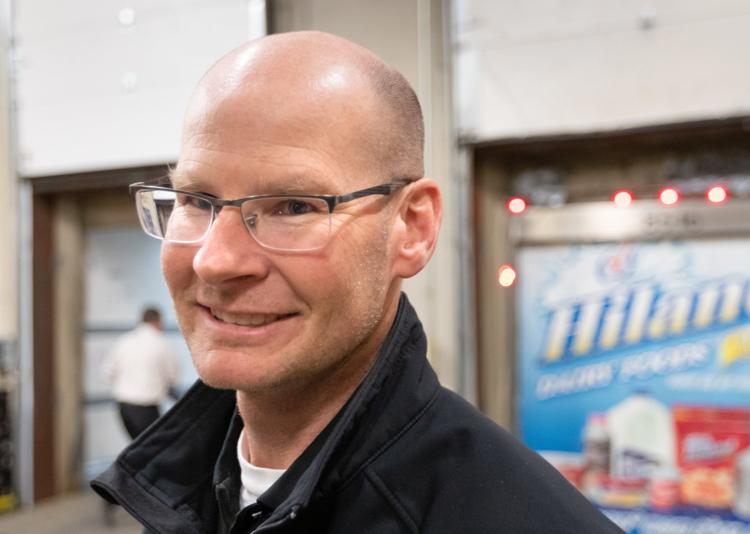 Store Director Chris Hamilton beamed. He had, since morning, been working the phones to help make this happen. Hy-Vee is working with the American Red Cross on feeding evacuees, and this shipment was necessary.
"For us to get food for the shelter is big," he said. "It's a good thing."
Kevin Bass, a driver for Hiland Dairy in Omaha, said he used to deliver milk to Fremont all the time in a route that took, on average, 45 minutes, an hour tops.
The fact that the journey took much longer hammered home the reality of the devastation the flooding has caused. During the 2½-hour drive, the milkman took in the scene. The dirt berms. The water. The work ahead.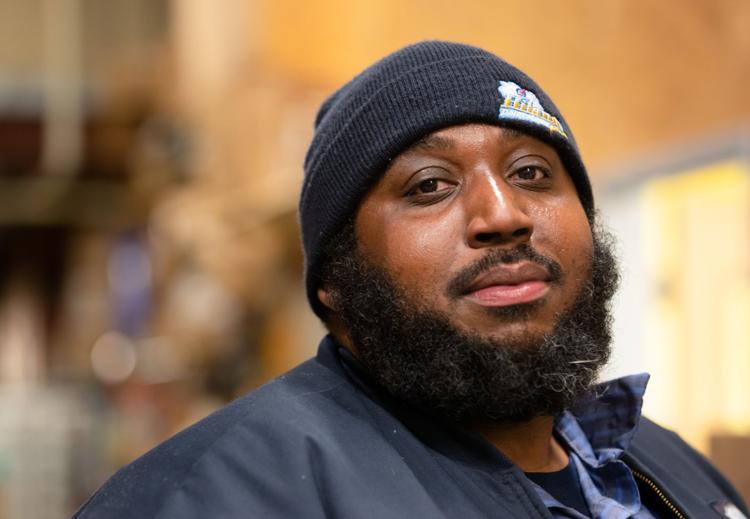 "I don't think (outsiders) understand how bad it is out here," he said. "It's real."
But like everyone else who has been pitching in, Bass found comfort in being able to do something. Like bring in a shipment of milk.
Thomas, the State Patrol spokesman, made sure to capture photos of the happy scene inside the Hy-Vee storage room.
There is all too much evidence of damage. Here, in this grocery store at least, was a sign of hope.
Photos: Major flooding hit Nebraska and Iowa towns in March 2019