COLERIDGE, Neb. — For a third-generation farmer like Larry Domina, it seemed like the biggest labor-saver since the invention of the tractor.
Agri-chemical giant Monsanto in the late 1990s came out with genetically modified corn and soybean varieties that were resistant to the company's Roundup herbicide.
After planting these "Roundup Ready" seeds, Domina and other farmers could freely spray the weedkiller all over their fields without fear it would kill off their crops, too. For Domina, it meant no more walking corn and bean rows to pull or spot-spray weeds.
"It was almost magic," he said.
But in 2012, Domina was diagnosed with non-Hodgkin lymphoma, a cancer he believes was caused by his use of Roundup.
Now a lawsuit he filed against Monsanto could put Nebraska at the center of a national legal mega-battle over the safety of the nation's most popular weedkiller — one that for decades has been sprayed by farmers and backyard gardeners alike.
Domina's lawsuit was among the first of more than 13,000 that have been filed since 2016 claiming that Monsanto failed to warn users of the health risks posed by Roundup and its main weed-whacking ingredient, glyphosate. The flood of Roundup litigation followed a 2015 declaration by the cancer arm of the World Health Organization that glyphosate is likely a carcinogen.
"This case is about Nebraska farmers who were deceived by Monsanto," said David Domina, the Omaha trial attorney who is representing his brother in the case. "These guys who are raising our food for us have been using this product, exposing themselves to its risks, and not being told what those risks were."
Monsanto, now a division of German pharmaceutical company Bayer AG, disputes that Roundup is dangerous. Bayer says comprehensive reviews by the U.S. Environmental Protection Agency and other national health agencies around the globe have long held that glyphosate is safe.
"We disagree that Roundup causes cancer, and we don't believe there's any science to support that," said Rakesh Kilaru, an attorney who is helping coordinate the Roundup litigation for Bayer.
However, three California juries have already held Bayer liable for causing lymphoma, awarding the plaintiffs more than $2 billion in damages.
In June, the judge who's managing the federal Roundup litigation across the country agreed to have Nebraska join California in hosting the first wave of cases. The move was made at the request of Bayer, the company perhaps hoping to find more friendly juries in the heart of farm country.
The first of the Nebraska cases could be heard by early next year. And though it's unclear which case will go first, Domina's suit on behalf of his brother and three others was the first filed in the state.
Another man who formerly lived in Nebraska has also played a central role in the Roundup litigation.
As a researcher at the University of Nebraska Medical Center in the 1980s, Dr. Dennis Weisenburger conducted some of the nation's earliest research into whether rising rates of non-Hodgkin lymphoma that public health officials were observing in America's agricultural midsection could be attributed to farm chemicals.
Now Weisenburger has been serving as an expert witness on behalf of plaintiffs, attesting to his belief that Roundup can cause cancer and fingering it as the culprit in the plaintiffs' illnesses.
Overall, anyone looking into the science behind the issue can quickly become lost in the weeds. There are dozens of studies that come down on both sides of the issue, with both defendants and plaintiffs of course giving the largest weight to the studies favoring their side.
But in the end, the final verdict might not come down just to science.
Juries in the California cases were presented evidence that Monsanto has exerted undue political influence on the regulatory process. That included an email in which a Monsanto employee talked of the company ghost-writing academic research, and another email suggesting Monsanto executives were cozy with an EPA pesticide official.
Much hangs in the balance as the Nebraska cases proceed toward trial: billions of dollars, the financial prospects of one of the world's largest farm agricultural conglomerates, the future availability of a product widely used by both farmers and other consumers, and perhaps the health of thousands of Americans.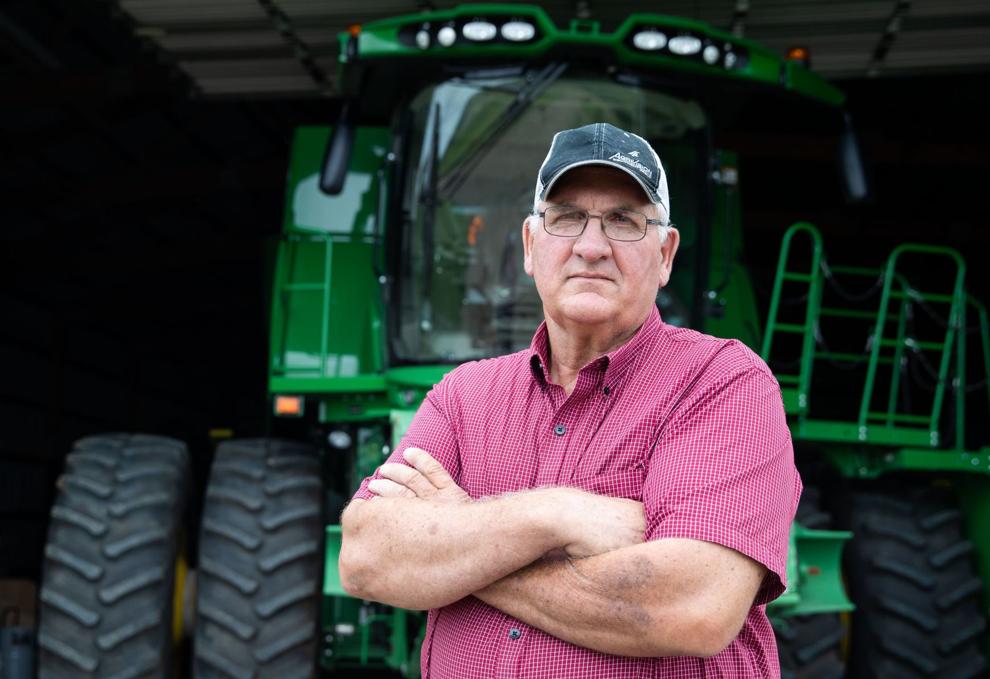 Larry Domina looked out over a lush, verdant field of soybeans on his farm southeast of Coleridge. It had been a rainy morning, though not enough to suit the Cedar County farmer. His gauges showed that his fields had seen only a tenth of an inch of moisture.
Domina has long relied on fickle nature and the work of his own two hands for his livelihood. While Domina's brother went off to the city to become a big-time lawyer, farming is the only life for him.
"I've always enjoyed planting a crop, or seeing a calf born and raising it, and seeing the fruits of your labor at the end of the year," he said.
Through that labor, he's built both a comfortable life and a sizable grain and livestock operation, one that the 65-year-old will one day pass on to the daughter and son-in-law who work with him now.
But none of that seemed to matter back on March 13, 2012. That's when he felt a lump on the side of his neck.
He went to his doctor, who immediately recognized it as a sign of non-Hodgkin lymphoma — a blood-borne cancer of the body's lymphatic system. The diagnosis was confirmed by tests.
It was a scary time, as Domina, his wife and children came face to face with his mortality. He underwent surgery, followed by several draining rounds of chemotherapy.
Seven years later, his cancer is in remission. But he said there's anxiety each time he goes back to his doctor for a checkup.
"You always wonder, is this going to be the day that he's going to tell me, 'Well, you're not in remission anymore,' " he said.
The cause of non-Hodgkin lymphoma isn't known. But over the years, scientists have identified a number of risk factors, among them family history and exposure to certain chemicals and drugs.
Given the large number of chemicals he's exposed to around his farm, Domina naturally wondered whether they could have caused his cancer.
"There were many, many chemicals that I've used, and I knew there were many, many times that I didn't wash my hands after being in all kinds of stuff," he said.
Domina certainly wasn't the first to ponder such questions.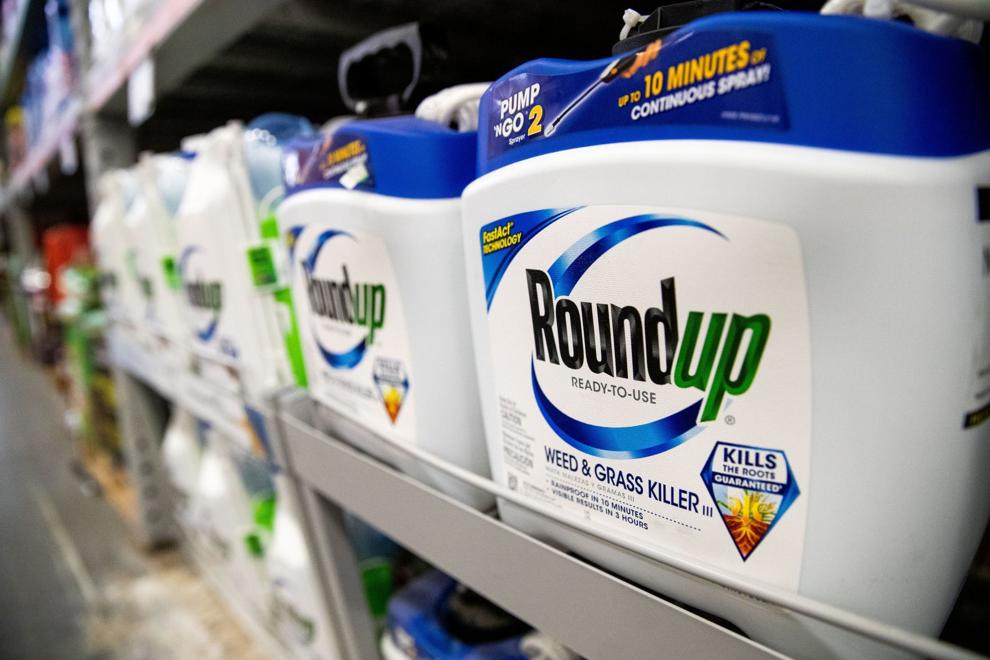 As early as the 1970s, the National Cancer Institute had noted farmers were showing an increased risk of non-Hodgkin lymphoma.
The rising numbers attracted the attention of researchers, including young Dennis Weisenburger, a doctor of pathology who in 1983 had come to Nebraska to join UNMC.
"People were wondering why this was happening," Weisenburger testified earlier this year. "We tried to figure out why there was this increase all of a sudden."
Weisenburger began by mapping eastern Nebraska, comparing lymphoma rates with levels of agricultural production. He wondered whether there was a link between chemicals used in "intensive agriculture" and the cancer. It seemed to him there was a correlation.
But discerning just which chemicals were the most likely culprits was tricky. Farmers are exposed to multiple types of agri-chemicals during their lifetime, often in the same growing season. The fact that diesel fumes have also been linked to the disease increases the challenge.
The National Cancer Institute during the mid-1980s conducted three studies in the middle of the country investigating possible links between non-Hodgkin lymphoma and farm pesticides. One was based in Iowa and Minnesota, another in Kansas, and the other in Nebraska, with Weisenburger as lead investigator.
In each of the studies, people who had been diagnosed with non-Hodgkin lymphoma were contacted and then questioned about their exposure to various agricultural chemicals. Some 47 different ones were examined.
Weisenburger's Nebraska study, published in 1990, found a possible link between cancer and 2, 4-D, a herbicide that was one of the active ingredients in Agent Orange. Studies in the other farm states linked several other chemicals to cancer.
Then in 2003, National Cancer Institute researcher Anneclaire DeRoos and other scientists, including Weisenburger, pooled the results of the three farm-state studies, giving them a much bigger data set to work with.
That study suggested possible cancer links with additional chemicals, including glyphosate. Glyphosate showed one of strongest correlations: Farmers who used it saw their cancer risk doubled over the general population.
That link was perhaps significant, because it ran counter to an EPA review a decade earlier that concluded glyphosate was safe. It's also notable the study came right around the time glyphosate use was exploding worldwide.
Monsanto first sold its glyphosate-based Roundup herbicide in 1974. But beginning in 1996, the company introduced genetically modified soybeans, corn and other crops that were resistant to Roundup. The vast majority of farmers across the Plains began planting what Monsanto trademarked "Roundup Ready" crops — a huge financial boon for the seed dealer.
Roundup was also widely sprayed around yards and gardens by homeowners and professional groundskeepers. Over less than two decades, the use of glyphosate worldwide increased sevenfold.
Around that time, two other agricultural studies involving human epidemiology, one in Canada and another in Sweden, also found an elevated cancer risk with glyphosate.
But there were similar studies that found no such link. That included one DeRoos herself published in 2005 that followed a sizable cohort of farm chemical users in Iowa and North Carolina over time to see if they developed cancer. In the time they were tracked, there was no elevated risk for glyphosate. A recent update of the ongoing Agricultural Health Study again found no risk.
Beyond human epidemiology, there were other types of studies suggesting a cancer risk with glyphosate.
A number of studies found glyphosate induced cancer in animals. And some studies on both animals and human cells suggested that glyphosate could be "genotoxic," meaning it could damage a cell's genetic material and cause mutations. That's important, because cancerous cells are essentially created by such mutations.
However, not all such studies reached those conclusions. The safety of glyphosate remained unsettled science.
Interestingly, while there have been numerous independent studies of glyphosate, there's far less research on the actual formulation of Roundup. It includes other chemicals called surfactants, which help it penetrate and kill plants.
Then in March 2015, the International Agency for Research on Cancer, an arm of the WHO, met in Lyon, France, to assess the cancer risk of five widely used pesticides. Some 17 cancer experts from 11 countries, including an American who headed the panel, examined the body of research behind the chemicals and cancer.
While acknowledging that human cancer studies were not conclusive, the IARC scientists concluded there was still a "positive association" with non-Hodgkin lymphoma.
The panel noted the numerous animal studies suggesting glyphosate could cause cancer. And the scientists said there was "strong evidence" from animal studies that glyphosate can damage cells, adding, "There is evidence these effects can (also) operate in humans."
The release of the IARC report prompted a backlash from Monsanto, and also caused the EPA to take another look at glyphosate.
The EPA has continued to maintain that stance. Within the last month, the Trump administration moved to block the State of California from requiring a cancer warning label on Roundup products.
"It is irresponsible to require labels on products that are inaccurate when EPA knows the product does not pose a cancer risk," said EPA Administrator Andrew Wheeler.
How could two different scientific bodies look at the same data and reach two completely different conclusions? It seemed to depend in part on what studies the agencies gave the most weight to.
For example, the IARC study lauded the 2003 combined farm states study for its large sample size. But the EPA did not include that study in the tier of studies it considered to be of "high quality." The EPA gave more credence to the larger Agricultural Health Study.
Now it's falling to the courts to help sort out the science.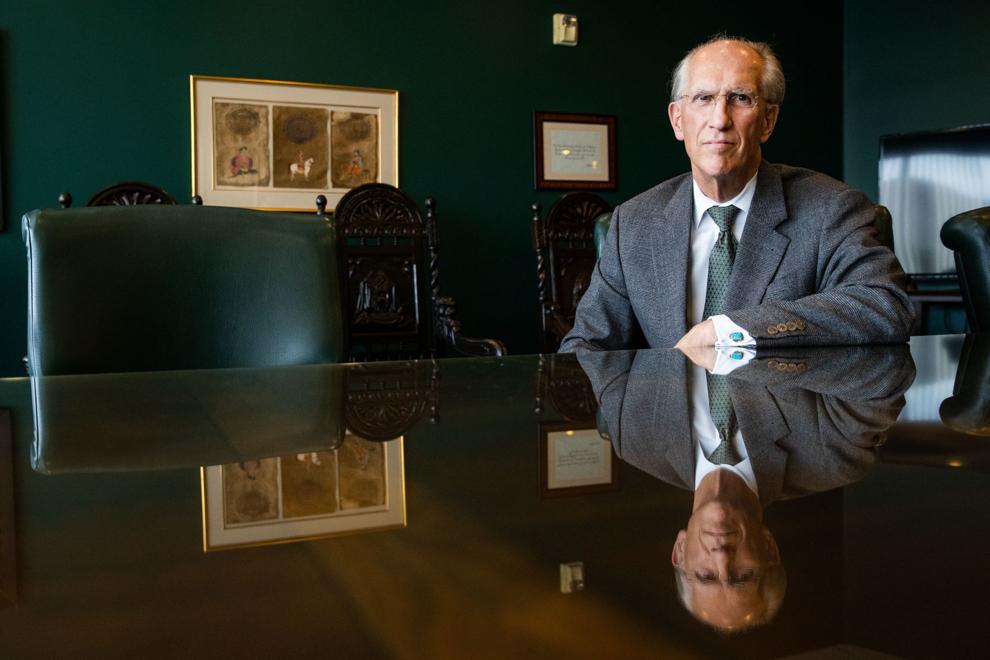 In 2015, David Domina was driving and listening to the BBC's world news service on his car's satellite radio. That's when he first heard about the IARC report on glyphosate.
The bookish Domina is probably best known to Nebraskans as a Democratic candidate for U.S. Senate in 2014. But he's also one of the state's most prominent trial litigators. And the IARC report hit home with him.
Not only had his brother not long before been diagnosed with lymphoma, but David Domina's son had, too. Upon arriving back at his office, Domina immediately pulled up and read the report. And then he called his brother.
The first U.S. lawsuit against Roundup was filed in California, and the second in Hawaii. The third was filed in Nebraska by David Domina, on behalf of his brother and three others who had been treated for non-Hodgkin lymphoma.
Larry Domina said he decided it was the right thing to do.
"Monsanto people told us (Roundup) was safe. In fact, they told us it was so safe, you can drink it," he said.
"But if Roundup is a cause, we need to do something about that. We need to get it off the market. Or for sure, Monsanto needs to do a much, much better job of educating people and tell them to be careful."
One of the other Nebraska plaintiffs is Robert Dickey, who lives on a farm just six miles from Larry Domina and was diagnosed with lymphoma in 2009. Dickey also served in the Nebraska Legislature, was president of the National Corn Growers Association and chairman of the U.S. Grains Council.
Dickey said he wants to make sure others don't go through what he did. What he'd most like to see is Monsanto put a cancer warning right on the Roundup label, just like with cigarettes, so that people know to protect themselves.
"Because when you lose your health," he said, "you lose everything."
Other plaintiffs in Domina's federal suit include a York County farmer and an agronomist from Fremont. Domina has also filed cases in Nebraska state courts on behalf of two Nebraskans who contracted lymphoma, one a university research chemist in Lincoln and the other an Omaha man who mostly sprayed Roundup around his yard.
The plaintiffs seek financial damages for illness, debilitation, disruption of life and cost of treatment.
The first of the thousands of Roundup cases nationwide went to trial in California over the past year.
Weisenburger, who left UNMC about six years ago and now works for the City of Hope Cancer Center in California, was a prominent witness — and paid consultant — for the California plaintiffs. He testified firmly on his belief that glyphosate and Roundup cause cancer in humans.
He cited the "compelling evidence" that glyphosate damages cells and on the number of animal studies linking the chemical to cancer, noting the EPA has often dismissed such findings based on methodological grounds or other negative studies. He talked of his own studies, too.
"I believe the data is convincing," Weisenburger said in a deposition. He did not return a phone call to The World-Herald.
Monsanto's attorneys have questioned the credibility of plaintiff experts like Weisenburger. Kilaru, the Bayer attorney, accused them of "cherry-picking" a handful of small studies while downplaying many others on which regulators in the United States, Canada and other countries have based their conclusions.
Kilaru said the plaintiff experts are also blaming Roundup for a type of cancer whose cause is virtually unknowable, something they would never do in diagnosing a patient.
"That's a method courts should be very dubious of," he said.
But there are also reasons to be dubious of reliance on the EPA's conclusions. The discovery phase of the California litigation turned up documents raising questions of whether Monsanto has undue influence with the environmental agency.
Monsanto emails showed the IARC declaration led to direct communication between Monsanto and a manager in the EPA's pesticide division. In one email, the EPA official was quoted as saying he could quash a subsequent glyphosate review being planned by the U.S. Centers for Disease Control and Prevention.
According to the email, the EPA official told a Monsanto executive, "If I can kill this I should get a medal."
Other emails showed Monsanto recruited scientists to issue papers countering the IARC. A Monsanto executive suggested the company would do most of the writing and then have the scientists sign their names.
Discovery also revealed that Monsanto conducted an internal study in the 1980s that found cancer in mice, which raised concerns at the time within the EPA. But Monsanto found another expert who explained away the result, and it was ultimately set aside.
A consultant retained by the plaintiffs also concluded the biggest difference between the IARC and EPA reviews was the EPA's reliance on industry-funded studies. For example, when it came to glyphosate's genotoxicity, the EPA put most weight on industry studies, 99% of which found the chemical didn't damage cells. Conversely, the IARC relied on peer-reviewed independent studies, 70% of which found evidence the chemical did damage cells.
David Domina said if Monsanto in the Nebraska litigation invokes the EPA's position to argue that glyphosate is safe, he will seek to introduce the same evidence of "Monsanto's tentacles within the EPA." He said it's an issue that has implications beyond this litigation.
"We cannot politicize our scientific agencies," Domina said. "Or people die."
Kilaru defended industry studies as providing valuable science. And he dismissed the significance of the "small set of emails" highlighted by plaintiffs compared with the work of many EPA scientists over the years who have weighed in on the safety of glyphosate.
"We disagree with the suggestion there is any kind of improper influence going on with the EPA," he said.
Domina said the goal of plaintiffs is not necessarily to get Roundup off the market. But he said in the end Bayer and Monsanto might not be able to afford to offer the product if resulting legal costs become too onerous.
The verdicts in the California cases were a critical setback for Bayer. Early trials are likely to ultimately set the standard for a possible nationwide, multibillion-dollar settlement of the thousands of other pending cases.
That's why Bayer asked the judge overseeing the federal litigation to consider trials in other states, citing in part California's plaintiff-friendly laws. In June, the judge granted Bayer's request to hear cases in Nebraska, one of few states that don't allow punitive damages.
Preparations for the complex trials that figure to last weeks are well underway.
Domina plans to bring Weisenburger back to Nebraska as an expert witness. Domina has calculated his clients' lifetime exposure to Roundup. And Bayer's attorneys have already taken depositions from Domina's clients.
Six weeks ago during Larry Domina's deposition in the Cedar County courthouse, the Kansas City attorney representing Bayer asked the farmer when the port that was used to administer his chemotherapy drugs was removed. Domina responded he chose not to have it taken out.
"Because every time I bump it," Domina told the attorney, "I thank God I'm still alive."