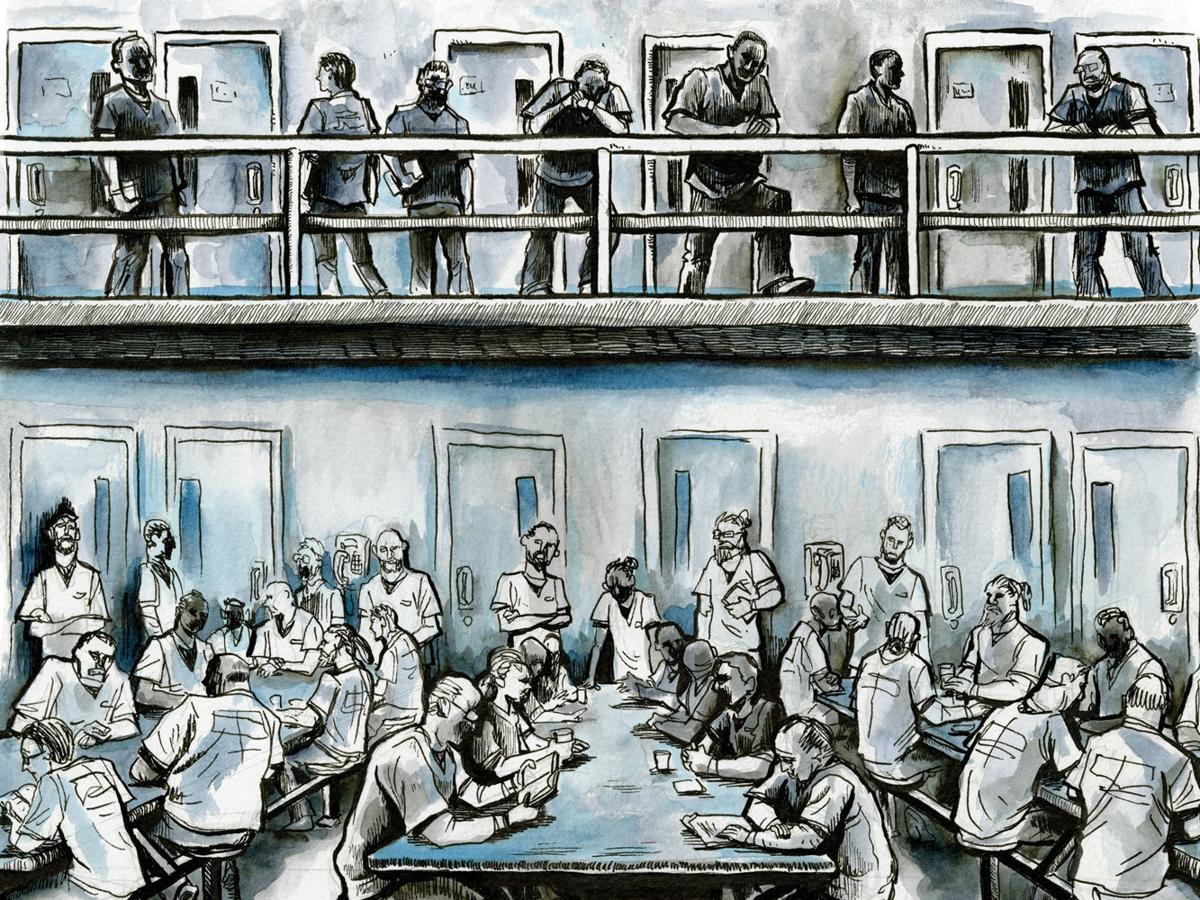 The reforms, signed into law by Gov. Pete Ricketts, were hailed as a way to reduce overcrowding and avoid spending $300 million on new prisons, by directing low-level offenders into lower-cost probation programs rather than expensive prison cells.
But instead of inmate numbers going down by about 1,000, they've gone up, reaching new record levels. That increase has forced a renewed call to either build new prisons or adopt more reforms to keep offenders from going to prison, or do both.
Sign up for World-Herald news alerts
Be the first to know when news happens. Get the latest breaking headlines sent straight to your inbox.
"I wouldn't call LB 605 a failure — things would be an awful lot worse at the Department of Corrections if it hadn't passed — but we need to take other steps if we're going to reduce overcrowding," said State Sen. Steve Lathrop of Omaha, a leading senator on prison issues.
Taylor Gage, a spokesman for Ricketts, agreed, but said adopting sentencing reforms, like eliminating mandatory minimum sentences, is not the answer.
"The governor is focused on expanding prison capacity to protect public safety," Gage said.
He did not specify whether that translates into new proposals for prison construction.
Nebraska prisons, as of Jan. 3, held 5,541 inmates, about 2,000 more than they were designed to hold. And those numbers do not include 97 inmates being housed in county jails because of the lack of space. Nebraska's prison overcrowding, 157% of capacity, ranks second-worst in the nation, trailing only Alabama, a state that is facing federal intervention to reduce crowding.
Nebraska faces a deadline of sorts in July when, by state law, the governor must declare an "overcrowding emergency" if the state's prison population exceeds 140% of capacity. That's a benchmark that state officials say can't be met. The emergency would require the parole board to re-review inmates for parole, and release them, unless they're still deemed a threat to society. It is unclear how many, if any, would be released.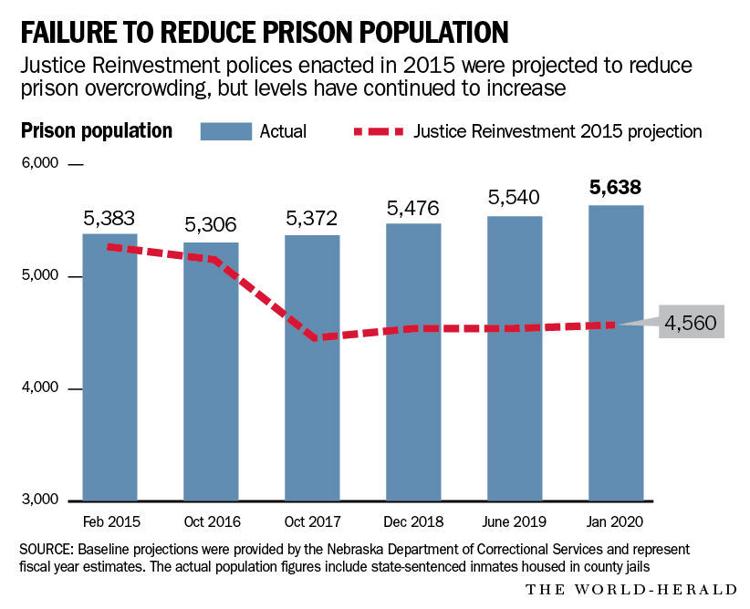 Meanwhile, the ACLU of Nebraska has sued the state over the overcrowding, maintaining that it has led to inadequate health care and mental health services. Among their claims: A female inmate was denied cancer treatment for five months, and a male inmate died of suicide after not getting requested psychiatric care.
Inmates and families of inmates say that conditions inside state prisons are getting worse not only because of overcrowding, but also because family visits, social clubs and recreation programs have been canceled because of a shortage of prison staff.
Each night, about 130 inmates sleep on plastic cots spread across the floors at the State Diagnostic and Evaluation Center, which holds about three times as many inmates as the 160 it was designed to house. In several cells designed to hold two prisoners, four inmates cram together with a gap of only 3 feet between bunks.
"I can't imagine sharing that kind of space for 16 to 21 hours a day," said Andrea Fordd of the group Inmate Lives Matter. "I thought it would get better, but it's gone the other way unfortunately."
First, state lawmakers didn't adopt all the "justice reinvestment" sentencing reforms recommended by the Justice Center, which has helped more than 30 states craft plans to reduce spending on prisons.
About a dozen supposedly nonviolent crimes that had been targeted for sentence reductions were not reduced after prosecutors complained. As a result, crimes including burglary, distribution of controlled substances, possession of a stolen firearm and motor vehicle homicide involving drunken driving retained the maximum prison sentence of 20 years. The center had recommended four-year maximums, with two years' post-release supervision.
"We did some of it, but we didn't do enough," said former State Sen. Brad Ashford of Omaha, a key lawmaker in bringing CSG to the state. Reforming or lowering sentences, he said, always faces stiff opposition from law enforcement and prosecutors.
Secondly, while the state saw a 3.5% drop in the overall crime rate from 2015-18, felony criminal charges have risen by 26% statewide since LB 605 was passed. Most of that increase has come in Omaha, which has seen felony arrests rise by 37% over the past four years.
The end result is that about 2,700 more felons — enough to fill the state's largest prison nearly three times — have entered the system.
Douglas County Attorney Don Kleine, who participated in crafting the justice reinvestment reforms in 2014-15, said that CSG probably didn't anticipate such an increase in felonies.
Ironically, the number of homicides and violent felonies is on the decline in Omaha. But Kleine said there's still a lot of other crime taking place.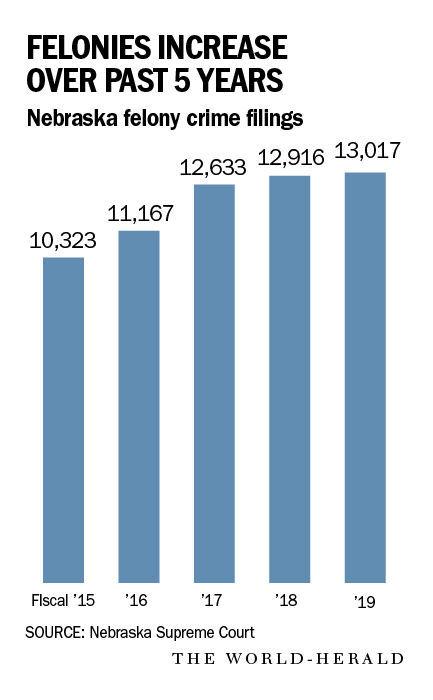 "And the people who are committing those are the people who have worked their way into getting a prison sentence," he said.
Douglas County Public Defender Tom Riley said that every day, he sees a list of felony arrests and the list includes nonviolent crimes like possession of a controlled substance, shoplifting and abuse of a vulnerable adult. Riley, who also participated on justice reinvestment committees, said sentencing reforms didn't go far enough in allowing the State Parole Board to decide which inmates could safely be released early or not.
"There were some good intentions there, but (LB 605) was just not remotely going to solve the problem," Riley said. "It was a Band-Aid on a laceration the size of your thigh."
Some good things happened thanks to passage of the bill.
Many low-level felonies came with a presumption that offenders would be sent to lower-cost probation supervision rather than prison, which can cost about 10 times more. As a result, the state probation office is now supervising 4,408 offenders. That exceeds the number projected by CSG by about 1,500 inmates.
Probation is also overseeing more than 1,000 offenders ordered to serve "post-release supervision," which was created under LB 605. It was a public safety effort to better transition inmates back into society, and prevent new crimes and a return to prison.
And the number of "problem solving courts" that seek to reform drug abusers, veterans and other felons through intensive probation conditions, drug tests and supervision by a judge has increased to 31 across the state, handling about 1,300 offenders a year.
So if LB 605 hasn't worked, what's the state to do to reduce prison overcrowding?
The Omaha police union has said that the state needs to build more prisons, saying that Nebraska needs to build at least 700 new beds. Even five years ago, some state prosecutors were saying the state just needed to build more prisons.
"I think we probably all said (LB 605) wasn't going to work," said Lancaster County Attorney Pat Condon.
Kleine, the Douglas County prosecutor, said that the people who deserve to be in prison are being sent to prison, and if more beds are needed, the state needs to step up and build them.
Riley, the public defender, said that lawmakers ought to enact more sentencing reforms that allow inmates who behave and comply with rehabilitation programs to be released sooner on parole supervision. Right now, he and others say, many inmates are waiting too long to become parole-eligible, or to complete rehab programs in prison needed to become eligible.
Lathrop, who heads the Legislature's Judiciary Committee and has led more than one probe into the problems in state prisons, said a combination of some sentencing reforms and construction of new prisons is needed.
Lathrop introduced a bill Friday to begin planning for a new, 300-bed prison in Omaha. In a presentation to fellow lawmakers this fall, he pointed out that the most recent master plan by state corrections called for about 1,100 new prison beds to be built by now, with another 1,100 under construction. Instead, 260 have been built, with 548 in the process of being built.
"We have a (prison) capacity issue, clearly," Lathrop said.
An Alabama lawmaker who worked with CSG to craft a plan to reduce prison overcrowding there said that CSG's efforts set that state in "the right direction" to reduce crowding, even though it, like Nebraska, fell short of getting the job done.
"They probably wanted us to go a little bit further politically than we wanted to go," said Alabama State Sen. Cam Ward. "The real issue is that nobody wants to spend money on prisons."
Notable crime news of 2019
Read about some of the biggest and strangest crime stories in Nebraska and western Iowa.
Be the first to know
Get local news delivered to your inbox!