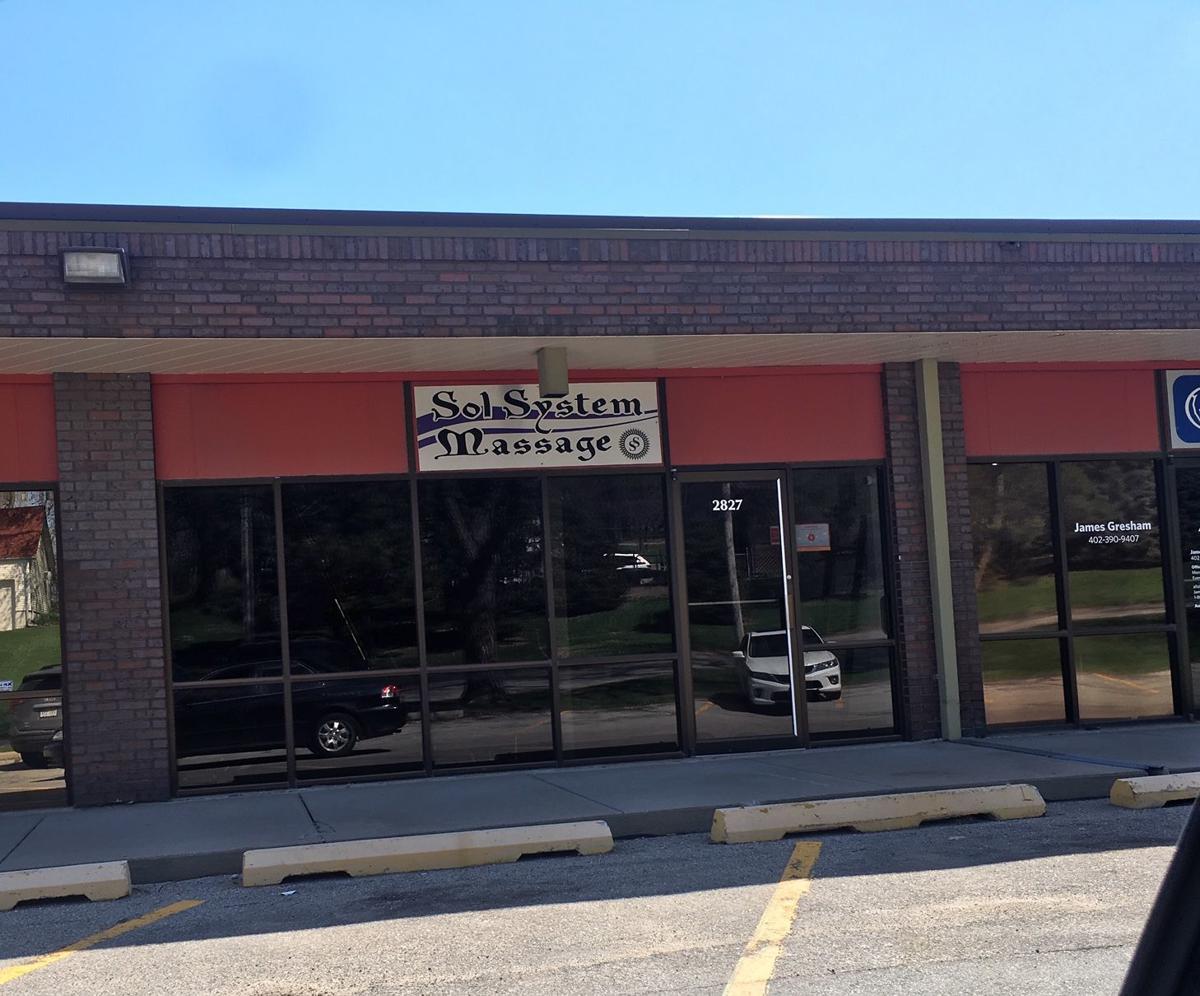 Seven months pregnant, she thought it strange when her massage therapist told her the importance of continuing to have sex with her husband during her pregnancy.
She became uncomfortable when he talked about other clients getting sexual gratification out of his massages.
She outright froze when he removed the sheet that had been covering her naked body, purportedly so he could zero in on her flared sciatic nerve. The nerve became secondary, she said, as the massage therapist proceeded to cup her breasts, rub her buttocks and, eventually, her private parts.
Mortified, the woman said nothing, simply hoping the ordeal would quickly end.
She had no idea, but the incident, which occurred in 2017, was the second time that Christopher Sampson — listed in police reports as 44 years old, 6-foot-2 and 380 pounds — had been accused of inappropriate touching during a massage. The first had come just 11 months before. In that case, a 21-year-old woman went to Omaha police after, she alleged, Sampson said and did inappropriate things to her.
After that first incident, the Omaha City Prosecutor's Office charged Sampson with misdemeanor third-degree sexual assault. But with the consent of the 21-year-old victim and her mother, prosecutors pleaded that case down to a count of disturbing the peace, and Sampson was placed on six months' probation.
While Sampson was on probation, the Nebraska Department of Health and Human Services made him sign an "assurance of compliance" that he would not "commit any act of sexual abuse, misconduct or exploitation, including making comments, gestures or physical contacts of a sexual nature, in his professional relationship with his clients."
Sampson signed the document Sept. 13, 2016.
Seven months after that pledge was filed, prosecutors allege, Sampson put the pregnant 32-year-old woman through a more extreme version of the same ordeal the 21-year-old woman endured.
Now, Sampson is awaiting a trial, set to begin next month, on a charge of first-degree sexual assault of a pregnant woman. And State Health and Human Services administrators have stripped him of his massage therapy license.
Yet Sampson apparently is still running his business, Sol System Massage, at 81st and Maple Streets. Sampson answers the phone listed on the business website and schedules appointments. His voicemail tells callers he couldn't come to the phone because "I'm probably in a massage." Sampson told a female caller 10 days ago that he has not performed massages since October but that he has one male and two female therapists who give massages. He offered to set a time for her to come in.
State officials say Sampson's setup is legal.
"The establishment itself must be licensed, but the owner isn't required to be a massage therapist," said HHS spokeswoman Leah Bucco-White. "Whoever provides the massage therapy services is required to hold a current license."
Sign up for World-Herald news alerts
Be the first to know when news happens. Get the latest breaking headlines sent straight to your inbox.
Such a standard is different from state law governing other professions. Attorneys who lose their law license, for example, are not allowed to own law firms. Those convicted of child abuse can't run a day care center.
"It doesn't make any sense," Douglas County Attorney Don Kleine said. "You can't have a law practice when you're disbarred, even if you have other lawyers doing the work. It's hard to understand how you could lose your license because of wrongdoing yet be able to run the business."
Sampson's attorney, Desirae Solomon, said her client is innocent and looks forward to his day in court.
"My client absolutely denies the allegations against him," Solomon said, "and we're looking forward to the trial."
Solomon said she does not represent Sampson on the business side. Sampson did not show up at the HHS administrative hearing over the 32-year-old woman's allegations — and did not fight to retain his massage license.
Until that point, he had kept his license and had continued giving massages, even after the 21-year-old woman called police in May 2016 over similar behavior.
In that case, the 21-year-old had gone to an Omaha police station the day of her massage and alleged that Sampson had made crude sexual comments and run his hand over her vagina, according to police reports. (The World-Herald does not name alleged victims of sex crimes unless they choose to be identified.)
Omaha City Prosecutor Matt Kuhse's office initially charged Sampson with third-degree sexual assault, a misdemeanor that applies to touching cases and can result in a person having to register as a sex offender. But after consulting with the 21-year-old woman and her mother, one of Kuhse's assistant prosecutors allowed Sampson to plead to disturbing the peace, with a probation recommendation and no requirement that he register as a sex offender.
Judge Marcena Hendrix placed Sampson on probation for six months. He successfully completed his probation term two months before the 32-year-old woman came forward.
The 21-year-old "victim and her mother were quite happy with the (original) outcome," Kuhse said. "If you can achieve a fair result without causing additional anxiety and stress on a victim who is going through this, I think that's a worthwhile outcome."
Asked if he still thinks it was an appropriate outcome, in light of another woman bringing allegations against Sampson, Kuhse said: "I can't really answer that. You make the best decision you can at the time. And this office was satisfied, the victim was satisfied, and the victim's mother was satisfied in 2016."
According to the sworn affidavit of Omaha Police Detective Makayla Stiles:
The 32-year-old Omaha woman had been seeing a masseuse regularly because she was suffering from lower back pain stemming from her pregnancy. However, her normal massage therapist was sick the second week of April 2017, so the woman decided to find someone else to do the massage.
She used an online booking application and was directed to Sampson's business. In a phone call, Sampson told the woman that he does a "sciatic release" massage that focuses on releasing pain caused by pinching of the sciatic nerve.
At the appointment, the woman filled out a health questionnaire and a medical waiver. Sampson told her to fully undress, "due to it being easier to work on her sciatic nerve if her underwear was off."
The woman undressed and got under the sheet on her side, with a pillow between her knees. Sampson started on her neck, shoulders and upper back, then advised that he was going to work on her hips and her lower back.
He pulled the sheet off of her, "so that her back side was completely exposed."
The woman said she froze "because no one had ever completely pulled off the sheet."
"But she had never had a sciatic massage and trusted that Chris was acting professionally in his capacity as a (masseur)," Stiles wrote.
As the woman lay on her side, Sampson "kneaded" his hands between her buttocks. He continued between her buttocks until his knuckles penetrated her private parts, the woman said.
"Don't think of this as sexual," Sampson said at one point, according to the woman. "You're not paying me enough for that."
That wasn't the only inappropriate comment, the woman alleged. Sampson said the women he massages "don't think about this as sexual in nature" but they "have had multiple orgasms on the table." He talked about losing his virginity, about a sexually hyperactive client, and advised her not to deny "her husband sex while she was pregnant."
The woman said she attempted to redirect the conversation, but Sampson persisted. In turn, she said, she just continued to "nervously laugh" at the stories.
Later in the massage, Sampson sat in a chair at the end of her table, closest to her head. He had her turn over on her back and ran his hands down her side and up and under her chest, cupping her breasts. He asked her if her milk had come in yet.
The woman said Sampson told her that "the massage has been over for a while, but being as we are chatting I will just sit here and continue."
The woman "advised that she has never experienced anything like this in a massage before and was mortified, but too scared to say anything," the detective wrote.
Finally, Sampson left the room. The woman rushed to put her underwear and bra back on, but Sampson knocked on the door less than a minute later.
From outside the room, he told her to get back on the table "no matter what you're wearing."
He then spread her legs apart and rubbed the inside of her thighs close to her bikini line, telling her, "It's a good thing you have your underwear on."
The woman got fully dressed, paid Sampson and went to leave. He asked for a hug. She reluctantly gave him one.
The woman "advised that she felt physically ill and dirty and went home" and googled sciatic massages. The next day, she called her regular massage therapist and described the massage. The masseuse told her to call the police.
The woman eventually did.
Two years later, the case is set to go to trial. The woman also recently filed a civil lawsuit against Sampson and his business.
Sampson isn't the first massage therapist to be accused of improper conduct. More than 180 people, mostly women, reported inappropriate touching and sexual assault over 15 years at Massage Envy locations across the country, according to a 2017 Buzzfeed report.
In Omaha, a 63-year-old massage therapist, Melvin Buffington Jr., will be sentenced next month after 19 women told police that he inappropriately touched them during massages at Oasis Massage & Spa at 689 N. 132nd St. Women ranging in age from 23 to 58 told police about his behavior, which included touching their breasts or genitals, digitally penetrating two of them or putting his crotch close to their faces.
Lincoln attorney Vince Powers, who represents Sampson's latest accuser as well as women in the Buffington case, said disreputable masseurs take advantage of how vulnerable and isolated women can be on a massage table.
"Frankly, the women I represent are just stunned this is occurring," Powers said. "It's this breach of trust.
"You go there to relax, to get rid of stress. You're not there with your radar up. The last thing that you're thinking is that you're going to be violated."
Be the first to know
Get local news delivered to your inbox!